April 1, 2021
NEW THIS WEEK AT THE SHOP:
First, a note on Covid-related store policy: as we make progress towards vaccination in our community and as statewide mandates change, we want to reiterate that our mask requirement in order to browse the shop remains in place. It's hard to believe it's been a year of this, but we are committed to getting through this pandemic fully! We will continue the same cleaning, filtering, masking and distancing policies that have made the shop as safe as possible, and we continue to offer the same curbside/delivery options to those who do not feel comfortable inside the shop. Thank you for all your support and assistance in helping us all stay healthy. Now onto the new stuff!
- contemporary country icon STURGILL SIMPSON delivers the second volume of 'Cuttin Grass' this week, another selection of tunes from his catalog done bluegrass-style. While supplies last, we have the indie only version on blue/white swirl vinyl and a glow in the dark jacket
- folkie Austinite SHAKEY GRAVES reissues his 2010 debut album in an expanded edition of 'Roll the Bones'
- Virginia bluegrass group BLACK TWIG PICKERS have done fruitful collaborations with Steve Gunn, Charlie Parr and Jack Rose, and now bring us their first proper studio album in some time, chock full of modern traditional raveups without artifice or nostalgic BS
- perhaps the year's most anticipated eclectic pairing finds FLOATING POINTS and PHAROAH SANDERS composing together along with the London Symphony Orchestra on 'Promises'. It is impossible to overstate how incredible this record is. I found and lost several religions and grew a giant beard while listening to it. I put it on in the car and came back to consciousness somewhere in Indiana.  Featuring a healing motif, FloPo's customary synth-stardust, solemn, self-referential sax from Pharaoh, and just the right amount of strings, 'Promises' is that rare record that transcends the sum of its parts. In stock on limited 180 gram vinyl with a lovely die-cut sleeve.
- Istanbul producer ALEKSANDIR blew us away with his first LP a few years back and return with 'Skin', another lovely session of sensuous house done with cinematic flair.
- back in print, the epic ambient dub album 'Auratones' from DEEPCHORD 
- 25 years into their existence, the emergence of a new album from GODSPEED YOU BLACK EMPEROR remains appointment listening. 'G_d's Pee AT STATE'S END!' is the first album from the band in 4 years, and delivers the equal dose of sorrow and triumph like only the Montreal ensemble can. In the shop on CD and an LP edition that comes with a 10"
- 'Love Is Love', the 2003 album from Baltimore tantric rock group LUNGFISH gets a new pressing on red vinyl
- Zambian psych-rock band WITCH see a new press of their 1974 classic 'In The Past' get a fresh vinyl cut
- happy news about a release we didn't think we'd ever actually see, the "1974 version" of 'Pinata' from FREDDIE GIBBS and MADLIB. We expected this one on Record Store Day last year but the vinyl production gods had other plans. Now a copy of this modern classic with killer new cover art can be yours.
- unstoppable NY state MC BENNY THE BUTCHER returns with a new LP with DJ DRAMA, 
- a limited red vinyl edition of 'Pricele$$' from rapper TEK
- when folks started asking for copies of 'Innerspeaker' by the strangely named, mysterious Aussie band TAME IMPALA about ten years ago, we had no idea we'd be offering you a 4LP deluxe expanded version of the album ten years later. Lots of stuff we didn't know then! Anyways, while they last, you can get the most elongated version possible of this modern psychedelic classic
- soft-spoken folkie OWEN PALLETT's lovely 2020 album 'Island' gets a new vinyl pressing, plus a new record from Michigan indie pop band MAJOR MURPHY 
- the entirety of the classic early epoch of GANG OF FOUR is collected in a lavish new box set called '77-81'. 4 LPs of 'Entertainment', 'Solid Gold', singles and live material, plus cassette demos on actual cassettes, and a large book. It's an incredible value for the price though you may still need to get drunk on cheap wine as you listen.
- speaking of 1981, that's the year THE FALL played St. Helen's Technical College with their classic early lineup, brought to you now in a nice LP edition with a bonus 7" secreted away inside
- a cool new "bootleg style" limited vinyl edition of an incredible jam session between Chicago art-rock groups DISAPPEARS and WHITE/LIGHT plus Sonic Youth drummer STEVE SHELLEY 
- long awaited vinyl editions of some 2021 releases from KID LAROI and JHENE AIKO are in, plus we have the latest from dubstep producer FLUX PAVILION, who moves into a dreamier space with guitar and synth on '.Wav'
- new post-punk gems are in from DRY CLEANING and FAKE FRUIT, we welcome a new pressing of the 2015 burner from Aussie garage-punks ROYAL HEADACHE, and legendary Oakland synthpop duo SWEET TRIP tease their first new album in a decade with a new 2 song EP that is sounding phenomenal
- vinyl reissues of some long out of print classics this week includes 'Spinning Coin' from JOHN MAYALL, 'Long Road Out of Eden' by THE EAGLES, the 2011 album 'Sweetheart of the Sun' by THE BANGLES, and the 1994 self-titled album from THE MUFFS.
- new jazz vinyl includes a fresh Tone Poet pressing of the 90s album from JOHN SCOFIELD and PAT METHENY, 'I Can See Your House From Here', a new trio record from the CARSTEN DAHL TRINITY, and a fresh record from Memphis soul-jazz trio THE CITY CHAMPS called 'Luna 68', which features members of St. Paul and the Broken Bones and sounds like a classic Booker T session
- JOHN DWYER of the Oh Sees seems to have found a lot of extra hours in each day, as he's got yet another LP of jam sessions with lockdown friends called 'Endless Garbage', sounds promising!
- new LPs are in from THE FRATELLIS, stoner rockers GREENLEAF, plus a new pressing of the long out of print 90s Black Sabbath tribute album 'Nativity In Black' 
USED CD ALERT:
Big things for the used CD side this week. An old customer of ours we first got to know in the nineteen hundred and nineties unloaded his collection and it was like flipping through our bins over twenty years ago. It was very heavy on rap, jazz and reggae, but it was all filtered through a hip-hop lens. A lot of this stuff was featured in the sampledelic days of rap and the remainder, if it wasn't from the breaks side of town, had the same sort of bent. Not everyone will get this, but those that do grasp it immediately. The hip-hop is top-shelf pre-9/11 classic material. Think DJ Premier productions, Native Tongues affiliates and those directly influenced by Tip and'em and just unimpeachable front-to-end burners. If you were unable to make it in when we unveiled a similar collection months earlier, make it over here now. There's a bunch of straight jazz nuggets, but the gold is found in the funkier, groovier realms. Look out for B-3 workouts and highly-regarded albums from folks like Bobbi Humphrey, Roy Ayers and the first ballot Strictly Discs Hall of Fame hypothetical inductee, Ivan "Boogaloo Joe" Jones. Plenty of spiritual jazz touchstones in this one. The reggae side is very taster's choice. Crucial roots from The Heptones, The Congos and Ras Michael, along with compilations issued from legendary imprints like Impact!, Blood & Fire and Pressure Sounds. A lot of this is out of print, going out of print or just straight up becoming more difficult to find. This is a drop to not sleep on.
USED VINYL ALERT:
Used vinyl time! A very healthy fresh crop of LPs awaits you this week, including some thorough catalog runs of some of our favorite names, like The Beatles and their various solo projects, Bob Dylan, Jimi Hendrix, Led Zeppelin, David Bowie, Tom Petty, T Rex, the Who, Pink Floyd, the Rolling Stones, Prince, Frank Zappa, the Eagles, Creedence Clearwater Revival, Steely Dan, Harry Nilsson, and more. Plus nice LPs from Nazz, Queen, Bloodrock, Sir Doug, Incredible String Band, Quicksilver, Leonard Cohen, Hall and Oates, and King Crimson.
A nice run of Talking Heads LPs pair up with slabs from Cyndi Lauper, Devo, U2, the Violent Femmes, Duran Duran, Blondie, Grace Jones, the Ramones, and Patti Smith, plus we've got some classic hard rock from Van Halen, Rage, Iron Maiden, Alice Cooper, Anthrax, Def Leppard and Motley Crue, and some LPs from Sufjan Stevens, Radiohead, the Flaming Lips, and Daft Punk.
A very impressive showing of blues LPs this week includes multiple titles from Muddy Waters, BB King, John Lee Hooker and John Mayall, plus seldom seen fire from Bukka White, Otis Spann, Shaky Jake Harris, Jimmy Reed, Sunnyland Slim, Freddie King, and Jesse Fuller. We've got great country and folk from Doc Watson, Hank Williams, Waylon Jennings, Wynonna Judd, Dolly Parton, George Strait and Patsy Cline.
Plenty of soul is in, plus a nice collection of Deutsche Grammaphon classical, some essential (and cheap) disco, eclectic and cult soundtracks (Octopussy, Rocky Horror, Indiana Jones), and much much more.
RECORD STORE DAY DROPS 2021 - SAVE THE DATES:
BILLBOARD MAGAZINE'S BIWEEKLY FEATURE ON STRICTLY DISCS: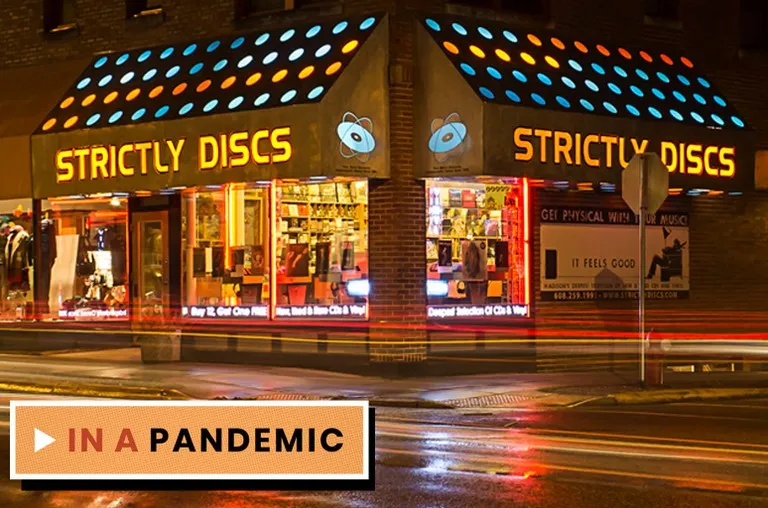 As part of Billboard's efforts to best cover the coronavirus pandemic and its impacts on the music industry, Chris Eggertsen has been speaking with Angie every other week to chronicle the experience of an independent record store throughout the crisis.  Here is a link to the stories in the series so far:
Billboard Article #16 November 16th
Billboard Article #17 December 14th
Billboard Article #18 December 23rd
Billboard Article #19 February 5th
Billboard Article #20 February 23rd
Billboard Article #21 March 12th
SELL US YOUR CDS & LPS:
Yes, we are still buying! Call Ron to schedule (608.213.3610).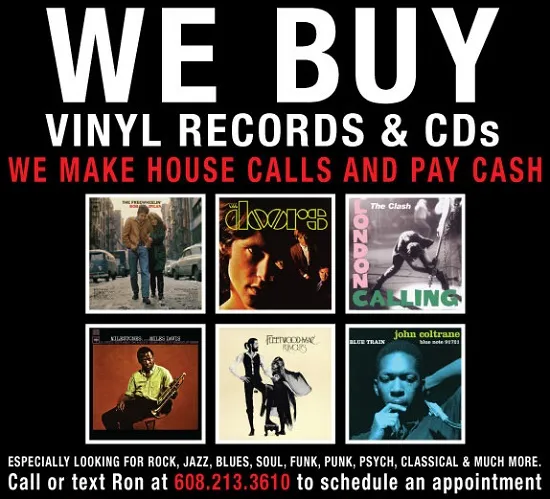 Ron, Ryan, Angie, Marty, Evan, Matt, Ed, Jack, Eric, Steve, Atticus & Ben