February 13, 2021
VALENTINE'S DAY SALE: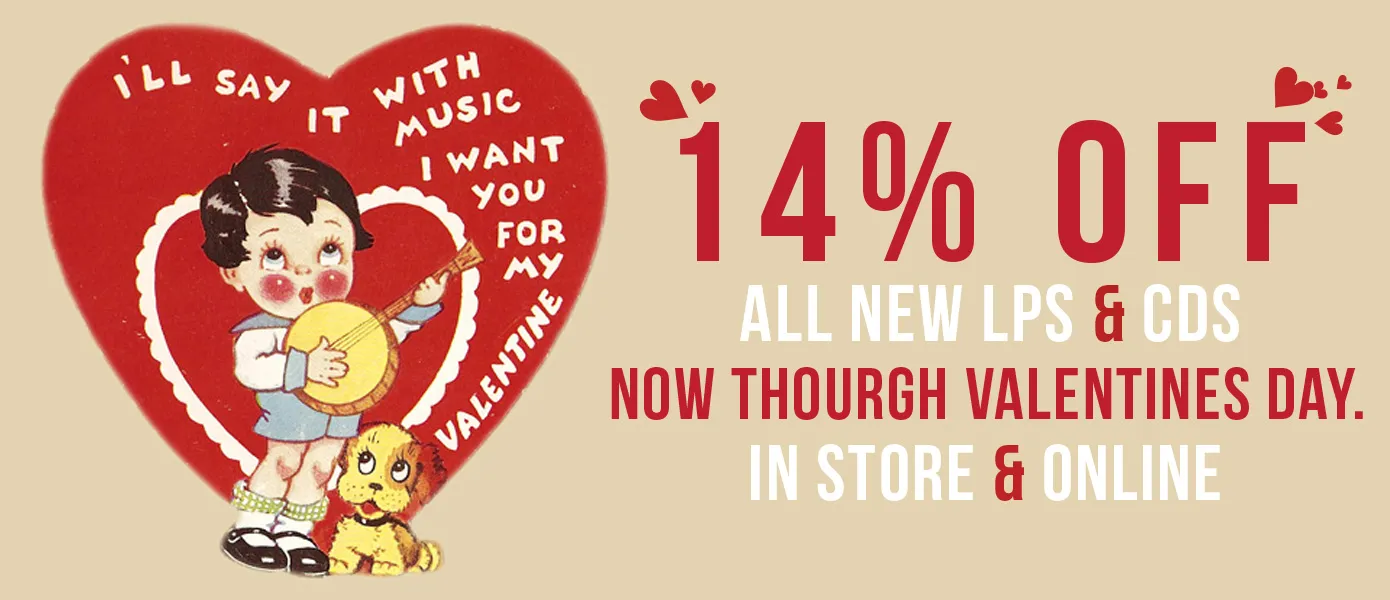 It's almost Valentines Day, Strictly Discs shoppers. If you forgot, you're welcome! We thought about writing love poems to each of our customers, or buying chocolates for all of you, but...what you truly want is a sale! So,†all day Sunday†the 14th, all new LPs, CDs & equipment will be 14% OFF!†

This sale is only for you, our beloved mailing list recipients, so please mention the Valentine's discount at the counter before you check out and -*poof*- savings!
NEW THIS WEEK AT THE SHOP:
Our new arrivals this week kick off with a celebration of Black History Month. PUBLIC ENEMY's definitive greatest hits collection 'Power to the People and the Beats' gets a limited 2LP edition on red and smoke colored vinyl. Two classics from CURTIS MAYFIELD are back in stock on colored vinyl, 'Roots' and 'There's No Place Like America Today'. The new critically-acclaimed album from COMMON, 'A Beautiful Revolution', arrives on indie exclusive red and blue vinyl.†
†- the fourteenth studio album from WEEZER finds Rivers Cuomo feeling like Nilsson and includes a 38-piece orchestra. The super-limited indie version sold out on preorder, but we have 'OK Human' on black vinyl
- very cool melodic power-pop from UK group GOAT GIRL with 'On All Fours'
- new big hip-hop releases from SLOWTHAI and DABABY†
- dour, rubble-strewn blackness from THE BODY on 'I've Seen All I Need To See'
- a crunchy, melodic new delight from MOGWAI called 'As The Love Continues'
- new record from RYAN HEMSWORTH and DJANGO DJANGO on color wax
†- shortly after becoming the first musician to smash a guitar, Phoebe Bridgers has launched her own record label, Saddest Factory, with the release of a delightful LP of keen bedroom pop from CLAUD called 'Super Monster'†
- glitzy, Chic-worshiping disco pop from MIDNIGHT SISTER on 'Painting the Roses'
- early classic lofi folk LP from THIS IS THE KIT back in print, 'Wriggle Out The Restless'
- modern emo makes its complete transformation into 90s alternative on TEENAGE WRIST's new LP 'Earth Is A Black Hole'
- 'Vol 4', the coke-fueled experimental masterpiece that BLACK SABBATH wasn't allowed to call 'Snowblind' gets the Super Deluxe treatment in a box that includes a Steven Wilson remaster, 2 LPs of alternate takes and dialogue, and 2 LPs of live material from 1973, plus a book full of what must be some very cool photos
- the latest Rvng retrospective takes on the Italian composer TIZIANO POPOLI, an endlessly revealing collection of songs called 'Burn the Night / Bruciare la Notte' that ranges widely from austere, dramatic synthscapes, to rhythmic tape collage similar to Holger Czukay and Can, to noirish, cool pop.†
- a new audiophile edition of CANNONBALL ADDERLEY's 1958 album 'Somethin Else', which was Adderley's only appearance on Blue Note, and heavily features a young Miles Davis
- Melbourne violinist TAMIL ROGEON has an incredible new LP of swinging fusion called 'Son of Nyx'
- as the electronic pop world and beyond struggles to accept the sudden death of producer SOPHIE, we've got a couple copies of her last EP, which features an Autechre remix of her track 'Bipp'. Rest in peace Sophie
- joyous house delerium abounds on a new EP from OCTO OCTA, 'She's Calling'
- Dallas underground electro genius CYGNUS sees his debut tape from 2012, 'Cybercity Z-Ro', get a vinyl release for the first time, with incredible new artwork
- remastered from original tapes for the first time, a classic 1978 LP from Benin's soul-jazz legends, T.P. ORCHESTRE†POLY RYTHMO DE COTONOU
- a pair of CREEDENCE CLEARWATER REVIVAL albums get half-speed master reissues, 'Pendulum' and 'Mardi Gras'
- a nice LP reissue of LORETTA LYNN's signature 1971 album, 'Coal Miner's Daughter'
- a tantalizing rare-as-hell soul album from WILLIAM STUCKEY, reissued by the Athens of the North label
- a who's who of the Aussie house/jazz/pop scene collaborate on a very high quality compilation called 'At Clouds Length'
- AMON TOBIN teams up with Dutch producer THYS on 'Ithaca', an album of lovely, introspective synth†
- harebrained downtempo glitch from Russian KASSIR on the Gost†Zvuk label†
- stunning, sundrenched chillout from POWEL
- medieval dark-ambient from Lyon, France's JONQUERA, complete with blood painting artwork (not actual blood I checked)
- top ranking UK braindance from the archive of Dave Paton aka BEING, 'Broxburn Funk' is classic deep IDM from the Firecracker label
USED VINYL ALERT:
If you need to warm up this weekend, allow us to suggest the blazing hot fire that is in our Used Vinyl Alert this time around (and the return of 45s). In addition to choice titles from some of our fave names like Neil Young, Nina Simone, Joni Mitchell, Bob Dylan, Prince, Bob Marley, James Brown, Paul Simon, Buffalo Springfield, the Beatles, Jimi Hendrix, the Kinks, and the Grateful Dead, we've got a pretty stunning stash of classic punk, wave and industrial from names like Bauhaus, New Order, Echo and the Bunnymen, Ministry, Talking Heads, B-52s, Elvis Costello, Sex Pistols, Nitzer Ebb, Skinny Puppy, Laibach, Shellac, Public Image Ltd, Helmet, Sisters of Mercy, Gang of Four, X-Ray Spex, Billy Bragg and many more. Whoa.
Loads of 90s hip-hop is in, 12"s and some LPs, from Method Man, ODB, Smif N Wessun, Slick Rick, GZA, Guru, Big L, Naughty by Nature, Souls of Mischief, Big Pun, Special Ed, and a whole lot more. Lots of classic soul is in, including a nice stack of Supremes albums, and LPs from Al Green, Marvin Gaye, Willie Hutch, Otis Clay, the Isleys, Booker T, the Commodores, Brook Benton, Honey Cone, Mandre, and more.†
Some quality classical is in, plus loads of some very classic soundtracks. We've got reggae from Bob Marley, Toots and the Maytals, and Yellowman. Jazz from John Coltrane, Bud Powell, Ralph Towner, Stanley Turrentine, and Buddy Rich. Classic and rare techno from Drexciya, Robert Hood, Carl Craig, and John Selway. A slew of crucial 90s grindcore includes Discordance Axis, Dropdead, Gasp, the Possessed To Skate comp, and more.†
BILLBOARD MAGAZINE'S BIWEEKLY FEATURE ON STRICTLY DISCS: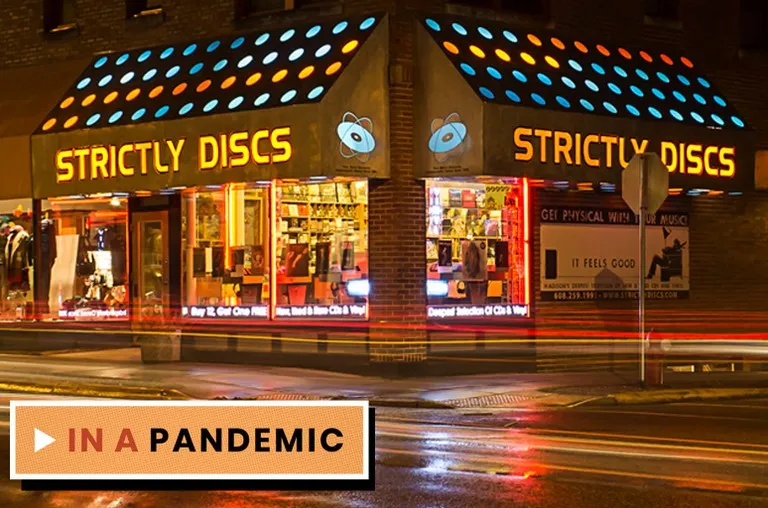 As part of†Billboardís efforts to best cover the coronavirus pandemic and its impacts on the music industry, Chris Eggertsen has been speaking with†Angie†every other†week to chronicle†the experience of an independent record store†throughout the crisis.† Here is a link to the stories in the series so far:
Billboard Article #16 November 16th
Billboard Article #17 December 14th
Billboard Article #18 December 23rd
Billboard Article #19 February 5th
SELL US YOUR CDS & LPS:
Yes, we are still buying! Call Ron to schedule (608.213.3610).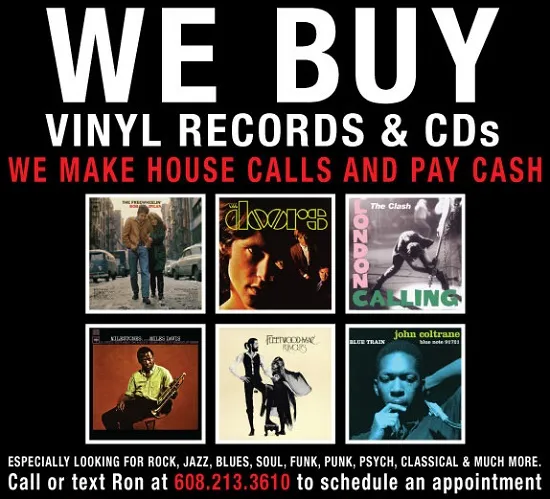 Ron, Ryan, Angie, Marty, Evan, Matt, Ed, Jack, Eric & Steve