February 4, 2021
NEW THIS WEEK AT THE SHOP:
- Long awaited, the indie-only DECEMBERISTS 'Live Home Library Vol. 1', The Crane Wife played in full in 2009, etched vinyl
- FOO FIGHTERS new studio album, 'Medicine At Midnight', indie blue vinyl, comes with a free slipmat
- new ANIMAL COLLECTIVE mini album
- 'Chalk Tape', a limited 2013 cassette from SCREAMING FEMALES on vinyl for the first time
- new LP from NYC rapper BODEGA BAMZ
- new collab from J.I.D., Earthgang, 6lack and more called SPILLAGE VILLAGE, weird name, looks amazing, on lovely splatter vinyl
-† RZA's legendary soundtrack for the Jim Jarmusch movie 'Ghost Dog' is back in print on both white vinyl and red vinyl variants
- obscure New Orleans bounce tracks from the 90s on RICKY B's 'B Is For Bounce' comp
- new Brixton sensation BLACK COUNTRY, NEW ROAD debut album
- Nashville singer DEVON GILFILLIAN reimagines Marvin Gaye's iconic 'Whats Goin On'
- FAYE WEBSTER's debut album from 2017 on vinyl for the first time
- Deeply layered Canadian folk from THE WEATHER STATION
-† stupendous album of sensuous tribal ambient from Chinese-Canadian producer YU SU, 'Yellow River Blue', easily one of the year's best LPs so far, big swooning beats
- incredibly comforting piano and found sound sketches from GIA MARGARET
- Brooklyn vibraphonist PATRICIA BRENNAN's debut solo album 'Maquishti', supple and light
- back in print, iconic ambient composer PAULINE OLIVEROS' bar-setting ensemble work 'Deep Listening'
- 'Virtual Dreams', overwhelmingly generous 3 LP compilation of mid-90s ambient techno from the Music From Memory label, deep cuts from essential names like Move D, LFO, Primitive Painter
- perhaps the greatest disco funk album made this century, Italian production duo NU GUINEA's 2018 LP 'Nuova Napoli' back in stock
- new EP of post-post-post club illbience from CALL SUPER and PARRIS, 'Design Of the Body Sublime'
- piano, guitar, and tarawangsa (an Indonesian fiddle) in a startlingly chill seance from the duo of JONNY NASH and TEGUH PERMANA
- uproarious 1984 album 'Blue Navigator' from MICHAEL HURLEY is reissued on LP for the first time plus
- all-time SD staff fave Hurley album 'Armchair Boogie' is back in stock. Everyone needs a copy, thems the rules
- Two early gems from motorik jazz visionary JOSHUA ABRAMS are back in print. If you, like almost everyone else, missed out on 2010's 'Natural Information' and 2012's 'Represencing', now is your (brief) chance to remedy that!
- long out-of-stock classics return from ARTHUR RUSSELL, FEVER RAY, THE FRONT BOTTOMS, and DINOSAUR JR
- QUINCY JONES' classic soundtrack for 'The Color Purple'
- an early Black Jazz label release from saxophonist RUDOLPH JOHNSON back in print
- infectious late 70s highlife from Ghana group VIS A VIS
- new gem of a compilation 'Saturday Night' collects rare tunes from the golden age of South African disco pop
†
- Parisien / Moroccan rai meets rap on a collection of late 80s tunes from SHAMS DINN that somehow sounds like Dr Dre if he came from the west side of the Meditteranean
- Latvian synth-pop tape collage genius from NSRD back in stock, 'Workshop For The Restoration Of Unfelt Feelings' covers their fertile period of 80s samizdat releases
- eccentric soul, Dutch style on the never-released album of cosmic lounge pop from RONALD LANGESTRAAT, we've wanted to stock this one for years!
- haunting Greek rebetiko from MARIKA POLITISSA reaches across nearly a century to grab you right in the heart
- gorgeous cosmic pedal steel from CHUCK JOHNSON on 'Cinder Grove'
- reissued for the first time, sometime-Madison resident DANIEL HECHT's early 70s album of Takoma style guitar, the story goes that none other than Moondog himself convinced Hecht to record and release an LP, while they were working together on a farming commune somewhere in Dane County
- a stunning entry in the post-Fahey/Basho canon from Chicago guitarist ELI WINTER
- psychedelic folk rock brilliance on the lone album from MARGO GURYAN, 1968's 'Take A Picture', back in print on LP
- rare Japanese traditional folk ambient from YAS-KAZ, 1986's 'Virgo Indigo'
- Hungarian composer TIBOR SZEMZO's late 80s record 'Snapshot Of the Island' ranks up there with classics from Jon Hassell, Steve Reich, Richard Horowitz, and the like. Big tip
- the third and latest volume of archival material from the grandfather of horror soundtracks, JOHN CARPENTER!
TOPS AT THE SHOP:†
Most of these titles are in-stock at the shop (even if out of stock online). So feel free to call us to coordinate pick-up, curbside or delivery.
USED VINYL ALERT:
No shortage of heat in the basement this week as we load up the new arrival bins! This week's used vinyl alert includes tons of great soul, folk, jazz and blues records, plus a full bin of newly marked down new titles.
Lots of familiar names this week include Kiss, Queen, the Beatles, Jimi Hendrix, Tom Petty, the Grateful Dead and Jerry Garcia solo, Buffalo Springfield, Tom Waits, and Van Morrison. Plenty of obscure nuggets of the psych and garage types, plus LPs from Ram Jam, Boston, Accept, Van Halen, Taste, Emitt Rhodes, Gang of Four, REM, XTC, and many more.
Jazz LPs include fine ones from Freddie Hubbard, Shirley Scott, Gato Barbieri, Max Roach, Charles Mingus, Lester Young, Herbie Hancock, Ahmad Jamal, Brother Jack McDuff and so many more. Lots of soul this week, including seldom seen gems from the Kaygees, Janet Jackson, Al Green, Ray Charles, the Isley's, GQ, Barbara Lewis, and the O'Jays.
Lots of newer indie and pop in this week includes Car Seat Headrest, Tame Impala, San Fermin, Rhye, Haim, Polica, Mayer Hawthorne, Fallout Boy, Belle & Sebastian, Thao, and Cat Power.
Lots of great classical is in the mix including a lush run of Deutsche Grammofon†titles, plus some big names in the modern composition worlds, like Stockhausen, Badings/Raijmaakers, Morton Feldman, John Cage, Edgard Varese, and Penderecki.†
Plenty of custom cool soundtracks are in, plus a nice variety of folk and traditional compilations, Wisconsin folk records, and so much more.
BILLBOARD MAGAZINE'S BIWEEKLY FEATURE ON STRICTLY DISCS: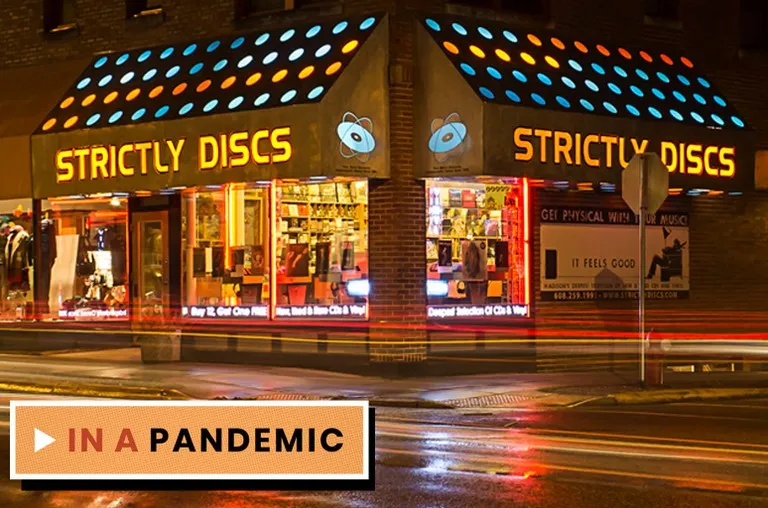 As part of†Billboardís efforts to best cover the coronavirus pandemic and its impacts on the music industry, Chris Eggertsen has been speaking with†Angie†every other†week to chronicle†the experience of an independent record store†throughout the crisis.† Here is a link to the stories in the series so far:
Billboard Article #16 November 16th
Billboard Article #17 December 14th
Billboard Article #18 December 23rd
SELL US YOUR CDS & LPS:
Yes, we are still buying! Call Ron to schedule (608.213.3610).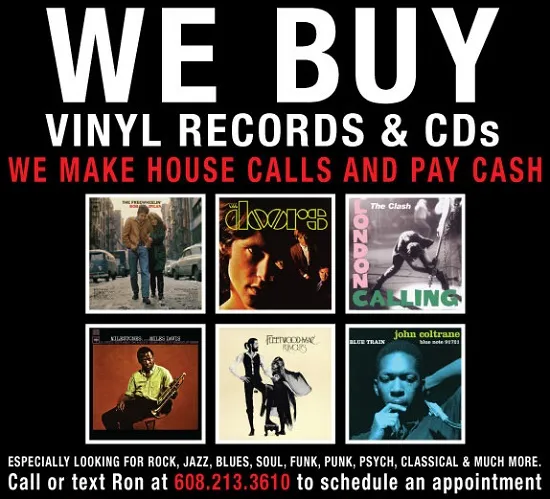 Ron, Ryan, Angie, Marty, Evan, Matt, Ed, Jack & Eric