January 21, 2021
NEW THIS WEEK AT THE SHOP:


Happy almost Friday everyone! A historic week of uncertainty and relief is very nearly in the books, and it's back to business as usual round here at Strictly Discs. This week's new arrivals are simply dazzling, starting with the latest album from the ever-fluid, neo-soul chillout group RHYE. 'Home' is the third studio record from the collective led by contralto vocalist Milosh, and we have limited edition copies on purple vinyl with an etching. Lumineers co-founder JEREMIAH FRAITES releases a long-in-the-works solo album of piano instrumentals which pair up with some light chamber instrumentation that really oozes emotion. Rap production collective INTERNET MONEY have enough members to fill an entire rollercoaster, as depicted on the cover of their first album 'B4 The Storm', which is finally out on vinyl today. The 2LP set is absolutely crammed full of hot ones, and features nearly every rapper under the age of 25 that I have heard of.
For too long, we haven't had a quality pressing available of CURTIS MAYFIELD's legendary 'Super Fly' soundtrack, a classic of the funky soul genre and easily one of the most culturally important albums in American history. That's remedied now with a lovely red vinyl pressing from Rhino that reproduces the original pop-out diecut jacket. A trio of quality reissues of SAM COOKE classics fills quite a gap from the legendary crooner. We've got 'Aint That Good News', 'Sam Cooke at the Copa' and 'Keep Moving On'. 
East Coast guitar heroes PALBERTA return with a cracking new LP called 'Palberta 5000', which further hones the trio's timely combination of the Raincoats and the Minutemen. Canadian punkers KIWI JR have landed on the good ship Sub Pop with their jangly tunes that remind of the Buzzcocks or the early Eddy Current LPs, and the great-grandaddies of them all GUIDED BY VOICES are still doin it just as good as the kids on their latest LP, 'Styles We Paid For'. 
Music: it's not just for airports anymore! Since the earliest days of his strange career in music, BRIAN ENO has been tapped many times by a wide variety of filmmakers to lend soundtrack work, and a new collection called 'Film Music' aims to capture its breadth. Some classic pieces here come from 'Dune', 'Married to the Mob', and 'Cool World'. The world certainly feels cooler when 'Peel', the debut LP from Kenyan musician KMRU is playing. This record made tons of year-end lists but has only showed up in the states just now; it is a dreamily enveloping haze of ambient emotions. SUZANNE KRAFT's 2014 mini-album 'Missum' was the point where he jumped off from warm, clubby beats into more abstract expressionist material. Many years later it sounds properly prophetic, and Running Back celebrates with a new vinyl edition.
Irish tech-house duo BICEP have done heavy lifting in their scene for over a decade, but 
'Isles' is just their second full length, in the house this week from Ninja Tune, and it delivers exquisitely on long expectations. Chicago producer SAM MCQUEEN has a new vinyl edition of his recent modern classic of elegant electro, 'Dreams In Sepia', which positively floats on billowing clouds of nostalgia. Veteran Australian producer EWAN JANSEN is known more for hard-hitting deep house, but takes a bit of a vacation on the very sunbaked 'Island Diary', and we have an incredible new EP of emotional acid techno from Icelandic producer KULDABOLI. 
Some phenomenal compilations are in this week, starting with one of the earliest entries in the category, the mighty 'Nuggets' collection, first released in 1972. Many of the most iconic pop-psych tunes ever are on this one slab, and this is still the only way to get em all at once. The Standells "Dirty Water", The Seeds "Pushin Too Hard", The Count Five's "Psychotic Reaction"? They are all here. We've got a fresh vinyl cut of the lovely 2015 comp 'Out of Addis', which collects traditional Ethiopian folk music of a more rural slant. The latest Chicago boogie funk comp from the Star Creature label unearths yet more unheard Windy City floor destroyers. 
Next up, a literal *half-dozen* fresh represses of the DIRE STRAITS catalog. All of these records are so good, and always need a fresh spin. Which one is the best? Maybe you buy all six and settle it once and for all. 
More classic catalog reissues include a pair from GENESIS, a new color vinyl copy of WAYLON JENNINGS' 'Original Outlaw', and a nice LP edition of the astounding Japanese space-prog epic 'Nipponjin' by the FAR EAST FAMILY BAND. Mythical in its scarcity, but nonetheless praised effusively in the Acid Archives is the single LP from a late 60s studio band called THE CONSTANT SOUND, later revealed to include players like Hal Blaine, Pete Jolly, and Emil Richards, which has now been reprinted in a limited run. We've also got a new pressing of the timeless urbane pop LP 'Oui' from THE SEA AND CAKE. 
Underappreciated legends of the dance underground get quite a bit of shine this week. The third volume of compilations celebrating the late Boston deep house producer CALLISTO is here, few did it better than the prolific mixer, as the persistent quality of these tracks attests. Dreamy IDM abounds on a new reissue of Jorg Burger-alias THE BIONAUT's mid-90s classic, 'Everybody's Kissing Everyone'. Breaks maestro Luke Vibert revives his WAGON CHRIST alias for a sparkling new LP called 'Recepticon', and Mike Paradinas aka mu-Ziq is back as TUSKEN RAIDERS, with an absolutely bonkers LP of blasted tech called 'Bantha Trax Vol 3'.
TOPS AT THE SHOP: 
Most of these titles are in-stock at the shop (even if out of stock online). So feel free to call us to coordinate pick-up, curbside or delivery.
WE ARE HIRING - SHIPPING CLERK:
We are looking to hire a shipping clerk. Requirements:

•    Self-motivated and independent thinker
•    Computer proficiency
•    Flexibility
•    Strong work ethic
•    High level of organization and precise time management skills
•    Ability to lift 50 pounds

Approximately 3-4 hours per day, up to 6 days a week. Possible additional hours filling other duties, depending on experience.
To apply, submit letter of interest & resume to angie@strictlydiscs.com
USED VINYL ALERT:
A refreshingly eclectic mix awaits you in the Used Vinyl Alert this week, as we roll out a colorful spread of rock, psych, soul, jazz, country, compilations and soundtracks of nearly every stripe, and much more.
Must-haves are in from Queen, Led Zeppelin, Prince, David Bowie, Steely Dan, Fleetwood Mac, Bob Dylan, the Beatles, Flying Burrito Brothers, Rush, Kiss, Elton John, and Janis Joplin, plus more from Ozzy, Gary Numan, Duran Duran, Firehose, the Scorpions, Bon Jovi, Gentle Giant, and Jade Warrior. Lots more pop, soft rock and AOR, blues rock, and in-between type things as well. 
Some phenomenal jazz is in from Duke Jordan, Artie Shaw, Catalyst, Herbie Mann, Cal Tjader, Wayne Shorter, Ahmad Jamal, and Bill Evans. We go deep with the country, with some big names like Marty Robbins, Alan Lomax, Steve Earle, Willie Nelson, Emmylou Harris, Waylon Jennings and Merle Haggard leading the way, and a whole lot more cheapo country obscurities!
Heavy runs of classical, disco and soul, soundtracks, and novelty LPs close us out, plus some coveted recent LP releases from Kanye West, Death Grips, Mount Eerie and more.




BILLBOARD MAGAZINE'S BIWEEKLY FEATURE ON STRICTLY DISCS: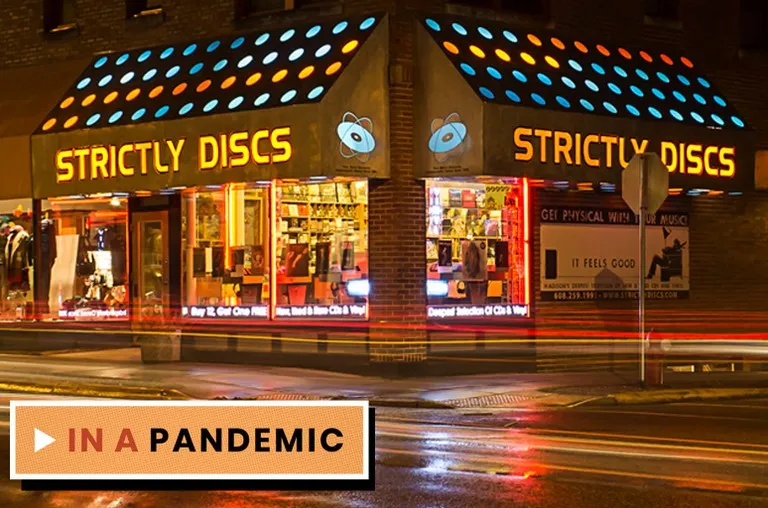 As part of Billboard's efforts to best cover the coronavirus pandemic and its impacts on the music industry, Chris Eggertsen has been speaking with Angie every other week to chronicle the experience of an independent record store throughout the crisis.  Here is a link to the stories in the series so far:
Billboard Article #16 November 16th
Billboard Article #17 December 14th
Billboard Article #18 December 23rd
SELL US YOUR CDS & LPS:
Yes, we are still buying! Call Ron to schedule (608.213.3610).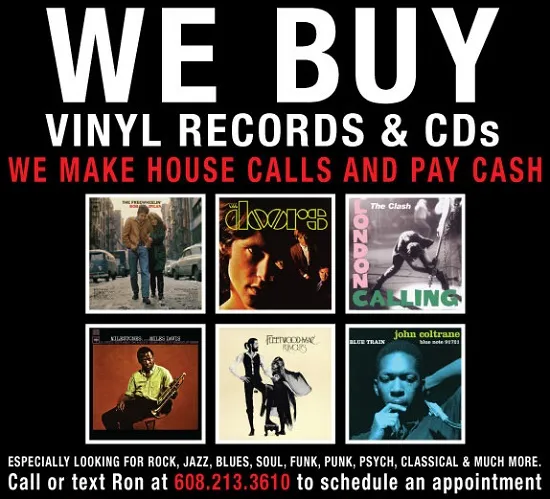 Ron, Ryan, Angie, Marty, Evan, Matt, Will, Ed, Jack & Eric