January 14, 2021
NEW THIS WEEK AT THE SHOP:


†
†
New arrivals this week include a long-awaited new solo record from JEFF TWEEDY. 'Love is the King' is a very, very mellow pandemic record from the Wilco frontman, focusing†on his songwriting craft as a sort of companion piece to his recent book, "How To Write One Song". Tragically departed NYC rapper POP SMOKE's final album 'Shoot For the Stars Aim For The Moon' is now in stock†on vinyl, and we get LP copies of the very excellent new album from TYLER CHILDERS. 'Long Violent History' is a mostly-instrumental album of Kentucky bluegrass, recorded in response to this past summer's racial justice demonstrations.†
An absolute jewel of vocal jazz perfection gets the audiophile treatment it deserves on a new Verve/Acoustic Sounds edition of SARAH VAUGHAN's classic 1955 self-titled album. Two of last year's greatest jazz releases are back in stock on LP after many months of waiting. NUBYA GARCIA's†stunning 'Source' returns, along with JEFF PARKER's 'Suite For Max Brown'.†
Playful progressive space rock reigns on GONG's 1973 classic, 'Flying Teapot', back in print on LP. We've also got a new LP compilation of wonderful zouk from Guadeloupe called 'Cadence Revolution', and a new album of chilled vintage electronics from LEGOWELT called 'Unconditional Contours'.†
Color vinyl reissues of some fun and in-demand LPs arrive this week, with new editions of 'It's My Life' by TALK TALK and BUFFALO SPRINGFIELD's 'Retrospective', plus vinyl editions of the DANNY ELFMAN scores from 'Dick Tracy' and 'Batman'.†
TOPS AT THE SHOP:†
Most of these titles are in-stock at the shop (even if out of stock online). So feel free to call us to coordinate pick-up, curbside or delivery.
USED VINYL ALERT:
We start off this week's Used Vinyl Alert with a seriously fresh selection†of rare jazz and blues LPs. Some of our favorite names are here this week, including Lee Konitz, Thelonious Monk, Charles Mingus, Miles Davis, John Coltrane, Count Basie, Horace Silver, Charlie Byrd, Ron Carter, Cecil Taylor, Sonny Rollins, Jimmy Woods, Bill Evans, Lem Winchester, Roy Ayers, and many more. Blues classics are in from Mississippi John Hurt, Big Joe Williams, Fenton Robinson, Bobby Blue Bland, Little Walter, Freddie King, Jimmy Witherspoon, Albert King, and others.
A nice crop of recent rock/pop/indie is here, including some out of print titles from My Morning Jacket, Queens of the Stone Age, Grizzly Bear, Shearwater, the 1975, They Might Be Giants, Father John Misty, Cage the Elephant, and Ringo Deathstarr. Plenty of rock classics as well, including a slew of Beatles and solo LPs, Led Zeppelin, Pink Floyd, Rush, the Kinks, Jimi Hendrix, Van Morrison, the Band, Tom Petty, Nitty Gritty Dirt Band, AC/DC, Toto, Black Sabbath, Yes, Billy Joel, the Troggs, the Ventures, Elton John, Love, Little Feat, ZZ Top, and the Allman Brothers.
On top of all that, we've got some great international and folk LPs, soul and disco, a deep run of house and electro 12s, classic country, soundtracks, and a whole lot of strange novelty, sound effects, and otherwise miscellaneous gems!

USED CD ALERT:†
Monumental rap drop this week and it's all taster's choice. This is leaning hard on golden era nuggets from 88-96. Largely NYC in scope, expect to see work from heavy hitters like Eric B & Rakim, De La Soul, Gangstarr, Big Daddy Kane, Tribe and BDP. It's deep, so this goes beyond stray loosies and includes great stuff from Main Source, Akinyele and Schoolly D. Trust, the borders extend beyond the Boroughs, so yeah, there's a rack from Outkast, the Geto Boys, NWA, Death Row, you know the vibes. Dig deeper and you'll find slightly later underground jewels from Company Flow [including Vast Aire, Can Ox and El-P], Kool Keith, Rawkus affiliates and J Dilla. I could write out three more paragraphs, so best believe this is not one to miss.



BILLBOARD MAGAZINE'S BIWEEKLY FEATURE ON STRICTLY DISCS: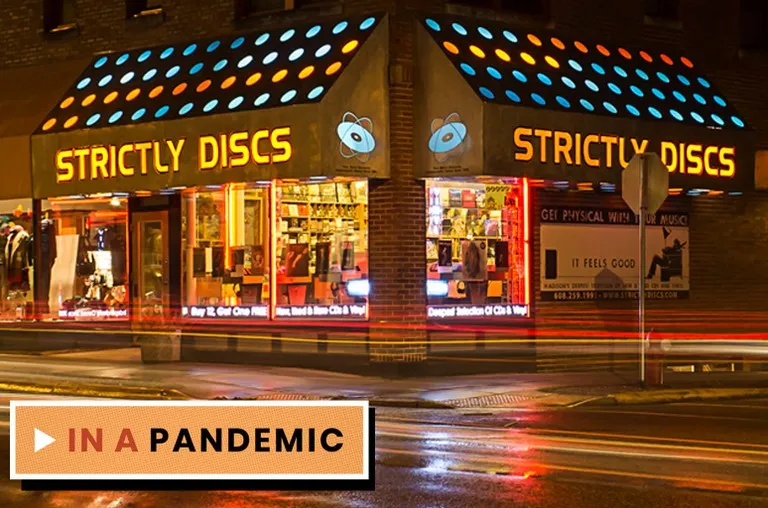 As part of†Billboardís efforts to best cover the coronavirus pandemic and its impacts on the music industry, Chris Eggertsen has been speaking with†Angie†every other†week to chronicle†the experience of an independent record store†throughout the crisis.† Here is a link to the stories in the series so far:
Billboard Article #16 November 16th
Billboard Article #17 December 14th
Billboard Article #18 December 23rd
SELL US YOUR CDS & LPS:
Yes, we are still buying! Call Ron to schedule (608.213.3610).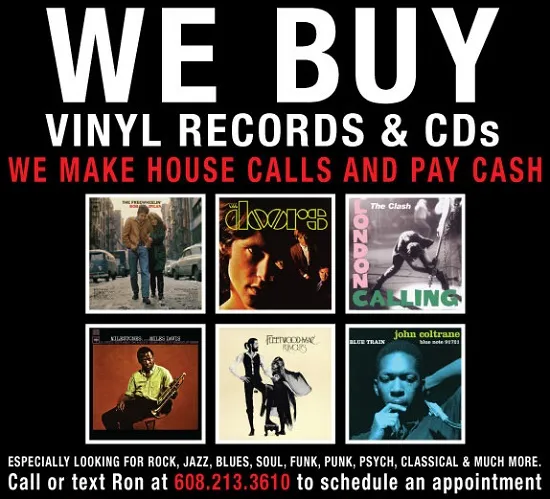 Ron, Ryan, Angie, Marty, Evan, Matt, Will, Ed, Jack & Eric