January 7, 2021
NEW THIS WEEK AT THE SHOP:
Hey there, happy new year. Who needs some new records? We have a new EP from KURT VILE called 'Speed Sound Lonely KV', featuring his song with none but John Prine, "How Lucky". Masterful Queens†lyricist HOMEBOY SANDMAN returns with a new LP called 'Don't Feed the Monster', which heavily features MC and producer Quelle Chris. Bassist JOSHUA ABRAMS steps aside from his Natural Information Society group for a dazzling LP of improvisations with a Chicago quartet that includes guitarist Jeff Parker, called 'Cloud Script'.†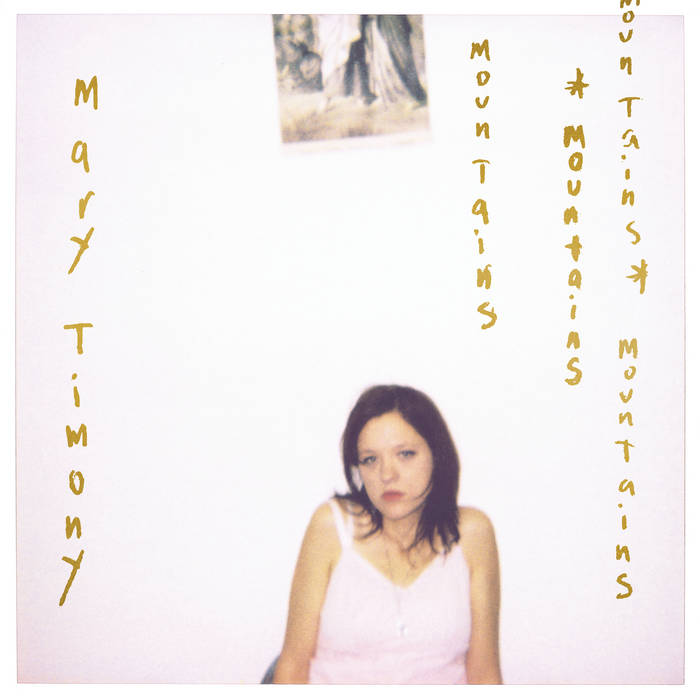 †
†
20 years ago, when MARY TIMONY released her first solo album 'Mountains', there were few, if any musicians exploring the type of feminist fantasy indie-pop that she was making, in between stints leading bands like Helium, Wild Flag, and Ex Hex. A new expanded reissue has this lost classic of an album sounding more revelatory than ever. Similar feelings apply to new reissues of LUCIUS' debut LP 'Wildewoman', and an early FRUIT BATS classic, 'Mouthfuls'.†
Every year Rhino rolls out some essentials to start your year off right, and this week its colored vinyl pressings from TALKING HEADS and THE CARS. 'Speaking in Tongues' is in on blue vinyl, 'The Name of this Band Is Talking Heads' is on red, and 'Shake It Up' is here on neon green wax.†
Two fresh Blue Note Tone Poet editions land from DONALD BYRD and TINA BROOKS, plus we have some excellent CD sets to complement a pair of RSD 2020's most wanted releases, SUN RA's 'Egypt 1971' and SONNY ROLLINS' 'Rollins In Holland'.†
Multi-talented UK flautist TENDERLONIOUS has a new record of improvised Indian and Pakistani music called 'Ragas From Lahore', the latest Black Jazz label reissue is CLEVELAND EATON's 1975 funky bomb 'Plenty Good Eaton', plus we get vinyl editions of recent standout releases from MELODY GARDOT and CHRIS POTTER.†
The eternally underrated NIKKI SUDDEN gets a bit of shine with a thoroughly expanded edition of his debut solo album 'The Bible Belt', from 1983. His late 70s band Swell Maps were true pioneers of DIY noise-rock, hitting similar territory as the early Sonic Youth records would a couple of years later. On this and other records through the 80s, Sudden polished a strange, swaggering brand of glam-pop that plunks itself insouciantly somewhere between Television, the Bad Seeds, and early Elton John. Freewheeling blues rock reigns supreme on RON WOOD & RONNIE LANE's classic 'Mahoney's Last Stand' soundtrack, back in print on LP, and we get the first new pressing in close to 30 years of an essential piece of New Zealand indie, GRAEME JEFFERIES' 'Messages For the Cakekitchen'. Shrugging off the noisy postpunk of his earlier bands, Jefferies wrote the blueprint here for shambolic mid-fi indie that was extremely influential on the early work of beloved artists like Bill Callahan, Cat Power, and Will Oldham.†
With breaks back in fashion again, XL wisely makes the call to repress ZOMBY's irrepressible 'Where Were U In 92?', a new live recording from SUZANNE CIANI called 'A Sonic Womb' finds the Buchla pioneer still creating evocative new worlds, and we have a fresh pressing of 'Curiosum' from German avant-ambient inventors CLUSTER.†
JIM O'ROURKE's only solo release of 2020 didn't stick around long, but now we're got copies of 'Shutting Down Here' back in the house on LP. Fazer bassist MARTIN BRUGGER has a delightful new record of elegant 'kankyo ongaku' type instrumentals called 'Music For Video Stores', and some unheard 90s archival material from dark ambient challenger CHRISTOPH DE BABALON is unearthed on 'Recurring Horrors'.†
A cosmic gem of synthy jazz is brought back into the world from Egyptian keyboardist OMAR EL SHARIYI. Early Japanese sound artist SOMEI SATOH sees two of his most requested pieces pressed on a new LP called 'Emerald Tablet / Echoes', and a fantastic new collection of Japanese avant-pop is in the house, titled 'Tokyo Dreaming'.†
Ballistic Japanese punk meets extreme metal on G.I.S.M.'s infamous 1983 album 'Detestation', still confounding listeners close to 40 years since its release. Short-lived San Diego hardcore band SWING KIDS see their full discography remastered for vinyl. Frenetic, jazz-influenced punk here, fronted by Justin Pearson before he went on to start The Locust. A new LP collects many of the early singles from the UK dreampoppers THE TELESCOPES.†
TOPS AT THE SHOP:†
Most of these titles are in-stock at the shop (even if out of stock online). So feel free to call us to coordinate pick-up, curbside or delivery.
USED VINYL ALERT:
Our first used vinyl alert of the year delivers the goods, especially on the jazz and blues front! We've got some incredible, super seldom seen stunners here, including private press Sun Ra, a first pressing of Ornette Coleman's Free Jazz, og Impulses from Archie Shepp, John Coltrane, and McCoy Tyner, big fish from Kenny Burrell, Thelonious Monk, Charlie Parker, Bud Powell, Cecil Taylor, Ted Curson, Abdullah Ibrahim, Bill Evans, Booker Little, Miles Davis, Lee Morgan, Max Roach, Gene Krupa, Leo Wright, Don Cherry, a huge run of still-sealed Europa Jazz label titles, and on and on. Some amazing blues pressings in as well from John Lee Hooker, Muddy Waters, Otis Rush, Joe Turner, Walter Horton, and more.†
A deep run of classic early Bob Dylan turns up, alongside must-haves from the Kinks, David Bowie, the Doors, the Eagles, Van Halen, Jimi Hendrix, Frank Zappa, Fleetwood Mac, Yes, Cat Stevens, Steely Dan, Gerry & the Pacemakers, Quicksilver, John Cale, Kiss, Nazz, AC/DC, the Doobies, the Byrds. New wave, punk and indie is in from Talking Heads, Squeeze, Patti Smith, REM, Elvis Costello, the Cure, New Order, and the Clash.†
We've got polka, we've got children's LPs, tons of soundtracks, some great rare disco 12"s, folk classics from David Grisman, Michael Hurley, Dave Van Ronk, and more, soul from Joe Tex, Stevie Wonder, and le Pamplemousse, and much much more.




BILLBOARD MAGAZINE'S BIWEEKLY FEATURE ON STRICTLY DISCS: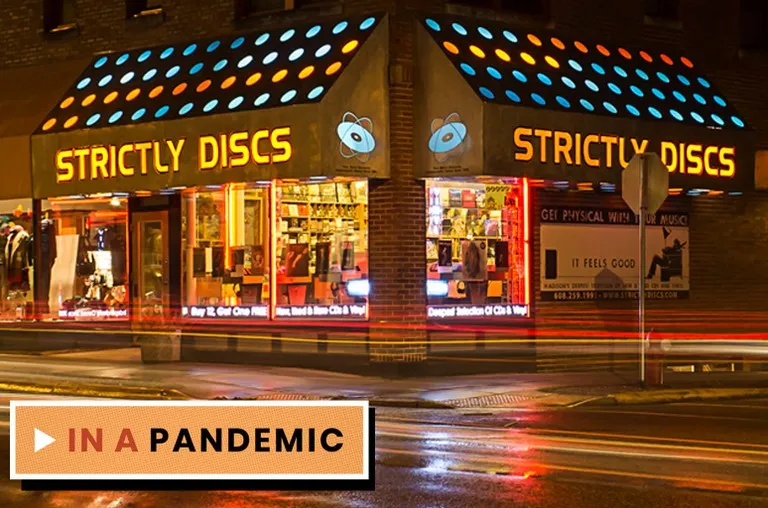 As part of†Billboardís efforts to best cover the coronavirus pandemic and its impacts on the music industry, Chris Eggertsen has been speaking with†Angie†every other†week to chronicle†the experience of an independent record store†throughout the crisis.† Here is a link to the stories in the series so far:
Billboard Article #16 November 16th
Billboard Article #17 December 14th
Billboard Article #18 December 23rd
SELL US YOUR CDS & LPS:
Yes, we are still buying! Call Ron to schedule (608.213.3610).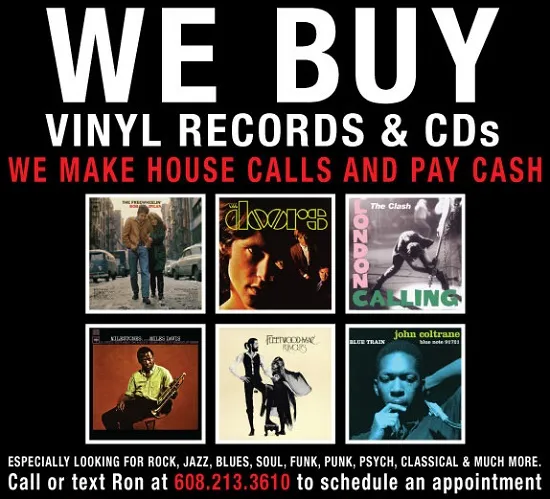 Ron, Ryan, Angie, Marty, Evan, Matt, Will, Ed, Jack & Eric