December 23, 2020
HOLIDAY HOURS:
Christmas Eve - December 24 - 10AM-4PM
Christmas Day - December 25 - CLOSED
Happy Holidays from all of us at Strictly Discs!
HOLIDAY GROOVE 2020:
After the terrorist attacks on September 11th, 2001, we launched this holiday tradition to spread some much needed joy and spirit. This year's holiday groove is in its 20th edition and we hope the effect remains the same (in this year where we could all†really†use it)...happy holidays from all of us at Strictly Discs.†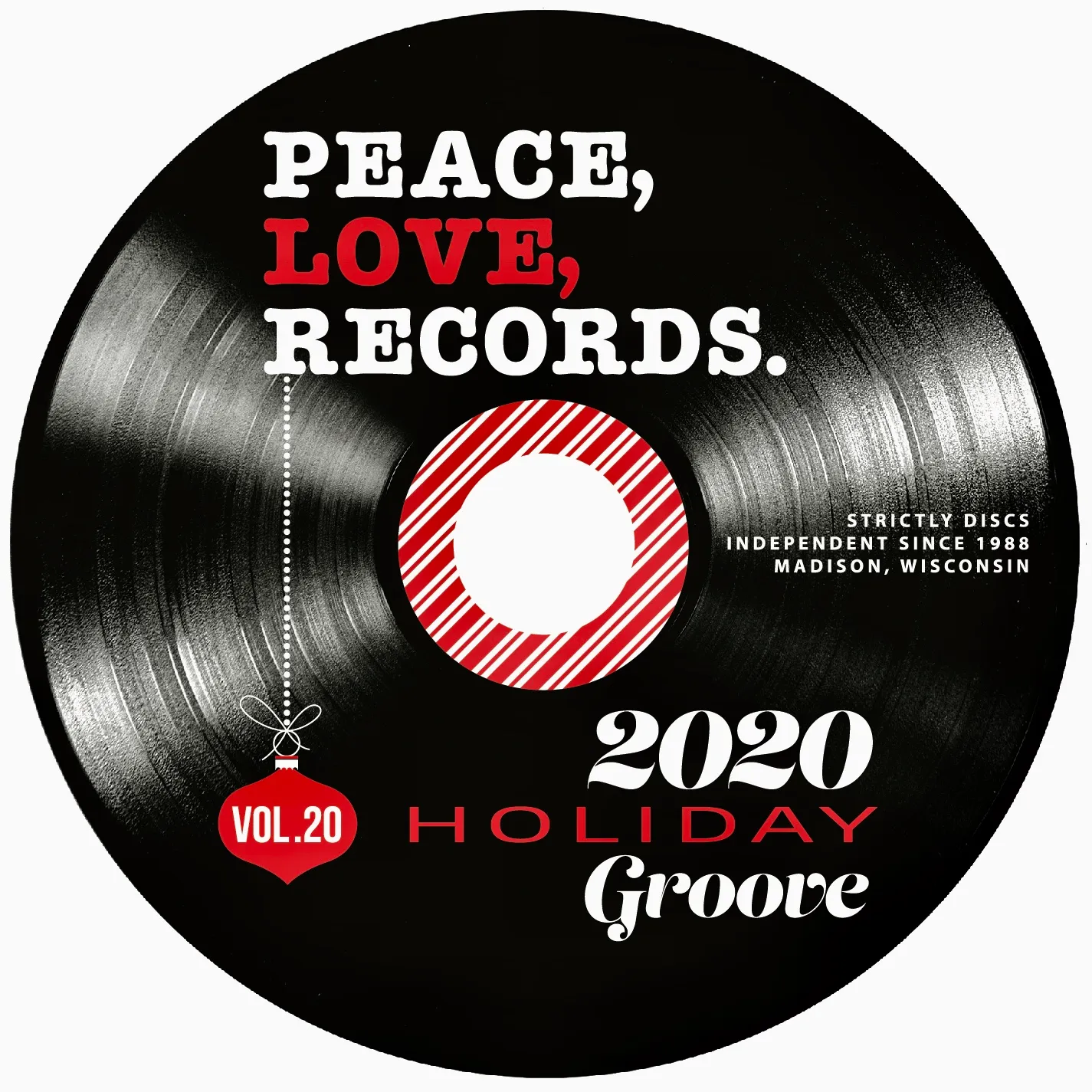 2020 Holiday Groove Tracklisting:
1. Galaxie 500 - Listen The Snow Is Falling - 1990
2. Advance Base & Mike Adams - Quartermaster's Wintertime (Bill Fox) - 1998
3. Louis Prima & Wingy Manone - What Will Santa Claus Say? - 1936
4. Emperor Norton's Stationary Marching Band - Sugarplum Nightmare Tango - 2020
5. Advance Base - Christmas In Milwaukee - 2015
6. Clever Girls - Christmas Will Break Your Heart - 2019
7. Amerigo Gazaway - Christmas in Crooklyn - 2018
8. The Supremes - Twinkle Twinkle Little Me - 1965
9. DATAGIRL - O Come, O Come Emmanuel - 2019
10. Emperor Penguin - Erotic Christmas (Home For The Holograms) - 2000
11. Purple Mountains - Snow Is Falling in Manhattan - 2019
12. Silkworm - Merry Christmas - 1998
13. Gene Autry - Santa's Comin' in a Whirley Bird - 1959
14. Sharon Van Etten - Blue Christmas - 2020
15. Tuba Peter - Auld Lang Syne - 2012
TOPS AT THE SHOP:†
Most of these titles are in-stock at the shop (even if out of stock online). So feel free to call us to coordinate pick-up, curbside or delivery.
USED VINYL ALERT:
For this week (and next), Thursday is the new Friday and our fresh used LPs will hit the floor at 10AM on Thursday.†
This week is†appropriately hearty. Records sure have been there for us this year, and it's been a real pleasure to connect them to their forever homes. In that spirit, we've got a real rising tide of LPs this week that oughta put us all over the top. Some very rare and collectible Beatles LPs are in, plus we've got rare blues, enough foundational jazz albums to build a small community, thorough runs of country, soul, 70s glam and pop gems, plus great reggae, 80s/90s dance, hip hop, and metal.
Oft-requested names this time of year have been reinforced! Dolly Parton, Abba, Elton John, Queen, Kiss, ELO, the Bee Gees, the Rolling Stones, Joni Mithcell, Neil Young, Paul Simon, Bob Dylan, Led Zeppelin, Fleetwood Mac (yes, the Ocean Spray guy record is here), David Bowie, Buffalo Springfield, the Kinks, Black Sabbath, Van Halen, Tom Waits, the Eagles, Tim Buckley, all here in lavish quantities!
Only the word epic describes the jazz on hand this week. Prestige, Impulse, Blue Note, Pausa, Inner City, and CTI gems abound, plus a host of more obscure trios and quartets for the intrepid digger. Early pressings are here from John Coltrane, Abdullah Ibrahim, Yusef Lateef, Eric Dolphy, Charles Mingus, Keith Jarrett, Max Roach, Jaco Pastorius, Jmmy Smith, MJQ, Bill Evans, Pharaoh Sanders and more.
Blues albums include Son Seals, Leadbelly, Bessie Smith, John Mayall, and Screamin Jay Hawkins. Country is well repped with LPs from Billie Joe Shaver, Johnny Cash, June Carter, Emmylou Harris, Patsy Cline, Waylon Jennings, the Highwaymen, Loretta Lynn, Appaloosa, and Dolly! We've got soul from Isaac Hayes, Marlena Shaw, Donna Summer, the Ink Spots, Tower of Power, Bill Withers, Al Green, and Marvin Gaye. Big ones from the rap world come from Jay Z, Snoop Dogg, the Beasties, Shabazz Palaces, MIA, and more. We've got a cool run of 90s electro, trance, and house deep cuts, soundtracks, exotica, Devo, Helen Merrill, and just about everything else in between.




BILLBOARD MAGAZINE'S BIWEEKLY FEATURE ON STRICTLY DISCS: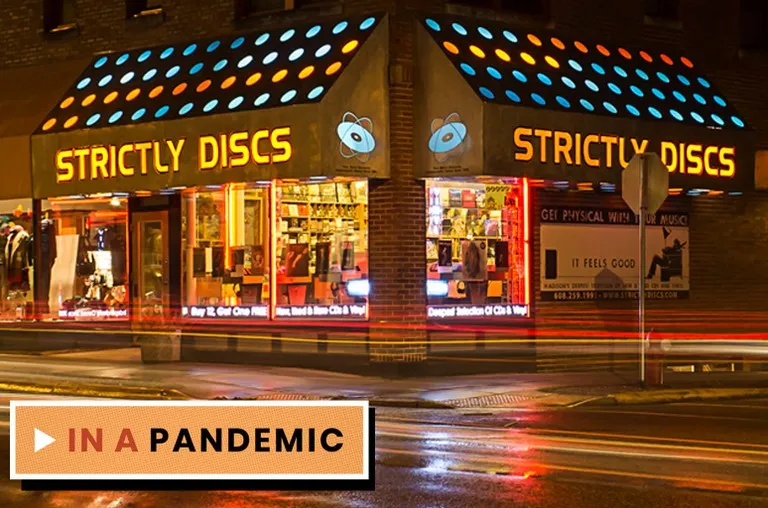 As part of†Billboardís efforts to best cover the coronavirus pandemic and its impacts on the music industry, Chris Eggertsen has been speaking with†Angie†every other†week to chronicle†the experience of an independent record store†throughout the crisis.† Here is a link to the stories in the series so far:
Billboard Article #16 November 16th
Billboard Article #17 December 14th
SELL US YOUR CDS & LPS:
Yes, we are still buying! Call Ron to schedule (608.213.3610).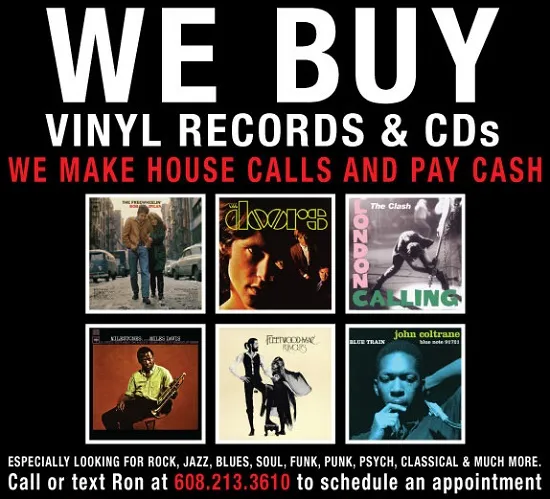 Ron, Ryan, Angie, Marty, Evan, Matt, Will, Ed, Jack & Eric