Holiday Groove 2020 CDs Available Now
HOLIDAY GROOVE 2020:
After the terrorist attacks on September 11th, 2001, we launched this holiday tradition to spread some much needed joy and spirit. This year's holiday groove is in its 20th edition and we hope the effect remains the same (in this year where we could all†really†use it)...happy holidays from all of us at Strictly Discs.†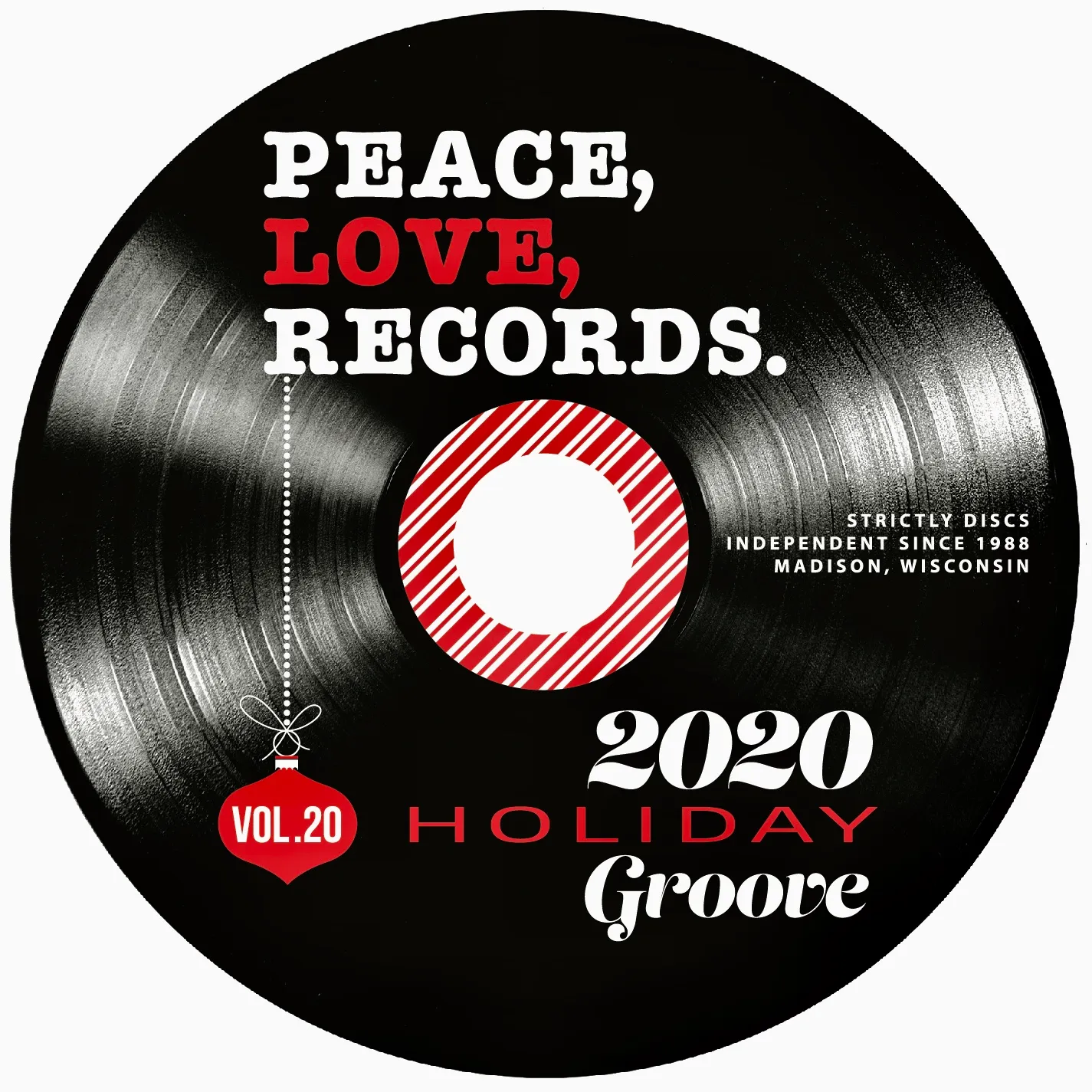 2020 Holiday Groove Tracklisting:
1. Galaxie 500 - Listen The Snow Is Falling - 1990
2. Advance Base & Mike Adams - Quartermaster's Wintertime (Bill Fox) - 1998
3. Louis Prima & Wingy Manone - What Will Santa Claus Say? - 1936
4. Emperor Norton's Stationary Marching Band - Sugarplum Nightmare Tango - 2020
5. Advance Base - Christmas In Milwaukee - 2015
6. Clever Girls - Christmas Will Break Your Heart - 2019
7. Amerigo Gazaway - Christmas in Crooklyn - 2018
8. The Supremes - Twinkle Twinkle Little Me - 1965
9. DATAGIRL - O Come, O Come Emmanuel - 2019
10. Emperor Penguin - Erotic Christmas (Home For The Holograms) - 2000
11. Purple Mountains - Snow Is Falling in Manhattan - 2019
12. Silkworm - Merry Christmas - 1998
13. Gene Autry - Santa's Comin' in a Whirley Bird - 1959
14. Sharon Van Etten - Blue Christmas - 2020
15. Tuba Peter - Auld Lang Syne - 2012
TOPS AT THE SHOP:†
Most of these titles are in-stock at the shop (even if out of stock online). So feel free to call us to coordinate pick-up, curbside or delivery.



NEW THIS WEEK AT THE SHOP:
With a week to go until Christmas, we are still sneaking some new things into the store to nestle under your tree, or straight to the turntable. PAUL MCCARTNEY blows our minds once again with 'III', the 3rd installment of his solo pop experimentation albums, this one from the lockdown year. We also have a new LP of historic rarities from DAVE ALVIN and a very timely new record from THE DRIVE-BY TRUCKERS.
A massive week for hip-hop vinyl begins with the latest from NAS, we have a deluxe and limited edition 4LP set from MAC MILLER, 'Swimming In Circles' collects both of his final 2 albums in one very smart looking box. The new album from JAY ELECTRONICA features none other than JAY-Z on most of it's†tracks, and we have the debut from ALUNA with some nice Kaytranada production.†
OSEES rework their 2020 smash 'Protean Threat' on a companion LP called 'Panther Rotate'. Hey, that's an anagram. Two of the earliest and most requested LPs from THE DECEMBERISTS are back in print: 'Castaways & Cutouts' and 'Her Majesty, The Decemberists'.
The landmark chilly beat epic that is TEEBS 'Ardour' turns ten years old and gets an expanded vinyl edition this week, plus we have delightful ambient gems from PUMICE and DANIEL O'SULLIVAN. West coast beatmaker and vocalist LAGOS has a lovely record of post FlyLo bliss; we welcome a killer new comp of rare late 90s braindance called 'IDMEMO', and the leftfield chillhop album 'A Son of the Sun' from Japanese pianist UYAMA HIROTO is back in print (Nujabes alert!).†
Timely reissues and restocks include the '( )' album from SIGUR ROS back on vinyl, the 1990 debut 'Folk' by UK leftfielders†ULTRAMARINE, a new, affordable pressing of THE KINKS' legendary 'Lola Versus Powerman and the Moneygoround', and a new printing of the 1970 debut LP from KOOL AND THE GANG.†
THUNDERCAT sees his track with Ty Dolla Sign 'Fair Chance' issued on 12" with a remix from FLOATING POINTS.† DJ HARVEY's sex-funk-dungeon project LOCUSSOLUS returns with an EP 'Exhumed', and we get a late 90s classic back from skater/lounger TOMMY GUERRERO.†
It's not a record, just a book, but the latest Soul Jazz edition of Cuban album covers would make a dynamite gift for fans of latin music or dazzling album art. A pair of deep SUN RA albums come back to us this week: 'Horizon' and 'Nidhamu'.
USED VINYL ALERT:
Downstairs we go for the Used Vinyl Alert, and you can bet we've got the holidays in mind for you. In addition to our deep selection of holiday LPs, we've added some more new arrivals on the Chrismtas†front, including some John Fahey. By surprise demand, we have rolled out a nice stack of polka LPs! We've also loaded up on a lot of names that seem to be on everyone's list this time of year, with big catalog runs from Neil Young, Frank Zappa, Led Zeppelin, the Beatles, Frank Sinatra, John Prine, Queen, the Doors, David Bowie, AC/DC, Elton John, and more.
Classic and hard rock is in from Slade, Warren Zevon, Def Leppard, Styx, Scorpions, Allman Brothers, the Kinks, Jimi Hendrix, the Doobie Brothers, Helmet, and King Crimson. 80s wave is in from the Soup Dragons, Cocteau Twins, Pet Shop Boys, Nick Lowe, U2, Talking Heads, Jazz Butcher, the Pretenders, and the Cure.
A sweet run of classic jazz is in from Roland Kirk, Wes Montgomery, Weather Report, Miles Davis, John Coltrane, Dave Brubeck, Bobby Hutcherson, Modern Jazz Quartet, Duke Jordan, Dexter Gordon, Ornette Coleman, Art Blakey, and Dave Pike. A whole lotta soul includes LPs from Curtis Mayfield, Sam & Dave, Bill Withers, Al Green, Maxine Weldon, Mary Jane Girls, the Whispers, Shadow, the Supremes, the Temptations, and many more. Plenty of country is in, with some fine ones from Johnny Cash, Dolly Parton, and Patsy Cline, plus we've got a nice run of early blues names like Professor Longhair, Muddy Waters, JD Short, Jesse Fuller, and Freddie King.
BILLBOARD MAGAZINE'S BIWEEKLY FEATURE ON STRICTLY DISCS: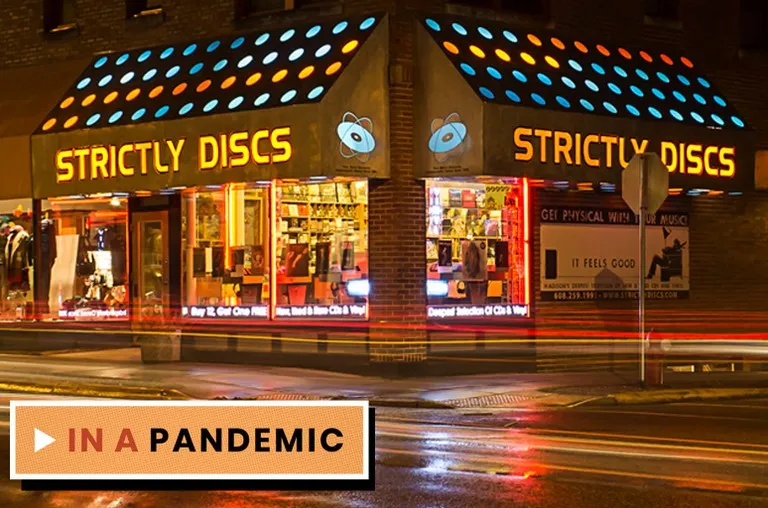 As part of†Billboardís efforts to best cover the coronavirus pandemic and its impacts on the music industry, Chris Eggertsen has been speaking with†Angie†every other†week to chronicle†the experience of an independent record store†throughout the crisis.† Here is a link to the stories in the series so far:
Billboard Article #17 December 14th
SHOP BY APPOINTMENT: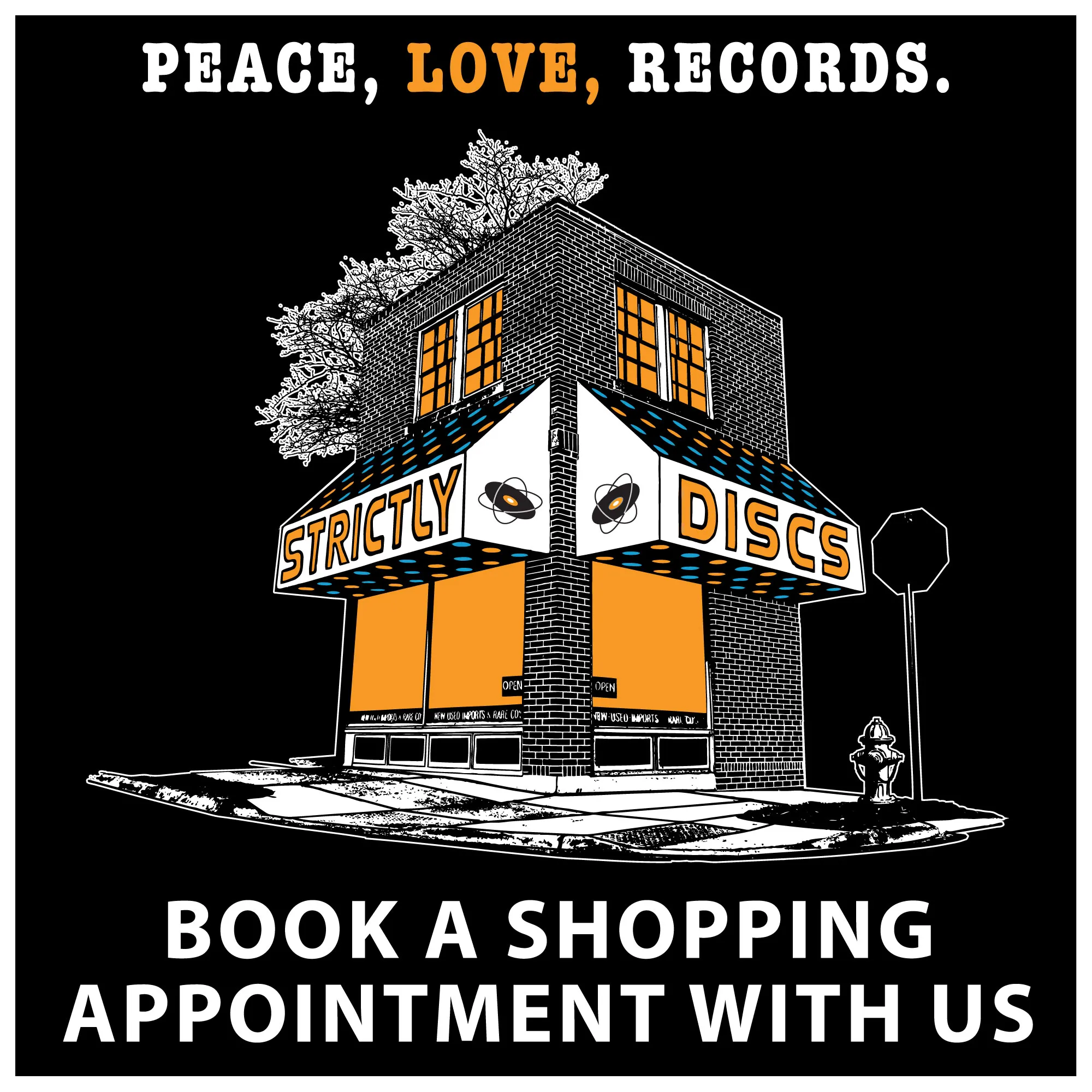 The shop is†OPEN†every day for in-person shopping. Our current hours are Monday-Thursday 10AM-6PM, Friday 10AM-8PM, Saturday 10AM-6PM & Sunday 11AM-5PM.†
We know this is not a typical holiday season and we would like to accommodate as many of you as safely as possible, so we will be opening the shop early for appointment shopping starting Saturday, December 5th.†
A maximum of 5 individual customers will have a 30 minute opportunity to shop prior to our normal business hours.†
To reserve your appointment, visit†HERE.†
Happy holidays from all of us at Strictly Discs. Stay strong & have #hope.
SELL US YOUR CDS & LPS:
Yes, we are still buying! Call Ron to schedule (608.213.3610).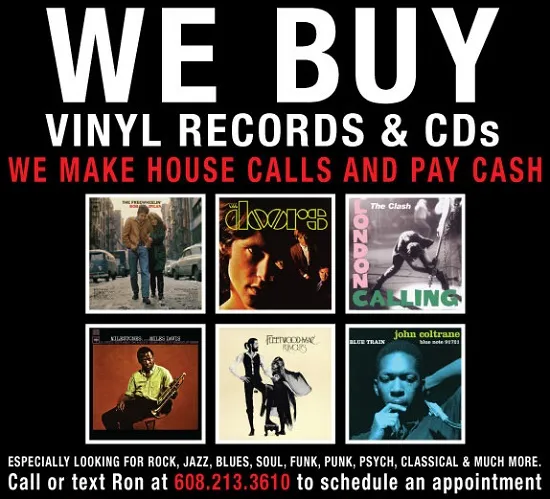 Ron, Ryan, Angie, Marty, Evan, Matt, Will, Ed, Jack, Eric & Dave