December 3, 2020
SHOP BY APPOINTMENT:

The shop is†OPEN†every day for in-person shopping. Our current hours are Monday-Thursday 10AM-6PM, Friday 10AM-8PM, Saturday 10AM-6PM & Sunday 11AM-5PM.†
We know this is not a typical holiday season and we would like to accommodate as many of you as safely as possible, so we will be opening the shop early for appointment shopping starting Saturday, December 5th.†
A maximum of 5 individual customers will have a 30 minute opportunity to shop prior to our normal business hours.†
To reserve your appointment, visit†HERE.†
Happy holidays from all of us at Strictly Discs. Stay strong & have #hope.
TOPS AT THE SHOP:†
Most of these titles are in-stock at the shop (even if out of stock online). So feel free to call us to coordinate pick-up, curbside or delivery.



NEW THIS WEEK AT THE SHOP:
USED VINYL ALERT:
The heat doesn't stop with this week's Used Vinyl Alert. With the gift-giving season upon us we have pulled out some classic, rare and collectable LPs from some of our favorite names. Check out deep pulls, must haves, early pressings, and "imports" from folks like Fleetwood Mac, Tom Petty, John Prine, Led Zeppelin, the Rolling Stones, Bob Dylan, John Lee Hooker, the Beatles, Van Halen, Queen, John Coltrane, James Brown, Michael Hurley, the Kinks, Jimi Hendrix, David Bowie, and more.
Rocking continues with the Doors, Lynyrd Skynyrd, My Morning Jacket, Def Leppard, Boston, Dexy's Midnight Runners, Gene Vincent, Styx, Boston, Alice Cooper, the Pretenders, the Allmans, the Rascals, the Turtles, Frank Zappa, Supertramp, the Hollies, and more.
A whole lot of soul hits the floor this week including Otis Redding, James Brown, Marlena Shaw, Edwin Starr, Fatback, the Jacksons, Stuff, Heatwave, Stephanie Mills, the Isley Brothers, Gap Band, and many many more. Jazz also comes through big, with LPs from Dave Brubeck, Martin Denny, Thelonious Monk, Chet Baker, Lonnie Liston Smith, Duke Ellington, Roswell Rudd, Oliver Nelson, Freddie Hubbard, Donald Byrd and more.
We round things off with a lot of great 80s new wave an pop, some cool blues and folk, a nice spread of early country including compilations we rarely see, some great soundtracks, surf rock, and newer indie gems.†
BILLBOARD MAGAZINE'S BIWEEKLY FEATURE ON STRICTLY DISCS: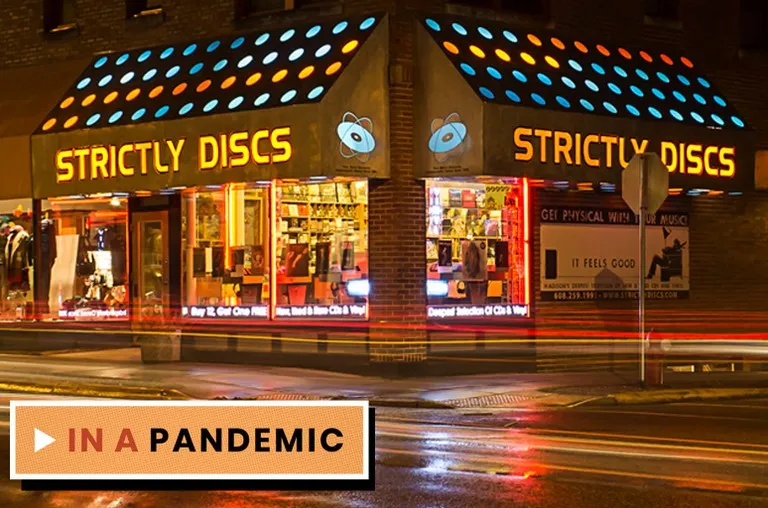 As part of†Billboardís efforts to best cover the coronavirus pandemic and its impacts on the music industry, Chris Eggertsen has been speaking with†Angie†every other†week to chronicle†the experience of an independent record store†throughout the crisis.† Here is a link to the stories in the series so far:
SELL US YOUR CDS & LPS:
Yes, we are still buying! Call Ron to schedule (608.213.3610).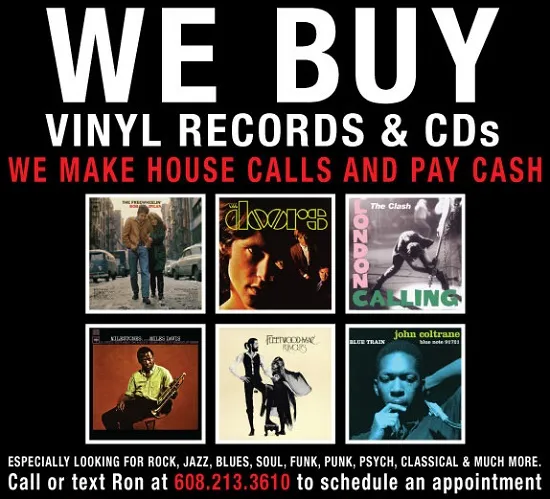 Ron, Ryan, Angie, Marty, Evan, Matt, Will, Ed, Jack, Eric & Dave