November 25, 2020
HAPPY THANKSGIVING:
Happy Thanksgiving from all of us at Strictly Discs. We will be CLOSED Thursday but back at it bright and early on Friday when we open at 9AM.
RECORD STORE DAY BLACK FRIDAY IS NOVEMBER 27TH:
Here is Strictly Discs' plan for the day:
1. We OPEN at 9AM for RSD shopping
2. Line to form westbound on Monroe Street
3. Masks (covering nose & mouth) & distancing required at all times
4. While in line, you will be handed a menu of all RSD titles  
5. We will pull your requests & you will check out outside
6. The shop will open for normal browsing at approximately 10AM with RSD titles upstairs
Thank you for helping us to keep this event safe & fun.

Our goal for this day is to get you the records you are looking for while limiting potential exposure. 

Stay strong & have #hope.
PRODUCT NOTES :
CANCELLED:
David Grusin - The Goonies Soundtrack
Larry Coryell - At The Village Gate
Linkin Park - Meteora
Pete Yorn - Pete Yorn Sings (both CD & LP)
John Carpenter / Dave Davies - Village of the Damned
Public Enemy - Power to the People
George Thorogood - Live in Boston
Bob James - Nautilus
Crack The Sky - Tribes
Round Robin & Brimstone - S/T
Walking Papers - The Light Below
DELAYED: 
Pete Rock - NYs Finest Instrumentals
Chris Cornell - Patience (should arrive Friday approximately 11AM)
David Gilmour - Yes I Have Ghosts (in stock now but additional copies arriving Friday approximately 11AM)
NEW THIS WEEK AT THE SHOP:


Amidst the bustle of Black Friday preparation (which includes an *amazing* spread of used vinyl, read below for the details), we've managed to pull in an impressive run of new arrivals this week. First up, the first ever vinyl edition of DWIGHT YOAKAM's collection of covers, 'Dwight's Used Records', on limited gold wax. BILLIE JOE ARMSTRONG of Green Day also turns in a covers compilation called 'No Fun Mondays', and we get a limited color vinyl reissue of THE DISTILLERS first album.
Chicago trumpeter and composer ROB MAZUREK reconvenes his EXPLODING STAR ORCHESTRA for an era-defining new album for Nonesuch called 'Dimensional Stardust'. 'Turn To Clear View', the 2019 album from UK jazzer JOE ARMON-JONES is now in on vinyl, and we have a spirited new record from Bjorkian R&B singer LAFAWNDAH. 
The 1992 album 'Nerve Net' from BRIAN ENO marked a return to his uncanny rock valley, and is now back in print on LP, along with a first-ever vinyl edition of 'Live at LACMA' from Los Angeles pianist HORACE TAPSCOTT. 'Left Handed Dream', the dazzling, Bowie-esque 1982 electro-pop collaboration between RYUICHI SAKAMOTO and ROBIN SCOTT, gets an expanded reissue with an extra LP of instrumental versions. 
The latest edition of Studio Ghibli soundtracks comes through with JOE HISAISHI's tender score for 'Kiki's Delivery Service'. The minimalist cover art on 'Natsu No Zenbu', a 2 LP collection of recordings by IPPEI MATSUI and AKI TSUYUKO, understates the rich detail of the ambient folk-art improvisations it contains. This lovely LP edition recreates a 2008 CDR that the couple gave away at their wedding, and is a unique celebration of creative spirit. Also reissued in a beautiful new edition is the 1984 album from Japanese percussionist YAS-KAZ. 'Jomon-sho' is an absolutely transporting record of hypnotic, organic dynamisms to be played loud enough to disturb every insect in a mile radius of your house. 
The popular music of Cambodian legend SINN SISAMOUTH has proven stronger than any evil force that's sought to keep it hidden, and now we get a scorching new collection of some of his deepest tunes, 'Groove Club Vol 4'. The final full length album from rave internationalists DEEE-LITE, 1994's 'Dewdrops In The Garden', returns in a sweet 2LP edition, and we've got a fresh colored vinyl version of MERRY CLAYTON's fiery 'Gimme Shelter'. 
Once you've polished off your turkey, work it out with some funk, starting with the latest slab of elegant boogie from GIOVANNI DAMICO called 'Fall In The Groove'. Elevated jazz-funk rarity 'In Togetherness' from JUDY POLLAK and 33 1/3 gets a limited repress, and we have a fresh edition of illegally great funky house from Detroit's AMP FIDDLER on 2016's 'Motor City Booty'.
A new LP collects two recent cassettes of cool, verdant ambient jazz from Dutch musician FELBM. On 'Tell Me Your Mind And I'll Tell You Mine', upcomer KING HANNAH turns in an updated take on Mazzy Star that's impossible to resist. UK jazz-hop unit THE DIABOLICAL LIBERTIES turn in a new LP called 'High Protections & The Sportswear Mystics' that hunches near the same melting pot as many of the names on the recent Kaleidoscope compilation. 
The fascinating, psychedelic pop sounds of the Champeta sound of 1970s Colombia are celebrated in detail on MACHUCA, the latest comp from the always on point Analog Africa label. Emotionally resonant dream-bossa is here from Brazilian jazzbo PIRY REIS with an expanded reissue of his rare 1980 album. You may recall his gorgeous tunes on the Outro Tempo collections. Just a few days ago, I was utterly unfamiliar with CY TIMMONS, a prolific Atlanta musician who released very few copies of his records. Japanese label Bright Size has produced two extremely deluxe reissues of a pair of his 70s/80s gems, 'The World's Greatest Unknown' and 'Heaven's Gate', both filled to the top with moving takes on Spanish folk, samba, and Americana. 
Legendary lifer weirdos crop up this week with a new record from THE DISHWASHERS, a duo of BILL NACE and GRAHAM LAMBKIN doing their finest conjuring of ambient sound from inanimate surroundings. On 'Cassette', LES CONVERSIONS are a trio of Pat Murano, Jason Meagher, and Dave Shuford, all veterans of the mighty No Neck Blues band. German solo musician ITCHY BUGGER delivers hungover DIY rock ala Swell Maps or the early Flying Nun records on 'Double Bugger'. 
Back in 2000, minimal electronic producers EKKEHARD EHLERS and STEPHAN MATHIEU collaborated on a limited run CD called 'Heroin' which, honestly, sounds a whole lot sweeter than that title would have you believe. Whatever was in the water back then making these records so great, you can have another sip with a luxe new vinyl edition. UK duo SPECIAL OCCASION make delicate songs from neat bits of rhythm and melody arranged slightly off-kilter on 'The Word', some songs here remind me of Woo, others of something totally different, like AR Kane or late 80s Durutti. Last up, a phenomenal new EP from longtime house producer Aaron Paar as LA HOUSIN AUTHORITY, serving up timeless block-rocking classics. 
USED VINYL ALERT:
Black Friday draws near, and quite frankly, we've been waiting impatiently for this one. Yes, it's the final Record Store Day event in a year strangely full of them, but it's also the day we finally get to unveil one of the greatest collections of used records we've ever put out in all our years here. No exaggeration! The crates we're putting out Friday have more classics than you've ever seen in one place and just about every one of them is a pristinely kept original or early pressing. Minty corners, original hype stickers, clean shrinkwrap. Total timewarp stuff here.
Summing up the massiveness here is a challenge, but we'll try. How about original pressings of The Clash's 'London Calling' and 'Sandinista', 'Hounds of Love' and 'The Kick Inside' from Kate Bush, like-new originals from The Buzzcocks, Iggy and the Stooges, the Pixies, Violent Femmes, The Smiths, Jane's Addiction, The Pogues, and the Talking Heads? 80s live boots from The Cure? First pressings of the first two Television records? Rare comps like the Repo Man OST, Eraserhead OST, Decline of Western Civilization, and more? No? Then enjoy long strolls through the catalogs of Neil Young, Bob Dylan, Elton John, Pink Floyd, Rush, David Bowie, the Grateful Dead, Black Sabbath, Steely Dan, the Travellin Wilburys, AC/DC, Judas Priest, the Ramones, and the Doors.
The records here lean a bit towards the 80s and all its great alternative rock, early indie, post-punk, goth, and industrial offshoots, but we've also got some noteworthy jazz here from Herbie Hancock and Miles Davis, a nice run of minty Gil Scott-Heron LPs, essentials from Ryuichi Sakamoto, Brian Eno and Kraftwerk, a deep cruise through the earlier side of Tangerine Dream, plus solo jaunts from Roedelius and Schulze. Funk is here from James Brown and Funkadelic, reggae from Bob Marley and Jimmy Cliff. 
But hey, do you want the truth, or do you want the new wave? We've got bizarrely clean classics from OMD, Tuxedomoon, PIL, Siouxsie, the Go-Gos, the B52s, Eurythmics, Shriekback, Devo, Ministry, REM, XTC, the Suburbs, Psychedelic Furs, This Mortal Coil, Joe Strummer solo, Cocteau Twins, Telex, Meat Puppets, Test Dept, Stiff Little Fingers, Pussy Galore, Jesus and Mary Chain, Nine Inch Nails, Legendary Pink Dots, Ministry, Einsturzende Neubauten, Front 242, New Order, Savage Republic, Killing Joke, Skinny Puppy, Fugazi...all here. It literally just sounds like I'm naming every good band ever!
"Whoa whoa," you say, "these records are just too good, but maybe a little out of my price range." That's fair! We have also rolled out close to 500 of our more standard Friday Used Vinyl Alert LPs. Tons of classics across the spectrum of jazz, roots rock, blues, soul, metal, country, pop and dance.
USED CD ALERT - AVAILABLE FRIDAY EVENING:
Big week of used cds, we love our beautiful used cds. We got replenishments on the usual suspects – your Pink Floyds and Neils and such – but it's the cult faves that carry the day here and that means Can, The Stooges, Television and Big Star-affiliated releases. There's also a big infusion of early classic Kinks and prime-era Leonard Cohen, definite giants in the game but artists sellers are usually reluctant to unload. Likewise, there's a whole raft of more recent vintage goodness. Big sounds from My Bloody Valentine, Explosions in the Sky, The Jesus and Mary Chain and Galaxie 500 dominate one side. The other notables lean heavy into lyricism and it's the top of the heap here. Ace stuff from Courtney Barnett, Silver Jews (!), Elliott Smith, The Wrens, Red House Painters [decades before Kozelek went audio diary mode], Bill Callahan (!) and the Wrens. Don't miss out. We don't see these often and we don't anticipate they'll be long for the shelves.
STRICTLY DISCS T-SHIRT TO BENEFIT SHOP:
After Record Store Day was postponed in April, the custom clothing company Bonfire out of Richmond, VA contacted us wanting to design a limited edition Strictly Discs shirt highlighting our current message of safety & hope during these unprecedented times. Back by popular demand, you can now order this design once again.
Bonfire's mission is To Strengthen & Inspire Communities. Well, we are humbled by our community that believes, like we do, that music is essential.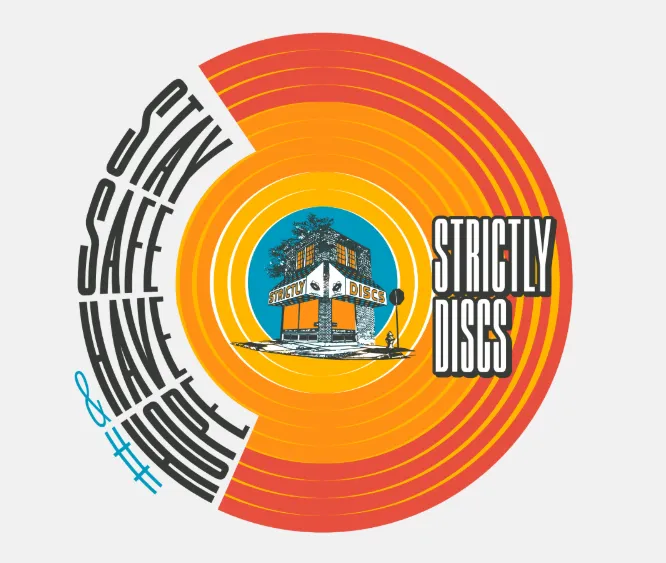 The related t-shirts/hoodies for adults/children will be delivered directly to your door.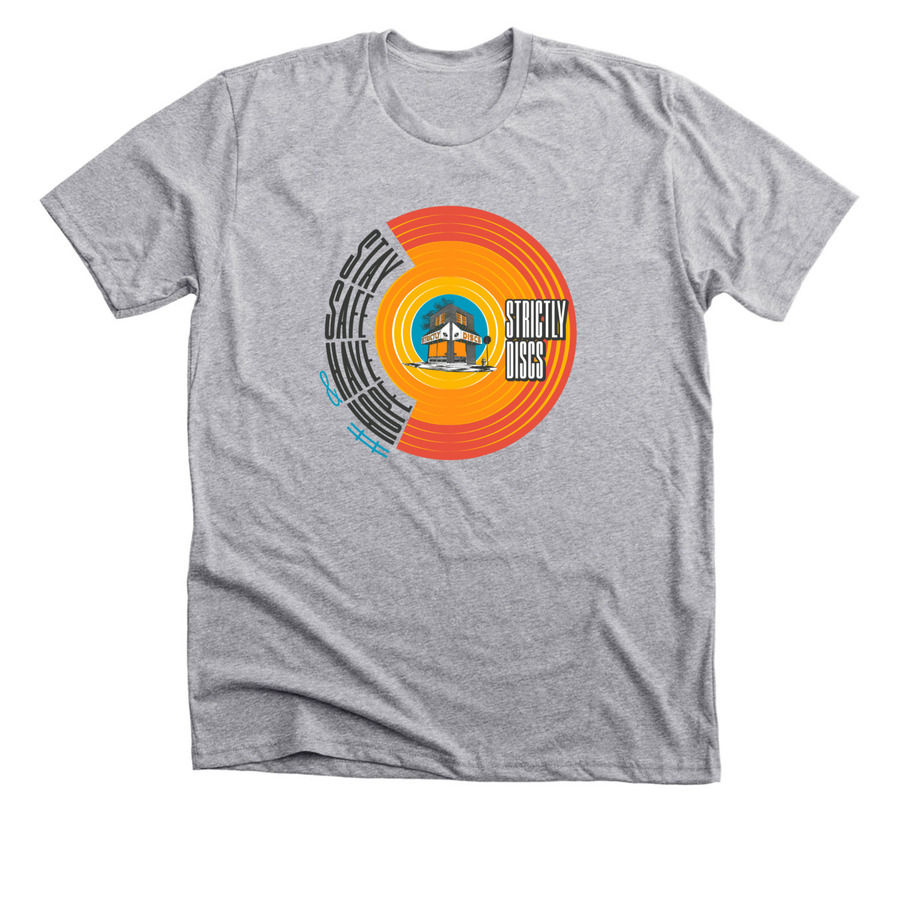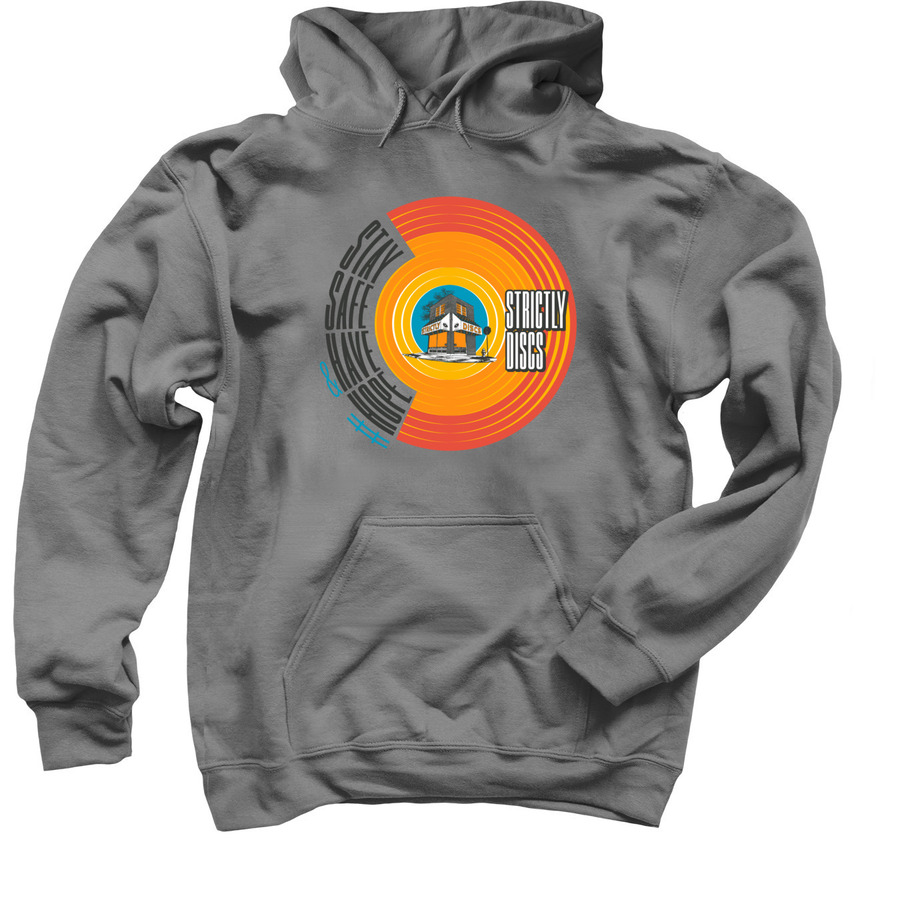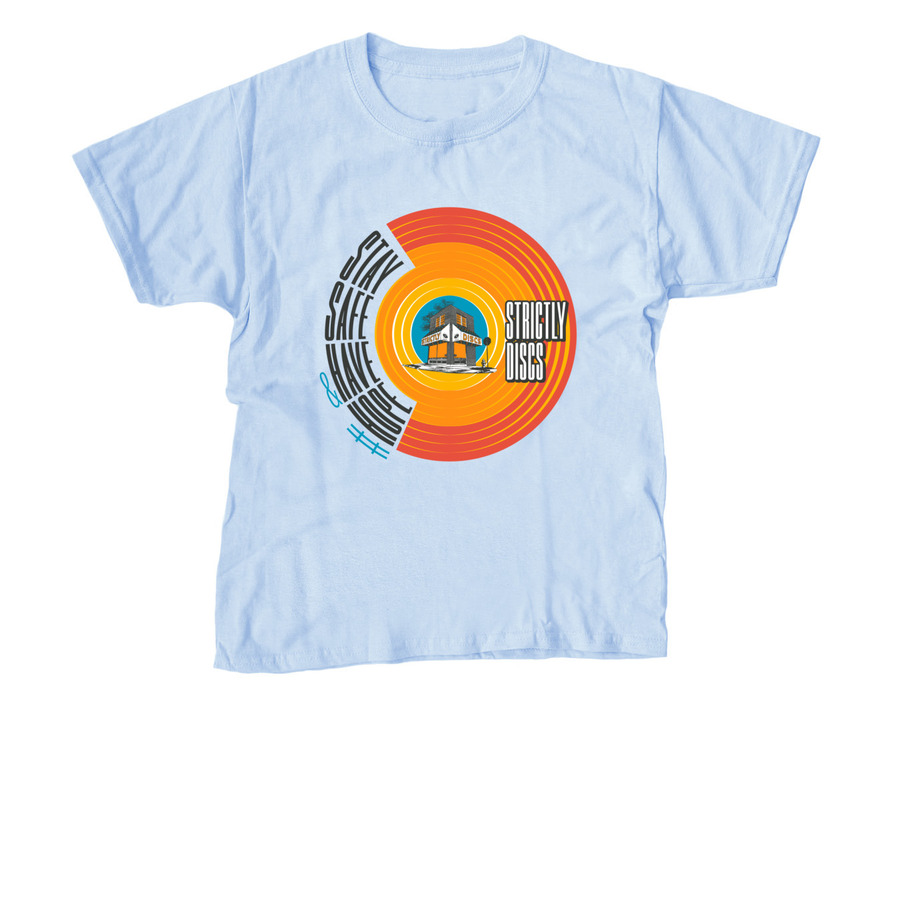 For our campaign Bonfire is donating proceeds back to us as they too are fans of Strictly Discs. Now that's rad.
Purchases help ensure Strictly Discs survives this crisis and continues to be your music resource. We are humbled by our community who believes, like we do, that music is essential. 
Our staff thanks you all for your ongoing support. Stay safe & have #hope. 
BILLBOARD MAGAZINE'S BIWEEKLY FEATURE ON STRICTLY DISCS: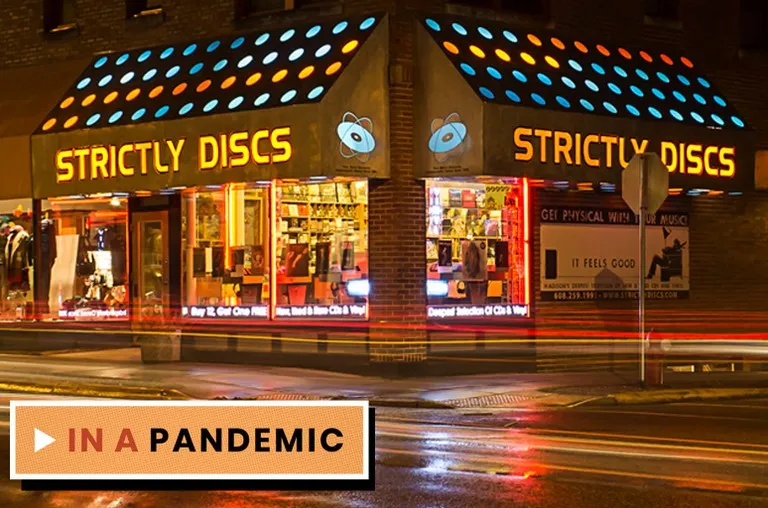 As part of Billboard's efforts to best cover the coronavirus pandemic and its impacts on the music industry, Chris Eggertsen has been speaking with Angie every other week to chronicle the experience of an independent record store throughout the crisis.  Here is a link to the stories in the series so far:
SELL US YOUR CDS & LPS:
Yes, we are still buying! Call Ron to schedule (608.213.3610).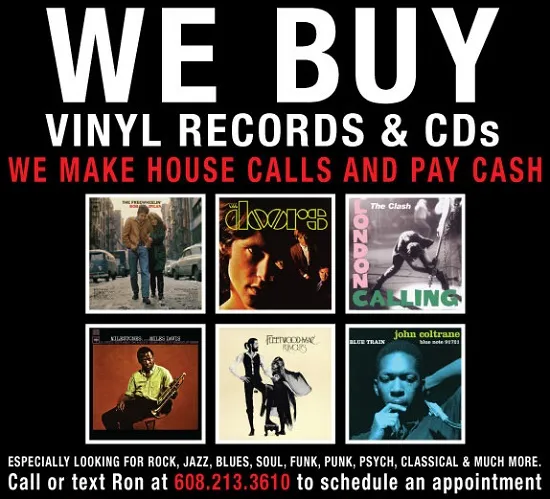 Ron, Ryan, Angie, Marty, Evan, Matt, Will, Ed, Jack, Eric & Dave