November 12, 2020
NEW THIS WEEK AT THE SHOP:
At the end of a week in which the cold, hard realities of data have collided decisively with the slippery forces of delusion and deception, we will side with the numbers, and run down an exciting roster of new releases with a simple summary of the basic facts of their existence. If you partake of Spotify, please do point yourself to this week's

†

Strictly Selectos playlist

†

for samples of everything you see here. The latest from country phenom CHRIS STAPLETON is here on CD and double LP, plus we have limited copies of the LP version of PUBLIC ENEMY's latest album, 'What You Gonna Do When The Grid Goes Down'. Midwest fuzzy rock heroes HUM return with their first album in well over twenty years. 'Inlet' is here on CD and double LP. Much like recent comeback albums from Slowdive, Duster, or Deftones, this record delivers exactly what you'd hope your favorite band would do, with some barely noticeable tweaks.†
Classic out of print albums return to vinyl this week: we've got 'Go' from JONSI of Sigur Ros fame, 'No Need to Argue', the 1994 sophomore album from THE CRANBERRIES, gets an expanded reissue, and the mighty ALICE IN CHAINS' 'Facelift' is reprinted.†
'Flaming Tunes' is the name of a cassette release from 1985 by GARETH WILLIAMS and MARY CURRIE, and is the only music Williams released after the dissolution of the mighty This Heat. A long elusive piece of the Camberwell group's family tree falls into place with this elegant reissue. MACHINEDRUM made his debut on Ninja Tune in 2013 with 'Vapor City', a remarkably durable album of elusive breaks, now back in print on gold vinyl. Analog wizard Legowelt introduces a new alias SAMMY OSMO on a stellar 2LP set of espionage-synth called 'Schaduw Horizon'.†
Deep trips through the discography of ELTON JOHN await with two volumes of the artist's personally curated compilations, 'This Is Me' and 'Deep Cuts'. We also get a visit from KEITH RICHARDS and the X-PENSIVE WINOS with a red vinyl edition of 'Live At the Hollywood Palladium'.
Welsh guitarist GWENIFER RAYMOND continues the Fahey tradition with some powerfully-rendered instrumentals on 'Strange Lights Over Garth Mountain'. Cosmic slide guitar from BARRY WALKER on 'Shoulda Zenith' toes a delightful line between country and new age. Esteemed Wilcovian guitarist NELS CLINE blesses us with a lovely new record called 'Share the Wealth'.
The latest record from the timeless alt-country genius that is LAMBCHOP is called 'Trip' and it is all covers. ELVIS COSTELLO brings a startling reminder of his unparalleled songwriting skills on 'Hey Clockface'. The joyous jazz-funk mastery of GEORGE BENSON shines on a new live disc, 'Weekend in London'.†
The award-winning soundtrack for 'The Social Network' by TRENT REZNOR and ATTICUS ROSS gets a new pressing for the first time in a decade. Melancholy dub ambient abounds on a new record from POLE. Liminal psych-dubber SUN ARAW teams up with Estonian musician MAARJA NUUT on a delightfully low-key LP called 'Fantasias for Violin & Guitar'.†
Glimmering synths and treated vocals make for an especially potent new LP on the Mood Hut label from Vancouver artist HOTSPRING. Emotive, implacable drift abounds on a new LP from HEATHERED PEARLS, in stock on rust colored wax. Pianist NILS FRAHM has a fresh slab of moving instrumentals called 'Empty'.†
Early 80s Athens band LOVE TRACTOR came out of a fertile scene that gave us Pylon and REM. Their debut self-titled album has been remastered for a new LP pressing, and a new appreciation of their catchy surf-tinged instrumentals not too far off from the sound of The Flesh Eaters or the Feelies. 'Harlem River' an early classic from solid bud KEVIN MORBY is back in stock on color vinyl, and we've also got the latest LP from THE MENZINGERS on color wax.
A pair of PJ HARVEY reissues we had our sights on back in August mysteriously went missing, but we've got them now. 'Rid of Me' and '4-Track Demos' are here, as well as a new repress of her very underrated collab with JOHN PARISH from 1996, 'Dance Hall at Louse Point'.


Vaporwave chill meets taut boogie funk on a can't-miss new record from TOBY GLIDER called 'Novelty'. Playful ambient-concrŤte nuggets gleam bright on a new EP from PANORAM, and we've got a new repress of folktronic†whiz BIBIO's first bliss-out for the Warp label, 'Ambivalence Avenue'.†
USED VINYL ALERT:
We've pulled out some heavies to check off your want list in this week's Used Vinyl Alert. Audiophile Beatles, seldom seen classics from Led Zeppelin, Pink Floyd, the Grateful Dead, and the Rolling Stones, and a nearly complete run of first pressing Tom Waits LPs are here. More classics come through from JJ Cale, Bob Dylan, Neil Young, Dr. John, Lou Reed, Rush, Alice Cooper, the Byrds, Moby Grape, Joni Mitchell, Uriah Heep, Cheap Trick, Doug Sahm, Todd Rundgren, Roxy Music, the Allman Brothers, Steely Dan, and Van Morrison.
Rare essentials from the punk and new wave realm include LPs by the Sex Pistols, David Bowie, Magazine, Cabaret Voltaire, the Stranglers, Talking Heads, Devo, Japan, The Reds, Depeche Mode, and David Sylvian. Heavier things are in from Queensryche, UFO, Molly Hatchet, Alice Cooper, Nektar, Nazareth, Dio, and a couple rare ones from King Crimson.
Some solid ones on the jazz front this week, including an essential and clean copy of the Pyramids 'Birth Speed Merging', rare ones from Leo Wright, Jim Hall, and Lee Morgan, plus more from Bill Evans, Thelonious Monk, Sonny Rollins, Dave Brubeck, Vince Guaraldi, Django Reinhardt, Gabor Szabo, Les McCann, and Gil Evans.
Some more contemporary gems come through from Toro Y Moi, Pete Rock, Gruff Rhys, Black Lips, Brand New, the Black Keys, the Oh Sees, Mark Lanegan, Blood Orange, Deerhunter, Future Islands, Yo La Tengo, and Bonobo.
BLACK FRIDAY RECORD STORE DAY IS NOVEMBER 27:
Strictly Discs will be†the†place to be this Post-Thanksgiving-Shopping-Melee-Day, also known as Black Friday.
And that's because certain indie stores across the country will be the place to get special releases created just for you, for giving and getting this holiday season, and they're scheduled for release on Black Friday, November 27, 2020.††

Now, this is not Record Store Day, Jr., but it is brought to you by the powers-that-be at Record Store Day. This is a group of special releases you can only find at certain independent record stores nationwide. The magic of these pieces (many uber-limited) is that every one of them is something someone will really LOVE to get, and you'll really ENJOY giving.† And you may have the added nice feeling of supporting a local, independently owned (Strictly Discs, Independently Owned since 1988) business during the holidays.
Wishlists can be now be made†HERE†for Black Friday. The deadline to create or modify a Black Friday wishlist is 5PM Wednesday, October 14th.
BILLBOARD MAGAZINE'S BIWEEKLY FEATURE ON STRICTLY DISCS: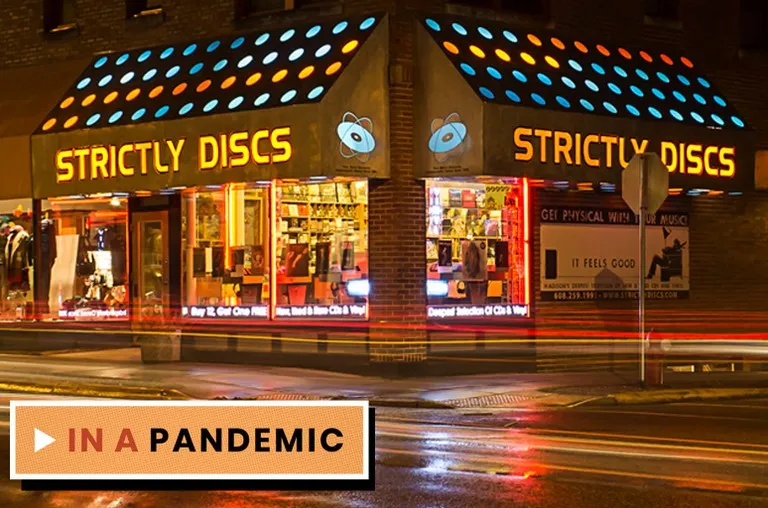 As part of†Billboardís efforts to best cover the coronavirus pandemic and its impacts on the music industry, Chris Eggertsen has been speaking with†Angie†every other†week to chronicle†the experience of an independent record store†throughout the crisis.† Here is a link to the stories in the series so far:
SELL US YOUR CDS & LPS:
Yes, we are still buying! Call Ron to schedule (608.213.3610).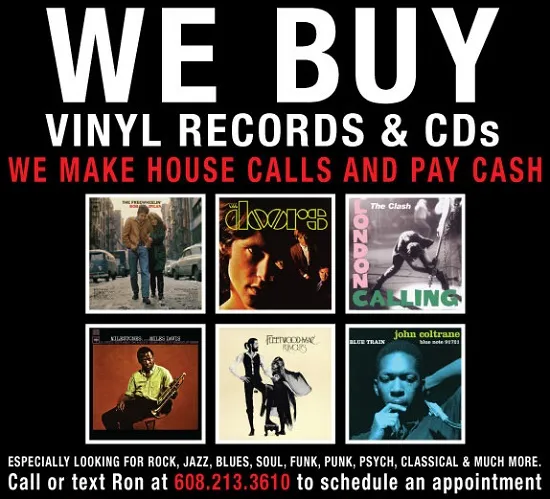 Ron, Ryan, Angie, Marty, Evan, Matt, Will, Ed, Jack, Eric & Dave