November 5, 2020
NEW THIS WEEK AT THE SHOP:
Hello everyone. If you're looking for something to read besides charts, graphs, needles, and tweets, please do enjoy this review of the week in new arrivals, as we crunch our way into November. Much like cats, records don't know what day it is (yet), and boy are we grateful for that. We are also grateful for WILCO, who top us off this week with an expanded deluxe edition of their 1999 classic 'Summerteeth', the album that truly established the band as the folk-pop mad scientist geniuses that they are. This gorgeous blue foil box set (on CD and on LP) collects the original album remastered, a very generous selection of out-takes and demos, a full live set debuting the record in Boulder, CO, and a revealing essay drawn from interviews with the band. The latest release in the NEIL YOUNG Performance Archives series documents his historic 2003 performance of the rocknroll stage play 'Greendale' on vinyl for the first time. The legacy of PATRICK COWLEY, the San Francisco producer who pioneered the synthetic side of disco, continues to lay in good hands with the Dark Entries label, who bring us a delightful little nugget from his vast unreleased archive. 'Some Funkettes' collects unpolished cover tunes from his early experimental period in the late 70s, including a staggeringly historic demo-cover of Donna Summer's 'I Feel Love', which he would remix just a few years later (once he'd established his mixing desk bonafides) into its fifteen minute dancefloor-destroying final form.
Reggaeton shining star J BALVIN brings us another bright delight with 'Colores', and we've finally laid hands on LP copies of EARTHGANG's wonderful funk-hop ode to Atlanta, 'Mirrorland'. Must confess we are not too familiar with rapper MACHINE GUN KELLY round here but he does seem to resonate with the youths, and we've now got his latest release, 'Tickets To My Downfall', which namechecks Blink 182 and Rancid as production influences. Brb, I am gonna go die of old age now.††
New generations of Brazilian pop continue to wow us, like GUS LEVY's 'Magia Magia', a new record that manages to channel classic MPB sounds from Caetano Veloso alongside sweeping jazz, and melodic indie flavors that somehow remind me of Pavement. Wild! We've also got the latest outsider pop dispatches from BOY PABLO and CHARLI XCX in the building.
We've been blessed with some stunning new music from producer NICOLAS JAAR this week with a new LP release called 'Telas' consisting of four incredibly dense sides of his trademark collapsed folk-tech bricolage, and absolutely ace cover art from digital petroglyph designer Somnath Bhatt. Following their AOTY-level new release earlier this year, we've now got an LP version of the incredible 2018 cassette release from CINDY LEE, 'Model Express', a collection of loosely-wound, woozily haunted garage pop that will get you in your bones. London guitarist JULIA REIDY continues to boldly travel down a modern O'Rourke-ian path with her instrument, crafting folk pastorals that are occasionally blotted out by filmic noise on 'Vanish'.†
Deep-space electroacoustic mastery is here from the UK trio TWINKLE3, with a new release called 'Minor Planets' on the always-appointment listening Marionette label. Norwegian occult drone whiz ERIK SKODVIN lends his pensive textures to a soundtrack for the Ethiopian film 'Anbessa', and undisputed regents of the dark arts THE DEAD C return with an album of gorgeous, enduring guitar noise called 'Unknowns'.
Only in France could the twin beasts of shoegaze and doom-metal meet like they do on ALCEST's 'The Secret', reissued this week on vinyl including both versions of the EP. The debut full-length from LA's SPRAIN is here; 'As Lost Through Collision' is the most dead-on Unwound worship I have ever heard, taut, melodic and anguished. Iconic blazer anthem 'Dopesmoker' by SLEEP gets a fresh pressing on double picture disc, displaying its optimal Arik Roper desert druid cover art.
An absolutely mind-boggling amount of killer jazz continues to emerge from Chicago with a trio of LPs this week. Bassist LUKE STEWART is actually from DC, but trekked to the Windy to record 'Exposure Quintet' with a crew of luminaries like Ed Wilkerson, Jr., Ken Vandermark and Avreeayl Ra. Percussionist QUIN KIRCHNER enlists Nick Mazzarella, Matt Ulery and more on an explosive record of funky post-bop fusion called 'The Shadows and the Light'. Splitting off from their powerhouse unit Irreversible Entanglements are AQUILES NAVARRO & TCHESER HOLMES, who bless the International Anthem label with a freakily imaginative album of Afro-Carib horn/percussion brew called 'Heritage of the Invisible II'.
Power pop legend VAN DUREN played in bands with Big Star's Chris Bell and Jody Stephens early on, and almost joined the band before they split for good. He recorded two of the genre's most lasting classics in the late 70s but, true to form, one of them wasn't even released until 1999. With decades of hindsight, records like 'Are You Serious?' and 'Idiot Optimism' deserve enshrinement amidst the greatest American rock records ever made, and we've now got fresh LP reissues of them, alongside a sweet reissue of peak-power scuzz punk from CHROME, called 'Blood on the Moon'.
Reissues of insanely rare jazz LPs pile up this week, starting with SUN RA's 1982 curio 'A Fireside Chat With Lucifer', which includes a killer version of his wake up anthem "Nuclear War". Belgian pianist MARC MOULIN released some eternally groovy fusion records before teaming up with Dan Lacksman in Telex (see the newsletter 2 weeks back for some Lacksman nuggets) and we have 1975's 'Sam' Suffy' in the house now, as well as trumpeter DON CHERRY's epic ambient jazz classic 'Relativity Suite', which dates to his fertile Swedish period.
Another great drone-pop-techno kitchen sink gem is in from Austria's FEATER. Much like his past two albums, 'Money' defies any single genre and is all the better for it. Thrumming uptempo breakbeat bangers abound on a lovely new one from French producer UFO95, and we have a fresh vinyl edition for the JOE HISAISHI soundtrack to the film 'Princess Mononoke'. I could use a ride from the Great Forest Spirit right about now.†
Some great compilations in the building today including one we've never heard before. NOME NOMA collects rare Quebecoise new wave from the early 80s, plus after a few years of hunting for it, we've got the unreal South African dance set GUMBA FIRE bringing rare electro-disco jams, and the MIDDAY MOON set of rare ambient folk/jazz gems from New Zealand and Australia.†
A whole slew of dearly beloved staff picks come back in the shop this week. Some of these haven't been available for years! We've got VAN MORRISON's classic 'Moondance', CARLA DAL FORNO' debut album 'You Know What It's Like', CHRIS AND COSEY's†legendary first record 'Heartbeat', JIM SULLIVAN's funk-folk miracle 'UFO', KING GEEDORAH aka MF DOOM's cult classic 'Take Me To Your Leader', and (now it can be said, six years since its release) one of the truly greatest dance records of all time, TODD TERJE's 'It's Album Time'.
USED VINYL ALERT:
Heading downstairs for this week's Used Vinyl Alert, we have quite the colorful batch for you this time around. A bunch of contemporary, hard to find hip-hop, coveted and collectible soundtracks galore, sealed soft rock/AOR/smooth R&B gems, a handful of synth-pop records from Hong Kong, plus our usual spread of jazz, country, rock and soul.
We've got some more Jerry Jeff Walker LPs in the house, plus country from Patsy Cline, Doc Watson, Hank Williams, Charlie Louvin, Willie Nelson, David Allan Coe, Merle Haggard, Slim Whitman, Waylon Jennings, and Willis Alan Ramsey.
A real healthy selection of our tried n true faves this week includes some essential Fleetwood Mac, a couple rare Frank Zappas, and big ones from the Who, the Beatles, T Rex, Credence, Queen, Led Zeppelin, Tom Waits, Harry Nilsson, Devo, Human League, the Faces, Hall and Oates, Abba, ELO, King Crimson, Ratt, Flower Travelin†Band, Van Halen, AC/DC, Willie Dixon, Wishbone Ash, and the Incredible String Band.
Some fantastic soul records include LPs by Al Green, James Brown, Prince, the Stylistics, Roberta Flack, and Funkadelic. Jazz is in from Coleman Hawkins, Dave Brubeck, Jimmy Smith, Jack DeJohnette, Stanley Turrentine, Harvey Mandel, Miles Davis, and Clark Terry.
Some seldom seen hiphop is in from BadBadNotGood, De La Soul, Nxworries, MF Doom, Sean Paul, and Shabazz Palaces. More contemporary greatness is in from Purr, Whitney, Wild Nothing, Pond, Mitski, Jay Som, Leon Bridges, and Sharon Van Etten.†
USED CD ALERT:
In the words of Silky Johnston, the used cd towers have looked bombed out and depleted, but not no more. There's a nice boost of more recent indie-type stuff, bolstered by Vampire Weekend, Death Cab, Gorillaz and Animal Collective, along with more aged forebearers†like Black Flag, Dead Kennedys, KMFDM and Slayer. Rock is full of the usual suspects - Neil, Bob and the like - but there's a bunch of taster's choice material from Love, The Zombies, The Seeds and Nick Drake. Jazz is mighty healthy, with a bunch of OOP Blue Note items from label carriers like Lou Donaldson, Grant Green and Jimmy Smith, but there's also stray efforts from guys like Dizzy Reece, as well as Verve stuff from less-circulated players like Tal Farlow and Jim Cleveland along with a bunch from Stan Getz. Finally, we have a small but sturdy shot of hip-hop from De La Soul, Drake and Geto Boys. Mind you, these are only the highlights. This is a very deeeep week.
BLACK FRIDAY RECORD STORE DAY IS NOVEMBER 27:
Strictly Discs will be†the†place to be this Post-Thanksgiving-Shopping-Melee-Day, also known as Black Friday.
And that's because certain indie stores across the country will be the place to get special releases created just for you, for giving and getting this holiday season, and they're scheduled for release on Black Friday, November 27, 2020.††

Now, this is not Record Store Day, Jr., but it is brought to you by the powers-that-be at Record Store Day. This is a group of special releases you can only find at certain independent record stores nationwide. The magic of these pieces (many uber-limited) is that every one of them is something someone will really LOVE to get, and you'll really ENJOY giving.† And you may have the added nice feeling of supporting a local, independently owned (Strictly Discs, Independently Owned since 1988) business during the holidays.
Wishlists can be now be made†HERE†for Black Friday. The deadline to create or modify a Black Friday wishlist is 5PM Wednesday, October 14th.
BILLBOARD MAGAZINE'S BIWEEKLY FEATURE ON STRICTLY DISCS: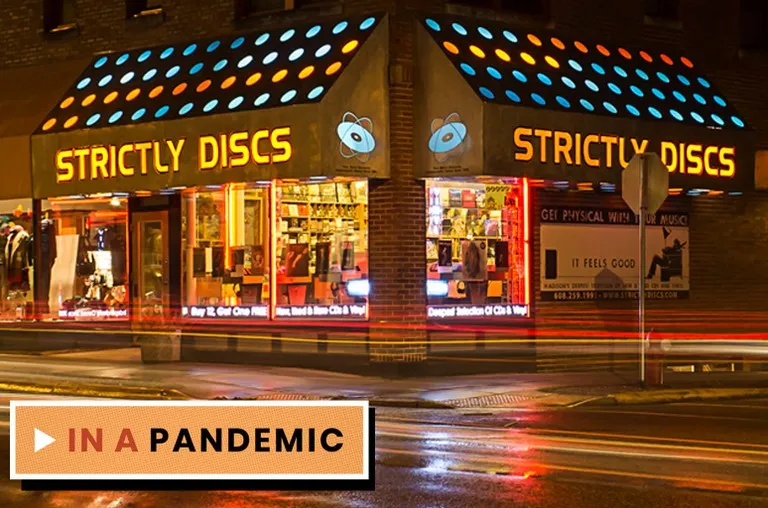 As part of†Billboardís efforts to best cover the coronavirus pandemic and its impacts on the music industry, Chris Eggertsen has been speaking with†Angie†every other†week to chronicle†the experience of an independent record store†throughout the crisis.† Here is a link to the stories in the series so far:
SELL US YOUR CDS & LPS:
Yes, we are still buying! Call Ron to schedule (608.213.3610).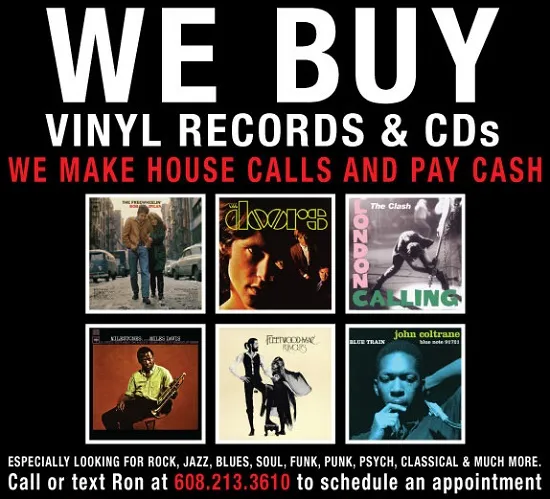 Ron, Ryan, Angie, Marty, Evan, Matt, Will, Ed, Jack, Eric & Dave