October 29, 2020
NEW THIS WEEK AT THE SHOP:
Hey. Hope you're having a normal one out there. We wave bye-bye to October with an incredible slate of new releases this week, starting with a thrill-ride from ONEOHTRIX POINT NEVER. 'Magic' is the record we sorta always hoped OPN would make; an homage to the radio station that (when mispronounced), gave the project it's name back when Dan Lopatin kicked it off in the mid-aughts. Riding high from his award winning soundtracks for 'Uncut Gems' and 'Good Time', we get primo psycho-delic electronic pop nuggets here, shot through with Lopatin's trademark surreality. Incredible cover art here, and if you snag a copy early we have equally dazzling stickers and patches to give away. Speaking of incredible covers, here comes the latest from uncategorizable vocalist EARTHEATER. Rather than describe it I will just direct your attention to the north of this graf. Anyway, 'Phoenix: Flames Are Dew Upon My Skin' is by no means an easy listen, but I'm not sure I've ever heard a record that challenged me so much while also sounding so very palatable. Across dense tracks of soft guitar, Kubrickian strings, and subterranean wooshes, Alexandra Drewchin does it *all* with her voice-as-instrument: plain, confessional folksong,†lurid whispers that suddenly turn into hellish shrieks, and an ability to crack her voice into an inhuman splinter that will stick with you a long time. We're also pumped to have a proper new record from lifer rap guy ATMOSPHERE, called 'The Day Before Halloween' which arrives right on time and actually reminded me that Halloween is on Saturday.
Since we might not have a chance to see em live again for a long time, how about a live record from DRIVE BY TRUCKERS, from their Austin†City Limits show in 2008? We're thrilled to have copies of a new edition of EMMYLOU HARRIS' iconic album 'Wrecking Ball', which hasn't ever gotten a proper LP release since its 1995 release, and retains all of its homespun power and deep wells of emotion. Few musicians are more deserving of a career revival than the mighty SWAMP DOGG, whose amazing early 2020 album stays on rotation around here, and is now joined by a nice LP reissue of his 1973 classic 'Gag A Maggott'. The Dogg's wild and woolly take on funky soul made him a bit of an odd-man out back in the 70s, but the world has never been more ready now. Crack production on this LP, with guitar from the legendary Little Beaver.
Sometimes, the system of the big bad music industry just works, and I'd say that's the case with both SAM SMITH and ARIANA GRANDE, both of whom deliver standout new albums this week. CD and LP for Sam, just CD for now from Ariana. Hot take: these folks can really sing. We've also got a very fun new record from ACTION BRONSON called 'Only For Dolphins', upon which he still sounds a lot like Ghostface but, who's complaining.†
We begin a welcomed trip into the early work of singular songstress JONI MITCHELL this week, with a 5 CD set of mid 60s archive material, a single LP called 'Early Joni 1963', and a larger 3LP set containing her entire breakout performance at the Canterbury House in 1967. Unseen art, photos, and liner notes make these a must for the Joni lover in your life (here's a tip, nobody doesn't like Joni Mitchell!).
The oft-requested 2019 album 'Flower of Devotion' from melodic grunge rockers DEHD is back in stock on limited color vinyl. Avant-rock franchise MR. BUNGLE return with their first new record in over twenty years (!!) called 'The Raging Wrath of the Easter Bunny Demo'. We were already feeling pretty warmed up by the new pink vinyl edition of MASTODON's 'Medium Rarities' set, but check it out, the band has sent us a GRILL KIT to give away with the album. That's right: Mastodon branded tongs, grill flippers, and an apron can be yours, along with a test pressing of the album. Just enter to win at the counter when you check out, and save us a burger.†
Few bands do doomy, melodic pop-metal like Philadelphia's NOTHING, who return this week with a new one called 'The Great Dismal', and we've got new records from a couple acts we aint heard from in quite a while, TOBACCO and THE EELS.
For all the ink spilled about the mighty KRAFTWERK - the German group that were the first to make pop music entirely via synthesizer, no drums, guitars, or horns in sight, and ended up inventing techno along the way - you don't see their albums around too often. Just like the Velvet Underground in their day, not many people saw Kraftwerk live, but everyone who did started their own band. Bask in their glory now with affordably priced, color vinyl editions of 'Techno-Pop', 'Man Machine', 'Autobahn' and my personal favorite 'Computer World'. We will have more of their catalog in the coming weeks, as well.†
Also back in stock, a couple of wonderful records from one of the artists who most crucially adapted the Kraftwerk approach while pioneering Detroit techno, Gerald Donald's DOPPLEREFFEKT.† We've got 'Tetrahymena' and 'Cellular Automata' here in all their dizzying wonder, plus a new pressing of the wonderful ambient techno album 'Bioluminescence' from SHORELIGHTS, an alias of longtime producer Rod Modell, better known as Deepchord.
The last wave of Rocktober hits with reissues of the first two DEVO albums, 'Are We Not Men?' and 'Duty Now For The Future'. I don't want to imagine a world without Devo. For starters, we probably never would have heard from THE FLAMING LIPS, right? Oh I don't know why I started this train of thought. Anyway, this week brings a new pressing of 'Transmissions From The Satellite Heart', their first true gem of a pop album with crossover appeal, or at least that's what the 13 year old me thought, keeping the radio on in the car just in case 'She Dont Use Jelly' came on again. This 93 classic is back on 'ash grey' vinyl.†
Frequently requested classics are back in print this week, including a gold vinyl edition of ELTON JOHN's self-titled, a new half-speed remaster of ABBA's 'Super Trouper', and a fresh cut of U2's 'All That You Can't Leave Behind', mastered across 2LPs for the very first time.†
I don't remember exactly where I was the first time I heard 'The Crow' soundtrack (it certainly wasn't at the theater, did anyone actually see this movie?), but I know for a fact it was the first time me or my friends had ever heard the Jesus and Mary Chain, Rollins Band, Pantera, or basically any band on its roster that was not called Stone Temple Pilots. 25 years later, it remains the standard by which all rock soundtracks are judged, and it is back in print for a short time. We've also got a 50th anniversary edition of THE GRATEFUL DEAD's landmark 'American Beauty' on picture disc vinyl, as well as a 3CD set with the remastered album plus a two-disc live show that has never before been officially released, plus we have the definitive deluxe edition of the almighty NEW ORDER's 'Power, Corruption and Lies', which includes an LP, two CDs, two DVDs and a book.
Must-have restocks from the world of international psych rock include Nigerian rockers OFEGE's 'Try and Love', ERKIN KORAY's monumental 'Elektronik Turkuler', and TIM MAIA's 'Racional 3'.
Few labels have the pull to do the kind of snapshot compilations of an evolving current-say scene like SOUL JAZZ does, and they put all of their might behind a massive new set documenting the current UK spiritual jazz scene called 'Kaleidoscope'. Many artists here, like Nubya Garcia, Theon Cross, and Chip Wickham, have released big SD faves lately, but even more of these names are new to us, so cheers! We've also got a cool reprint of a deep rarity from drummer SUNNY MURRAY, 'Applecores', with quite the late 70s lineup, plus the Blue Note Tone Poet series soldiers on with BOBBY HUTCHERSON's 'Oblique'.†
Adventurous selector AVALON EMERSON is an ideal pick for the first quarantine-era edition of the DJ-Kicks series, and she does not disappoint, with a couple of new originals expertly mixed with some deep minimal and acid house classics, plus we've got banging new EPs of minimal acrobatics from MIKE STEVA and dreamy breaks from AMBIEN BABY, a new project from Montreal's D. Tiffany.
Crisp, hauntological ambient is here from BROSHUDA on the always-tight Soda Gong label. Jim O'Rourke collaborator TATSUHISA YAMAMOTO makes his solo debut with 'Ashioto', a stunning LP of layered, droning percussion. Lastly, the extremely graceful compilation of rare, homespun 90s IDM from the Colourful Storm label, called 'Still In My Arms'.†
USED VINYL ALERT:
Downstairs we go for another edition of the Used Vinyl Alert that is rich in jams. We honor the passing of outlaw country legend Jerry Jeff Walker with as many of his LPs as we could gather up, including some early pressings in very clean shape. More country is in from Ernest Tubb, Conway Twitty, Marty Robbins, Johnny Cash, Waylon Jennings and Patsy Cline. Some rare blues comes in as well from Jimmy Dawkins, Elmore James, Tampa Red, Albert Collins, Paul Butterfield, Stevie Ray Vaughan, and BB King.
Some choice soul is in from Stevie Wonder, Jon Lucien, Funkadelic, War, Sam Cooke, the Temptations, and more, plus hiphop from Dr Dre, ODB, Gangsta Boo, De La Soul, Redman, and Blood Orange. Jazz staples abound from Miles Davis, Mahavis!hnu Orchestra, Billy Cobham, George Benson, and many more.†
A fantastic spread of classics is in, including must-haves from John Prine, David Bowie, the Byrds, Led Zeppelin, Neil Young, Tom Petty, The Band, the Beatles, Smashing Pumpkins and Jimi Hendrix, plus rippers from Deep Purple, Scott Walker, Canned Heat, Camel, Chicken Shack, the Critters, Captain Beefheart, Tim Buckley, Judas Priest, Cyndi Lauper, Van Halen, Boston, and Def Leppard.
Last up, a deep stash of late 90s electronic stuff we don't typically see, lots of obscure names and pressings, as well as some known knowns like Fourtet, Caribou, the Books, V/VM, Kid 606, Venetian Snares, Doormouse, and many more!

Plenty of cool jazz, female vocalists, soft rock, AOR and country rock abounds as well!
BLACK FRIDAY RECORD STORE DAY IS NOVEMBER 27:
Strictly Discs will be†the†place to be this Post-Thanksgiving-Shopping-Melee-Day, also known as Black Friday.
And that's because certain indie stores across the country will be the place to get special releases created just for you, for giving and getting this holiday season, and they're scheduled for release on Black Friday, November 27, 2020.††

Now, this is not Record Store Day, Jr., but it is brought to you by the powers-that-be at Record Store Day. This is a group of special releases you can only find at certain independent record stores nationwide. The magic of these pieces (many uber-limited) is that every one of them is something someone will really LOVE to get, and you'll really ENJOY giving.† And you may have the added nice feeling of supporting a local, independently owned (Strictly Discs, Independently Owned since 1988) business during the holidays.
Wishlists can be now be made†HERE†for Black Friday. The deadline to create or modify a Black Friday wishlist is 5PM Wednesday, October 14th.
BILLBOARD MAGAZINE'S BIWEEKLY FEATURE ON STRICTLY DISCS: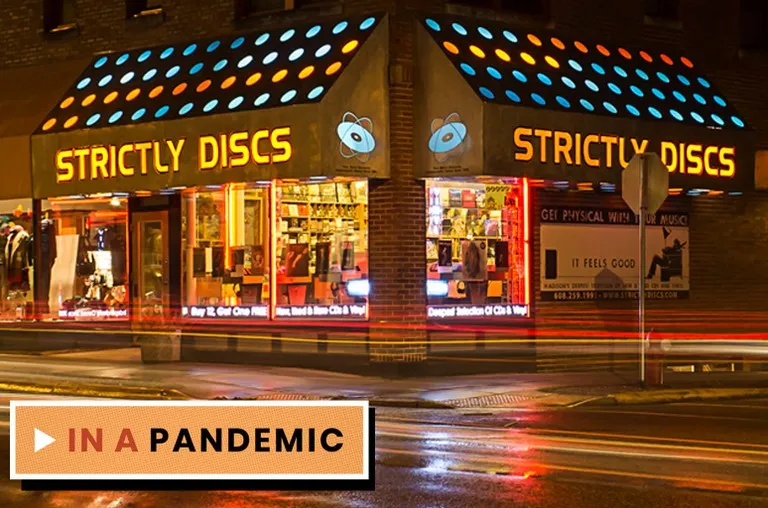 As part of†Billboardís efforts to best cover the coronavirus pandemic and its impacts on the music industry, Chris Eggertsen has been speaking with†Angie†every other†week to chronicle†the experience of an independent record store†throughout the crisis.† Here is a link to the stories in the series so far:
STRICTLY DISCS IS ON SPOTIFY!
Dogs and cats living together! Strictly Discs now has a Spotify channel. Every time one of us at the shop puts on a record, it's because we think someone else within earshot is going to like it, too.†One of the things we've missed the most about having our doors temporarily closed is not being able to select the in-store play tunes for our customers to hear. It's the fun part of this job, and we want it back! Spotify users, point yourselves to our profile

†

HERE†and click around. We've compiled a number of playlists, with more to come. Be sure to subscribe and check in on the "STRICTLY SELECTOS" playlist, as it will change each week with a fresh rundown of the titles we are featuring in this very email! New songs will appear there every Thursday, and are available to order online or over phone/email.
SELL US YOUR CDS & LPS:
Yes, we are still buying! Call Ron to schedule (608.213.3610).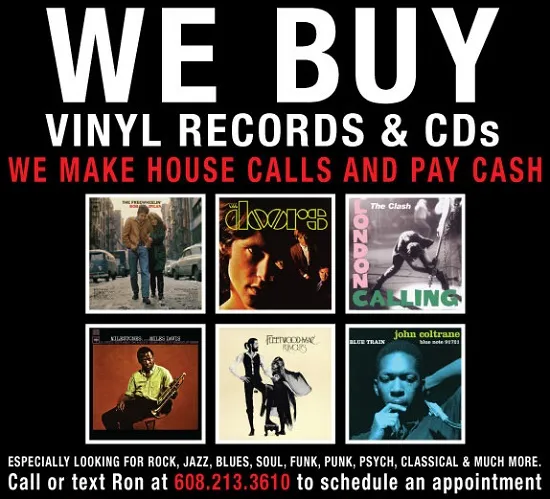 Ron, Ryan, Angie, Marty, Evan, Matt, Will, Ed, Mark, Jack, Eric & Dave