October 22, 2020
BLACK FRIDAY RECORD STORE DAY IS NOVEMBER 27:
Strictly Discs will be†the†place to be this Post-Thanksgiving-Shopping-Melee-Day, also known as Black Friday.
And that's because certain indie stores across the country will be the place to get special releases created just for you, for giving and getting this holiday season, and they're scheduled for release on Black Friday, November 27, 2020.††

Now, this is not Record Store Day, Jr., but it is brought to you by the powers-that-be at Record Store Day. This is a group of special releases you can only find at certain independent record stores nationwide. The magic of these pieces (many uber-limited) is that every one of them is something someone will really LOVE to get, and you'll really ENJOY giving.† And you may have the added nice feeling of supporting a local, independently owned (Strictly Discs, Independently Owned since 1988) business during the holidays.
Wishlists can be now be made†HERE†for Black Friday. The deadline to create or modify a Black Friday wishlist is 5PM Wednesday, October 14th.
NEW THIS WEEK AT THE SHOP:
USED VINYL ALERT:
We head downstairs for a phenomenal spread of fresh used vinyl arrivals that's heavy on soul, psych, folk and jazz.†
Heavy hitters are in from Hawkwind, Led Zeppelin, Pink Floyd, the Animals, Sir Douglas, Lynyrd Skynyrd, Nirvana, Guns and Roses, and more, plus essentials from David Bowie, Prince, Patti Smith, Fleetwood Mac, the Doors, Tom Petty, John Lennon, Neutral Milk Hotel, Lake Street Dive, and Tom Waits.
Gentle on the budget and smooth on the stereo is a massively deep collection of 80s R&B, from names like Tower of Power, the Gap Band, Mtume, the Crusaders, Starpoint, One Way, the Time, BB and Q Band, the Gap Band, Chaka Khan, Loose Ends, the Whispers, Pieces of a Dream, and many many more. We've also got rap in from Ludacris, Casual, Kool Moe Dee, Nas, ODB, and Lil Kim.
Jazz heavyweights like Herbie Hancock, Miles Davis, McCoy Tyner, and Mingus are joined by a wide ranging blend of caribbean and latin, country and blues, celtic folk, childrens records, and so much more.
USED CD ALERT:
In the midst of preparing†for the final stanza in the Record Store Day trilogy, we couldn't ignore the CD people. Here's the incoming batch for this week. It wouldn't be Rocktober without jazz. This week's lot is decidedly forward-facing. Think heady work from Eric Dolphy, Ornette, Archie Shepp and Don Cherry. For the bleeps, blips and bloops crowd, there's goodness from Fourtet, Prefuse 73, Aphex Twin and Ryuchi Sakamoto. Rock lives on through albums from The Band, T-Rex, Neil Young, Kate Bush, Talking Heads and El Hombre Van. Those with a more adventurous bent can take advantage of new titles from Bjork, Explosions in the Sky, OFF!, Flaming Lips and The Books. Grab your wallet, grab your mask and do what you feel in a responsibly, socially distant manner.
BILLBOARD MAGAZINE'S BIWEEKLY FEATURE ON STRICTLY DISCS: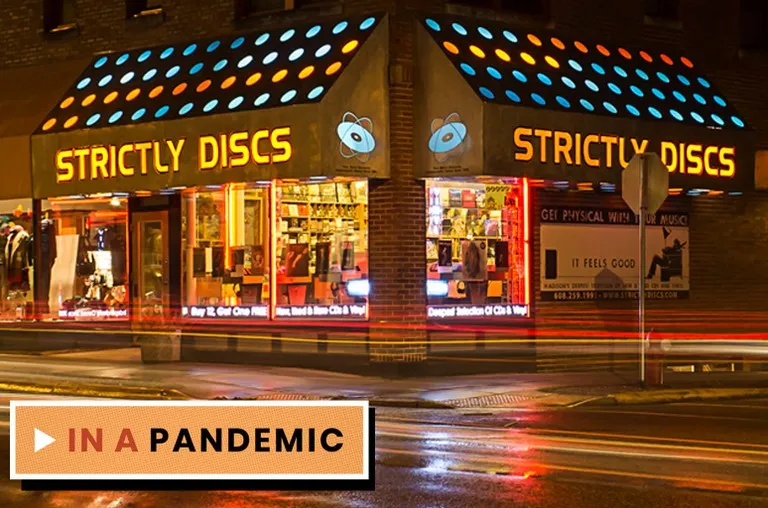 As part of†Billboardís efforts to best cover the coronavirus pandemic and its impacts on the music industry, Chris Eggertsen has been speaking with†Angie†every other†week to chronicle†the experience of an independent record store†throughout the crisis.† Here is a link to the stories in the series so far:
STRICTLY DISCS IS ON SPOTIFY!
Dogs and cats living together! Strictly Discs now has a Spotify channel. Every time one of us at the shop puts on a record, it's because we think someone else within earshot is going to like it, too.†One of the things we've missed the most about having our doors temporarily closed is not being able to select the in-store play tunes for our customers to hear. It's the fun part of this job, and we want it back! Spotify users, point yourselves to our profile

†

HERE†and click around. We've compiled a number of playlists, with more to come. Be sure to subscribe and check in on the "STRICTLY SELECTOS" playlist, as it will change each week with a fresh rundown of the titles we are featuring in this very email! New songs will appear there every Thursday, and are available to order online or over phone/email.
SELL US YOUR CDS & LPS:
Yes, we are still buying! Call Ron to schedule (608.213.3610).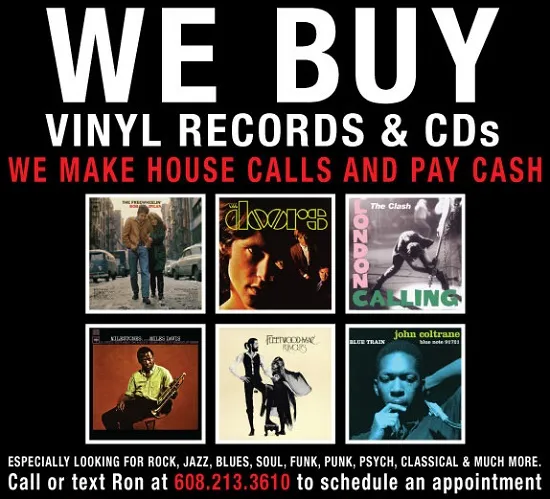 Ron, Ryan, Angie, Marty, Evan, Matt, Will, Ed, Mark, Jack, Eric & Dave