October 15, 2020
BLACK FRIDAY RECORD STORE DAY IS NOVEMBER 27:
Strictly Discs will be the place to be this Post-Thanksgiving-Shopping-Melee-Day, also known as Black Friday.
And that's because certain indie stores across the country will be the place to get special releases created just for you, for giving and getting this holiday season, and they're scheduled for release on Black Friday, November 27, 2020.  

Now, this is not Record Store Day, Jr., but it is brought to you by the powers-that-be at Record Store Day. This is a group of special releases you can only find at certain independent record stores nationwide. The magic of these pieces (many uber-limited) is that every one of them is something someone will really LOVE to get, and you'll really ENJOY giving.  And you may have the added nice feeling of supporting a local, independently owned (Strictly Discs, Independently Owned since 1988) business during the holidays.
Wishlists can be now be made HERE for Black Friday. The deadline to create or modify a Black Friday wishlist is 5PM Wednesday, October 14th.
RECORD STORE DAY DROP #3 IS OCTOBER 24TH:
The third Record Store Day drop event is Saturday, October 24th. Here is Strictly Discs' plan for the day:
1. We OPEN at 8AM for RSD shopping
2. Line to form westbound on Monroe Street
3. Masks (covering nose & mouth) & distancing required at all times
4. While in line, you will be handed a menu of all RSD titles  
5. We will pull your requests & you will check out outside on Harrison Street
6. Our website will be updated as titles sell out
7. The shop will open for normal browsing at approximately 10AM with RSD titles upstairs
Thank you for helping us to keep this event safe & fun.
Our goal for this day is to get you the records you are looking for while limiting potential exposure. 
NEW THIS WEEK AT THE SHOP:
With autumn hitting its most vivid stride, we can think of no better record to throw on the table than TOM PETTY's 'Wildflowers'. Until today, doing this with a vinyl copy was a pretty tall order, seeing as it is the rarest LP in the American rock icon's discography. At last, the Petty estate has answered the call with a generous reissue campaign. We have 'Wildflowers & All The Rest', a new edition of the 1994 classic that expands it's length to Tom's original specifications, on 2CD, 4CD, 3LP, 7LP and 9LP versions! The artwork and packaging here gives fans a lot to chew on, and the AAA remaster on the vinyl edition is scoring top marks from the audio nerds. Though a world and half away, sonically, there's been equal anticipation in some circles for the new AUTECHRE album. The time-denying and style-disrupting duo have been unusually maximalist with their releases lately, with a 4-part NTS session set, and a five volume release in 2016 that really pushed the boundary of what it means to "listen to an album". On the modest length of 'Sign', we get the straight up synth record many Ae fans have clamored for, where tangible, identifiable melodies reign. With apologies to everyone I've asked to spell it out for me, we now have the proper studio debut from BEABADOOBEE, the British-Filipino DIY artist who was born in this century and has already walked off with several major UK music awards. 'Fake It Flowers' shows a young artist in fresh flight, channeling classic influences like Pavement and Mazzy Star into relatable pop for a new generation. Even though we are decidedly not an Urban Outfitters (not much of a denim selection here!), we have the "UO Exclusive" orange swirl vinyl on this one. 
With his sotto voce elocution landing somewhere between "trusted doctor delivering unfortunate news" and "disaffected grad student with sufficient credit hours", it's hard to miss MATT BERNINGER when he turns up as the frontman for The National. What if no National, though? With his first ever solo album 'Serpentine Prison', we get the answer, and it's quite positive, and it's here on cool blue vinyl while it lasts. Great midwestern hope KEVIN MORBY delivers a delectable record of quar-folk, bathing 'Sundowner' in all kinds of Cohen-esque magic hour light beams, and some guest vox from his boo Katie Crutchfield. Yellow vinyl on this delight. Singer and cellist LEYLA MCCALLA built her name with the Carolina Chocolate Drops, and now sees an early gem of her catalog, a small-run 2013 release called 'Vari-Colored Songs', re-released by Smithsonian Folkways. This deeply moving collection of songs puts the poetry of Langston Hughes to McCalla's rich renderings of strings, banjo, and pedal steel, with roots in the Virginia and New Orleans traditional folk scenes. 
Pride of the Hawkeye State WILLIAM ELLIOTT WHITMORE brings us his first album in a nice while; 'I'm With You' is heavy on delectable twang. Montreal songwriter HELENA DELAND has a burbling, deceptively low-key album of folky synthpop called 'Someone New', and we get a splendid record of melodic 90s style indie-pop from KATIE MALCO on 'Failures'. 
Once they decided they were up to the challenge of summarizing the output of SAVOY RECORDS, the greatest and most prolific gospel label in history, the crew at Honest Jon's had just one decision to make: how many volumes? So far, the answer would be three. Your ears won't hear any better than the tunes on 'A Stranger I May Be', 'Turn It Loose, Aint No Good' and 'You Better Get Ready', a trio of 2LP releases that collect soulful, funky gospel gems from the dustiest reaches of the vast Savoy catalog, spanning from the 40s to the 80s. Familiar names like the Staple Singers, James Cleveland, and the Blind Boys of Alabama turn up here, but as always, it's all about the deep cuts, and boy do you get them in spades on these collections. 
LA composer JOSIAH STEINBRICK hit 'save' on his latest album earlier this year, just hours before the Covid lockdowns began. "I wasn't even sure I should release it," he told me, reflecting a sudden hesitancy to do anything normal, to which all of us can surely relate. Well, I'm glad he went for it, as 'Liquid / Devotion & Tongue Street Blue' is an easy contender for one of 2020s best ambient records. Drawing on his investigations of timbral percussions like his last record 'Meeting of Waters' (also back in stock) and his work as a producer and sideman for artists like Devendra Banhart and Cate le Bon, Steinbrick leans much farther in to the pieces here, on an album that steps across the ethnological trails of Hassell and Musci, while bearing warm, digital witness to modernity. No less moving is the latest from UK sound-sculptor OLIVER COATES, who catches us with 'skins n slime' via the Rvng label, along with a newly unearthed album of sensuous piano compositions from SUZANNE CIANI called 'Music For Denali'. 
This week brings an expanded reissue of one of the first true wonders of the global synth fusion scene, the 1985 album 'Mr. Manager' by ZAZOU BIKAYE, a duo of Algerian producer Hector Zazou and Congolese singer Bony Bikaye who found a massive sweet spot of dreamy, melancholic ambience between their worlds. Also back in print is the proto-electro scorcher of an EP from CONRAD SCHNITZLER, the German progressive synth man. 'Auf Dem Schwarzen Kanal' is basically no-wave, if it came from the Rhine valley. Sitting perfectly next to these two strange titans is a new cassette release from a dear friend of ours here at the shop, FLUST, the nom de gruv of former SD counterman Michael Groome. He's living in Atlanta now, but has brought us copies of this incredible synth-pop gem, which sets his undeniable baritone delivery astride warm, gloopy synth cascades, like some arranged marriage of Modern English and Chris Carter. Way to go, MG. 
A pair of stunning early 90s albums from the singular avant-folk group CURRENT 93 come back in stock this week. We've got 'Horsey' and 'Sleep Has His House', which is an easy contender for the most front-to-back satisfying listen in the entire haunted C93 catalog. No other label has paid such steady, thorough tribute to American roots music than the crew at Dust-To-Digital, and we welcome their latest musical object: 'The Harry Smith B-Sides', which collects every song from the **other side** of the 78s he selected for his Anthology of American Folk Music, across 4 cds, housed with liner notes in an elegant cigar box. Check please. 
A new ootleg-bay comes our way collecting some rare archival tracks from THE KINKS. 'Glenhenry Winners' has a splendid selection of demo versions otherwise available on recent super deluxe sets, in a cool, dodgy package. We also welcome a new vinyl printing of a set of ROBERT WYATT's best tunes, 'His Greatest Misses' (oh Robert, always so modest), plus a repress of a 2009 album from Green Day side band FOXBORO HOT TUBS, and a new live release from JAPANDROIDS called 'Massey Fucking Hall'. Guys I know you're excited but...language, please. 
Another round of the always illuminating BLUE NOTE 'Reimagined' series pairs up a roster of up and comers with some classic BN material. The latest CAIRO RECORDS compilation is yet again appointment listening, collecting rare soul ballads from trusted names, and we have a great set called 'Soul Love Now', which documents the rich history of DC soul-jazz label BLACK FIRE, home of Oneness of Juju and many more. 
An extremely transcendent duo set from 1989 France is captured on a new LP from LA pianist HORACE TAPSCOTT and saxophonist MICHAEL SESSION. Hawaiian slack key guitar brilliance is here on a comp of  tunes by MIKE HANAPI, plus we get a stormy, lucid, unheard live recording from DON CHERRY circa his mid-70s Organic Music Society period, called 'Om Shanti Om'. 
USED VINYL ALERT:
This week's edition of the Used Vinyl Alert goes heavy on the heavy stuff, jazz gems, electronics, surf, pop, and punk.
Some special jazz LPs roll through from Gene Harris, Herbie Hancock, Miles Davis, Bill Evans, Wes Montgomery, Shirley Scott, Joe Farrell, Larry Coryell, Ron Carter, Pharaoh Sanders, Blue Mitchell, and Jack McDuff. We've also got a killer spread of classic electric blues LPs, and some fantastic, seldom scene traditional blues and country compilations covering a number of eras and regions. LPs on the trending Cuca label are in, as well as country gems from Merle Haggard, Willie Nelson, and David Allan Coe.

Solid pickups are to be had on our fave names, like David Bowie, Prince, Bob Dylan, John Prine, the Byrds, Jimi Hendrix, the Rolling Stones, the Kinks, the Beach Boys, Tom Petty, and Fleetwood Mac. Psych, prog, garage, pop and many other rock n roll zones are represented this week, including names like Badfinger, the Animals, Nazz, the Zombies, Spirit, John Lennon and the Ides of March.
80s hard rock is in full force this week with LPs from Dokken, Queensryche, Def Leppard, Iron Maiden, Black Sabbath and Ozzy solo, WASP, Krokus, and Twisted Sister, while we welcome punk and wave from the Clash, REM, Patti Smith, Simply Red, Siouxsie and the Banshees, Peter Gabriel, and U2.
Soul and funk goes extra hard this week, with some rare obscurities alongside classics from Roy Ayers, Young Holt Unlimited, Isleys, Instant Funk, Luther Vandross, Earth Wind and Fire, Parliament and also Funkadelic. Electronics of all sorts are in from Kraftwerk, Gil Melle, Xenakis, Ligeti, Subotnick, Tangerine Dream, and a special one from Terry Riley.
BILLBOARD MAGAZINE'S BIWEEKLY FEATURE ON STRICTLY DISCS: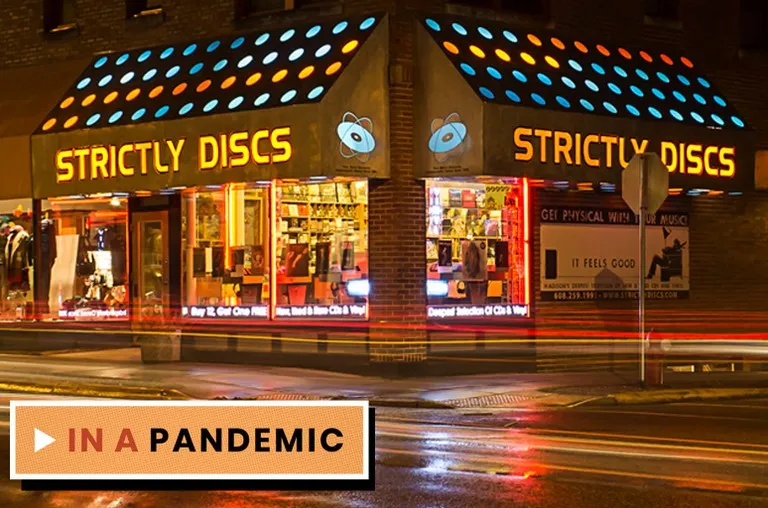 As part of Billboard's efforts to best cover the coronavirus pandemic and its impacts on the music industry, Chris Eggertsen has been speaking with Angie every other week to chronicle the experience of an independent record store throughout the crisis.  Here is a link to the stories in the series so far:
STRICTLY DISCS IS ON SPOTIFY!
Dogs and cats living together! Strictly Discs now has a Spotify channel. Every time one of us at the shop puts on a record, it's because we think someone else within earshot is going to like it, too. One of the things we've missed the most about having our doors temporarily closed is not being able to select the in-store play tunes for our customers to hear. It's the fun part of this job, and we want it back! Spotify users, point yourselves to our profile

 

HERE and click around. We've compiled a number of playlists, with more to come. Be sure to subscribe and check in on the "STRICTLY SELECTOS" playlist, as it will change each week with a fresh rundown of the titles we are featuring in this very email! New songs will appear there every Thursday, and are available to order online or over phone/email.
SELL US YOUR CDS & LPS:
Yes, we are still buying! Call Ron to schedule (608.213.3610).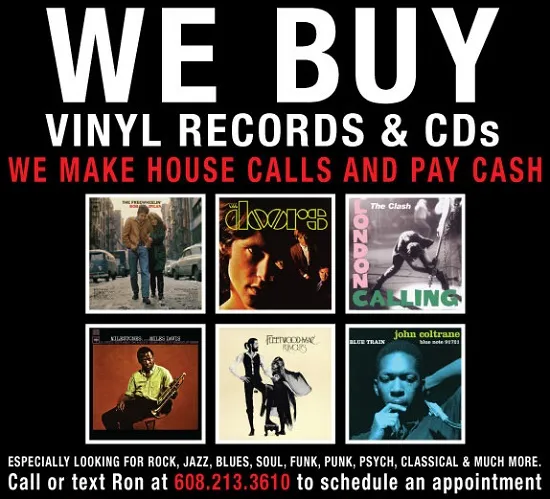 Ron, Ryan, Angie, Marty, Evan, Matt, Will, Ed, Mark, Jack, Eric & Dave