October 8, 2020
STRICTLY DISCS OPERATIONAL UPDATES - THURSDAY 10/8:
Strictly Discs continues to take Covid-19 precautions seriously. Just as we scan the horizon each day for new music, we also keep an eye on guidelines for safety and updated public health directives. This week, with a new state-wide indoor occupancy limit taking effect, we will be monitoring customer capacity to allow for proper social distancing, which may mean delaying your entry. We also ask that you limit your group as much as possible. 
Like so many record stores, Strictly Discs is a meeting-place for families, friends, and neighborhood pals. We wish we could throw open our doors to each and every one of you, to talk Taylor, Turrentine, Townes or techno. Until the threat of this virus has subsided, we must stay vigilant, and you coming to the shop solo is one way to help.
We will continue to practice the distancing, 100% mask-wearing policy, and daily cleaning/air filtering that has made shopping at Strictly Discs as safe as possible all year.
We also encourage you to utilize our curbside pickup  and local delviery options. We are accepting orders online at strictlydiscs.com all day, every day, and we are happy to take your inquires by phone. Thank you for your support, take care & have #hope.
BLACK FRIDAY RECORD STORE DAY IS NOVEMBER 27:
Strictly Discs will be the place to be this Post-Thanksgiving-Shopping-Melee-Day, also known as Black Friday.
And that's because certain indie stores across the country will be the place to get special releases created just for you, for giving and getting this holiday season, and they're scheduled for release on Black Friday, November 27, 2020.  

Now, this is not Record Store Day, Jr., but it is brought to you by the powers-that-be at Record Store Day. This is a group of special releases you can only find at certain independent record stores nationwide. The magic of these pieces (many uber-limited) is that every one of them is something someone will really LOVE to get, and you'll really ENJOY giving.  And you may have the added nice feeling of supporting a local, independently owned (Strictly Discs, Independently Owned since 1988) business during the holidays.
Wishlists can be now be made HERE for Black Friday.
JOHN PRINE SOCIAL MEDIA BIRTHDAY TRIBUTES: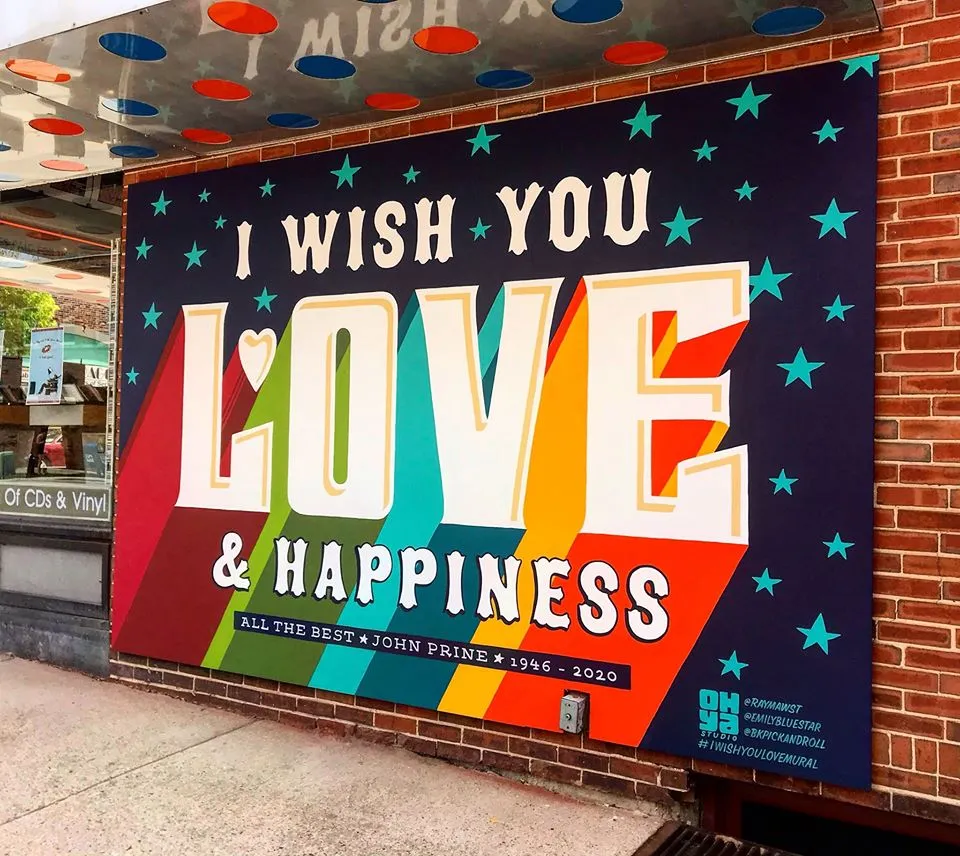 John Prine's birthday is Saturday October 10 and the music community wants his label and his family to feel the love we had for him and the support we send to them.
So on Saturday which would have been his 74th birthday, we invite you to post pictures in front of our John Prine mural (on Harrison Street). Please use the hashtags #IRememberEverything #ohboyrecords #strictlydiscs #john_prine #ohyastudio #iwishyoulovemural so they see your photos!
Thank you & have #hope.
RECORD STORE DAY DROP #3 IS OCTOBER 24TH:
The third Record Store Day drop event is Saturday, October 24th. Here is Strictly Discs' plan for the day:
1. We OPEN at 8AM for RSD shopping
2. Line to form westbound on Monroe Street
3. Masks (covering nose & mouth) & distancing required at all times
4. While in line, you will be handed a menu of all RSD titles  
5. We will pull your requests & you will check out outside on Harrison Street
6. Our website will be updated as titles sell out
7. The shop will open for normal browsing at approximately 10AM with RSD titles upstairs
Thank you for helping us to keep this event safe & fun.
Our goal for this day is to get you the records you are looking for while limiting potential exposure. 
NEW THIS WEEK AT THE SHOP:
This week's new release rundown starts with lovely new albums from friends of the shop. Having conquered the world with her harp, MARY LATTIMORE ventured to the Cornish countryside, bringing demos for a new album to the home studio of Neil Halstead of Slowdive fame. The session produced 'Silver Ladders', a stunning new development in Mary's dense catalog that expands her signature harp technique to accommodate deep layers of synth and Halstead's plaintive guitar, an oceanic sound that contrasts glittering surfaces with ominous notes beneath. No such portents in the glimmering fuzz-pop of SLOW PULP, who hit it clean out of the park on their debut full length 'Moveys'. Though they now call Chicago home, you may recognize some of these guys from around here; singer Emily Massey was in the much-beloved Madison band Modern Mod. Prismatic, emphatic, and breezily cathartic stuff here, for fans of the canon of Superchunk, Liz Phair, and Soccer Mommy. Humble guitar expressionist STEVE GUNN reconvenes his duo with drummer JOHN TRUSCINSKI for a heady session of psych-blues rambles called 'Soundkeeper'. We all need a little less unnecessary BS in our life right now; on this record, Steve and John do everything you want music to do with just an amp and a kit, sticks and strings. Album closer "For Eddie Hazel" has been on steady repeat this week, a blissfully in-the-moment jam, cocooned in its namesake's haze.
Bashing through from the Great White North comes Toronto's METZ with their fourth album for Sub Pop, called 'Atlas Vending'. Melodic hardcore garage abounds here, with some of the melodic flavor that made 90s records from Sonic Youth, Chavez and Girls Against Boys so memorable. Color vinyl on this one for all you loserinos. Beloved songcrafters FUTURE ISLANDS return with a comforting new record, 'As Long As You Are', and we get a new dose of the pop genius of SAD13, aka Sadie Dupuis of Speedy Ortiz, who carries on the savvy, strange self-exploration of feminist pop icons like Chrissie Hynde and Mary Timony on 'Haunted Painting'. 
Nice new records from a variety of up and coming folkrockers land this week. NYC duo LEWIS DEL MAR land their emotionally poignant sophomore album 'August'. French songwriter and National collaborator MINA TINDLE has a dreamy fantasy world on 'Sister'. Bedroom folkie savant CUT WORMS has a generously-paced new record called 'Nobody Lives Here Anymore', where he channels a primetime Gram Parsons. 
Few bands kicked off their career with a run of albums as strong as THE TALKING HEADS did with their trio of LPs that closed down the 70s. From the Feelies-channeling 'Psycho Killer', to the anthemic Al Green cover 'Take Me To The River', to the Eno-drenched Afro-pop of 'I Zimbra', the band covered an astonishing amount of ground. Still inspiring artists today, 'Talking Heads', 'More Songs About Buildings and Food' and 'Fear of Music' are all back in print on limited color vinyl pressings. 
The Awesome Tapes label delivers a reissue of the 1996 sophomore album 'Yogo Yogo' by PENNY PENNY, who was by then a stadium-packing star across South Africa. An early example of Xitsonga musicians embracing western pop and dance, Penny remains an SA icon to this day, starring in a reality TV show and feeding a large community from his avocado farm. THE BUDOS BAND celebrates another trip around the funky old sun with their latest studio smoke session, 'Long In the Tooth', which we have in-stock in a special edition limited to Daptone outlets only. THE SKATALITES helped kick off the ska revival with 1993's 'Ska Voovee', so why not try again with a new reissue? Pick it up!
Boundless UK jazz collective MAISHA has a fantastic new album of deep sides called 'Open The Gates', and we get audiophile-grade represses of two essentials from saint JOHN COLTRANE, 'A Love Supreme' and 'Ballads'. Impulse, Universal, and the Acoustic Sounds gang have teamed up to make these editions the most definitive cuts you can buy. 
Without too much hyperbole, you could declare LARRY HEARD the Coltrane of house music, and this week we welcome a deep, rare jewel of his discography back to LP, 1994's 'Sceneries Not Songs Vol 1'. After a pioneering run of machine-driven Windy city bangers under aliases like Mr. Fingers and Fingers Inc., Heard began recording dreamier material using his government name. Drawing on his adolescent interest in progressive rock, 'Sceneries' took the toolkit of early dance music further out than anyone else had done by this point; this vast album contains lush underwater lullabies, dustswept moonscapes, jazzy reveries, and powerfully liquid bass. The CHI/NYC duo ANTELOPER (trumpeter Jaimie Branch and Little Women drummer Jason Nazary) bless the International Anthem label with a percolating record of tech-jazz. Easily a top 5 dance EP of 2020 is the latest 12" from KUSH JONES on the Future Times label. Blending the chilly rhythmscapes of classic Chi house (see above) with the modern, bustling tempo of juke, Kush has 4 nasty tunes here that never, ever stop emitting powerful funk. Got these direct from Future Times HQ, one of the best American dance labels in the game, along with a grip of recent releases from GARIES, JON SELWAY, DIEGO aka SUZANNE KRAFT, SAMI, and DAWIT & DOLO. 
Mellow rhythm excursions continue with a great new album of lite-funk instrumentals by THE TWILITE TONE on Stones Throw, clever, deeply rendered pop miniatures from Japanese producer NUBO, and an incredible album of liquid, flute-led jazz-funk from TENDERLONIOUS.
A new record from MACHINEDRUM is always appointment listening, and the man does not disappoint on 'A View Of U', a record of crystalline bangers that somehow keeps a foot in both the dance world and the club-rap VIP. Russian producer OL has a phenomenal new record of sinewy, microscopic tech fragmentation called 'Wildlife Processing', and we welcome a stellar debut album from Midwesterner turned Berliner JON HESTER, who crafts fluid, atmospheric electro with Berghain tempo and a flourish of Twin Cities grandeur on 'Converge'. 
Last up, fresh re-pressed collections from the heavy hitters. Check out the JOHN LENNON box set 'Give Me Some Truth', a new pressing of the JIMI HENDRIX tribute comp STONE FREE, and a new edition of the JOHN PRINE hits collection, 'Prime Prine', on color wax. This newsletter is over, if you want it!
USED VINYL ALERT:


Heading down for this week's Used Vinyl Alert, we honor the memory of the departed Eddie Van Halen with an extra dose of classic hard rock, including several Van Halen LPs! More names here include Queensryche, Black Sabbath, the Scorpions, Def Leppard, Hawkwind, Budgie, Journey, Judas Priest, AC/DC, Metallica, Tomahawk, Blue Cheer, Nazareth, ZZ Top, and many more.
A nice run of female vocalists includes Nancy Sinatra, Nina Simone, Ella Fitzgerald, Dakota Staton and many more. A strong crop of country LPs includes Bobby Bare, Webb Pierce, Jody Reynolds, Merle Haggard, Waylon Jennings, Roy Head and more, plus folkies from Woody Guthrie, Ramblin Jack Elliott, Pete Seeger, Tom Rush, and the Bok Muir Trickett axis. 
Hard hitters in the classics column include Led Zeppelin, Neil Young, Grateful Dead, the Box Tops, the Zombies, Major Arcana, Rush, Frank Zappa, Bob Dylan, TRex, Tom Petty, the Doors, the Who, Joe Satriani, Ronnie Wood, and Soft Machine, plus essentials from Prince, the Pogues, the Clash, and newer titles from Leon Bridges, King Gizzard, Pure X, My Morning Jacket, Modest Mouse, the Dismemberment Plan, Damien Jurado and more.
Classic soul is in from Irma Thomas, Chic, the Isleys, Vanity 6, Earth Wind and Fire, Jon Lucien, Etta James, the Impressions, Maze, Funkadelic, Zapp, and Marvin Gaye, plus some newer gems from Melanie Martinez, Ellie Goulding, Brandi, Flying Lotus, Miguel, Jodeci, Atmosphere, and Dawn Richard. 

BILLBOARD MAGAZINE'S BIWEEKLY FEATURE ON STRICTLY DISCS: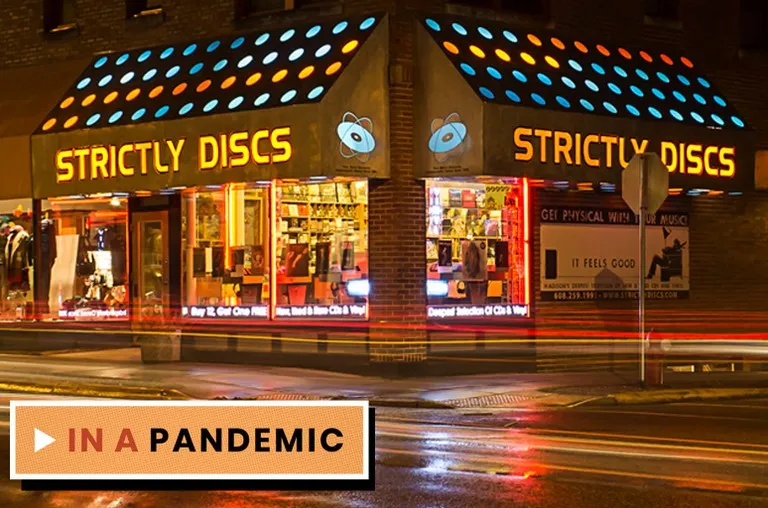 As part of Billboard's efforts to best cover the coronavirus pandemic and its impacts on the music industry, Chris Eggertsen has been speaking with Angie every other week to chronicle the experience of an independent record store throughout the crisis.  Here is a link to the stories in the series so far:
STRICTLY DISCS IS HIRING:
VINYL PRICING SPECIALIST:
Required skills:
Excellent customer service skills; ability to anticipate customer needs
Computer proficient

A passion for music, and a broad, deep base of recorded music history
Knowledge of Goldmine standards & experience grading and pricing records

Knowledge of stereo equipment/functionality
Availability to work nights and weekends
Ability to lift and carry 50 pounds repeatedly
RETAIL/FRONT COUNTER STAFF:
Required skills:
Excellent customer service skills; ability to anticipate customer needs
Computer proficient

A passion for music, and a broad, deep base of recorded music history
Availability to work nights and weekends

To apply, submit letter of interest & resume to angie@strictlydiscs.com
STRICTLY DISCS IS ON SPOTIFY!
Dogs and cats living together! Strictly Discs now has a Spotify channel. Every time one of us at the shop puts on a record, it's because we think someone else within earshot is going to like it, too. One of the things we've missed the most about having our doors temporarily closed is not being able to select the in-store play tunes for our customers to hear. It's the fun part of this job, and we want it back! Spotify users, point yourselves to our profile

 

HERE and click around. We've compiled a number of playlists, with more to come. Be sure to subscribe and check in on the "STRICTLY SELECTOS" playlist, as it will change each week with a fresh rundown of the titles we are featuring in this very email! New songs will appear there every Thursday, and are available to order online or over phone/email.
SELL US YOUR CDS & LPS:
Yes, we are still buying! Call Ron to schedule (608.213.3610).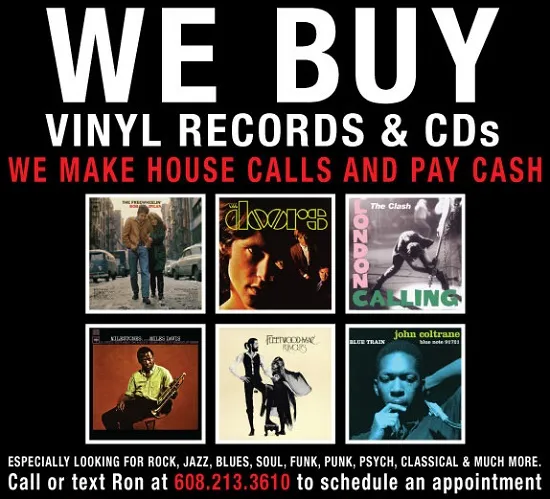 Ron, Ryan, Angie, Marty, Evan, Matt, Will, Ed, Mark, Jack, Eric & Dave