October 1, 2020
RECORD STORE DAY DROP #3 IS OCTOBER 24TH:
The third Record Store Day drop event is Saturday, October 24th. Here is Strictly Discs' plan for the day:
1. We OPEN at 8AM for RSD shopping
2. Line to form westbound on Monroe Street
3. Masks (covering nose & mouth) & distancing required at all times
4. While in line, you will be handed a menu of all RSD titles  
5. We will pull your requests & you will check out outside on Harrison Street
6. Our website will be updated as titles sell out
7. The shop will open for normal browsing at approximately 10AM with RSD titles upstairs
Thank you for helping us to keep this event safe & fun.
Our goal for this day is to get you the records you are looking for while limiting potential exposure. 

Stay strong & have #hope.
WISHLISTS:
Wishlists for October can be made HERE. The deadline for creating or modifying a wishlist is Monday October 5th at 5PM.


RECORD STORE DAY IS NOW RSD DROPS SPREAD OVER 3 DATES:
It's an unusual year, which means unusual news about Record Store Day.
Earlier this spring, Record Store Day announced a rescheduled June 20 date for the annual holiday, but with ongoing health and safety concerns, we now have a new plan.
Instead of a single-day global celebration, the 2020 releases will now be available over a series of monthly RSD Drops events, from August to October, followed by a regularly-scheduled Black Friday in November. This means we'll have four months of release events – the RSD 2020 exclusives spread out over three months, followed by a new round of exclusives for Black Friday – to end this strange year on a high note.
NEW THIS WEEK AT THE SHOP:
Decisions, decisions. Some are hard, some are really, really easy, and some are fun. We've got the fun ones this week, as we welcome a literal truckload of new releases from all across the musical spectrum. I spy every color of the rainbow on SUFJAN STEVENS' latest epic album, 'The Ascension', which finally arrives here on CD, cassette, and limited clear vinyl. Ever the self-made man, Sufjan remakes his sound once again on this expansive record, which lightens the mood considerably from his last proper studio record, 'Carrie and Lowell', adding soaring synths and loads of instrumental details here, on a record that feels confident and hopeful, and retains Stevens' singular lyrical weight. Not all of NICOLAS JAAR's fascinating projects make it to a purchasable physical format, but when they do, there are no half measures. So it is with 'Cenizas', a sprawling new double album of poignant maximum minimalia, which picks up roughly where 'Sirens' left off, all microscopic elements that reward a deep listen. Deluxe vinyl and CD sets here include a small perfect bound volume of textual art. Likely the most flexible of this opening trio is KAITLYN AURELIA SMITH, who appears on the cover of 'The Mosaic of Transformation' in the "formidable face" yoga pose. I don't know how she does that, but I'm guessing it requires the kind of focus and patience that makes her billowing synth meditations so effective. 
Some artists only need a couple minutes of your time to convince you they are the real deal. So it was with the 2014 EP from GABRIEL GARZON-MONTANO, which blew us away here at the shop, and presaged a solid run of subsequent releases. GGM goes all in on his latest, 'Aguita', an incredibly varied record that ranges from trunk-slapping reggaeton to his unique brand of slinky funk. Only musicians as talented as MAKAYA MCCRAVEN can take a bonus disc of album outtakes and release them as an album on their own, and now we get the proof with 'E&F Sides', a fascinatingly durable album of rhythmic jazz excursions in a beautifully artworked sleeve. Lifer wordsmith SA-ROC delivers her second album for Rhymesayers, 'The Sharecropper's Daughter', full of uplifting, powerful tunes with a hard-won credibility.
With Sigur Ros still on some type of hiatus, we welcome a new solo record from frontman JONSI, who's recruited a couple of vocalists with even more indefinable voices than his in Robyn and Cocteau Twins' Liz Fraser. Ope, here's a new record from LANA DEL REY, 'Violet Bent Backwards Over the Grass', an album that's mostly spoken word over some musical accompaniment, which finds dear Lana emptying her notebooks of poetry, hitting notes of Didion, Joni, Kim Gordon, and a perhaps slightly disaffected LA tourism agent. Alt-rockers DAWES return with a new album called 'Good Luck With Whatever' that hits a sweet Tom Petty zone and stays put.
The German jazz unit Fazer has delivered some of the most forward-thinking music from that genre in recent years, and now we welcome RUNDEN, a new trio consisting of half of the group plus pianist Carlos Cipa. According to the hype sticker, these percussion-led workouts were conducted in an improv, beat the clock style. Could have fooled me. Limber, conversational rhythms abound on a record that reveals more with each listen. Rising Japanese trumpeter TAKUYA KURODA already has a Blue Note album under his belt, and steps into a bg 2020 realm on 'Fly Moon Die Soon', a striking album that sounds like Hugh Masekela tracked with mellifluous housey rhythms. The northern Ghana trio FRA FRA calls their style "death-folk" and I can't quibble there after a deep listen to their new record 'Funeral Songs', which has a raw and gripping mournful power. 
Reginald Omas Mamode and his brother Joseph, aka Mo Kolours, unite as MAMA ODE, an incredible album of percussive creole hip-pop called 'Tales and Patterns of the Maroons'. Performance artist CHRIS KORDA shies away from few difficult topics, and returns to Perlon with her strangely powerful, bluntly political techno-pop on 'Apologize to the Future'. The video for lead single "Overshoot" might be the most pithy summation of the 2020 dystopia I've seen. Longtime producer, DJ and inspiration ELLEN ALLIEN returns as well with a snappy new record called 'Auraa'.
QUEEN and ADAM LAMBERT celebrate their successful union with a new live album, and we get a new record of modern folk from JOACHIM COODER, son of Ry, called 'Over That Road I'm Bound', plus a new record is in from neo-soul sensation ALOE BLACC, 'All Love Everything'. 
The latest multimedia epic from ROGER WATERS is in on expanded CD and vinyl editions, a soundtrack documentary to his recent global tour, including lots of hits from the Floyd catalog. We have SIGNED COPIES of the new disc from none other than BON JOVI, and a new LP pressing of SHANIA TWAIN's platinum album 'The Woman In Me'. 
It's officially October and you know what that means? It is also "Rocktober", that special month when Rhino releases some of their most requested catalog titles on limited vinyl editions. This week we have a special "mono mix" edition of LOVE's 'Forever Changes', GREEN DAY's seminal 'Nimrod', and JANE'S ADDICTION's 'Ritual de lo Habitual', which has always had a certain resonance for me personally, as I too was caught stealing, once, when I was five. Never did it again. 
More reissues in this week include a special silver vinyl edition of OASIS' classic '(Whats the Story) Morning Glory?', a new collection from the Swiss femme-punk pioneers MALARIA!, and a crucial double vinyl set collecting the many great tracks by the strangely timeless, category-less French pop duo LES RITA MITSOUKO.
Delirious, dreamy brilliance is in from producer KHOTIN, who I suppose has a right to stan Boards of Canada since he is, in fact, from there. My favorite ambient album (in a week chock full of them!) from this installment is 'Pilgrimage', the latest release from Russian artist X.Y.R., who crafts two sidelong voyages through goopy melodies, woozy rhythms, and delicate field recordings of seemingly eternal duration. Not to be outdone, Philly producer PONTIAC STREATOR delivers their biggest record yet, a sprawling 2LP of time-stopping, unplaceable dubtech brilliance called 'Triz'. 
Rap time. We finally get a legit vinyl edition of MAC MILLER's early breakout mixtape 'K.I.D.S.', plus a new album from YUNG LEAN called 'Starz', and 'Milestones' from the extremely talented New York rapper SKYZOO. 
Alternating between sultry, playful funk, stark vocal jazz, and soaring ballads, the self-titled 1973 debut from singer ASHA PUTHLI is one of those crate-digger delights that has something for everyone. Jazzman mines the early West Coast postbop scene with an incredible LP of little-heard recordings by little-known flautist ROSCOE WEATHERS, and we welcome a needed reprint of 'Windows of the Mind', the soulful fusion summit led by BILLY BROOKS, where he is joined by guitarist Calvin Keys and others. 
A new record from BOB MOULD explores his more aggressive side, and we're thrilled with the latest project from the John Dwyer band that keeps changing its name and is now called OSEES. 'Protean Threat' packs a lot of flavors into one bite here, jagging from hopped-up Lightning Bolt-esque riffery to hazy, lazy popsike. We've also got another Dwyer dealio in stock, BENT ARCANA, a collaboration album with members of TV on the Radio that heads for far-out krauty vistas.
Dunno about you but I have needed a dose of the heavy stuff this week. We've got em lined up this time with a new record from celestial doom unit ENSLAVED, a repress of the visceral 2007 power violence classic 'Sexless // No Sex' from IRON LUNG, an LP of early demos from infamous grindcore band DROPDEAD, and the iconic 1994 debut of Swedish d-beat legends TOTALITAR, 'Sin Egen Motstandare'. Need a break from the ruckus but still want to feel absolutely terrible? Dial up the latest political-illbient LP from VATICAN SHADOW, 'Persian Pillars of the Gasoline Era'.
Off-kilter, accidentally funky machine pop is in from FLOATING DI MOREL on 'Summer Has Become Cold'. Vancouverite italo-boogie reigns on the latest from GOOCH, with remixes from Local Artist and Yu Su. An affordable compilation called 'Vibes' introduces you to the wild world of modern funk label Star Creature. 
Members of influential post-rock bands Labradford and Stars of the Lid teamed up for one glorious record at the century's open, called AIX EM KLEMM, back in print now. Longtime leftfield techno artist Mark Van Hoen revives his LOCUST alias for a lovely album of kosmische. Midwesterner MATTTHEW DE GENNARO impresses once again with 'Laughing Lost in the Underground', a steady new solo album with nods to Fahey and Alistair Galbraith. 
Delicately trippy ambient library-scapes beckon on VAGUE IMAGINAIRES latest album for the 12th Isle label, 'L'Ile Sous L'Eau'. Italian producer duo BELLOWS delivers their strongest album of subliminally haunting minimalism on 'Undercurrent', and we get a startlingly true album of jigsawed rhythm excursions from Montrealer ANDO LAJ on 'Dog Insight'. 
The Brazilian label Lugar Alto has delivered a handful of truly unique obscurities from that vast country's synth-facing avantgarde, the strongest yet being an unreleased 1988 record from a duo called MUMIA. Colorful Belgian experimentalist violinist MONIEK DARGE sees some of her elusive 80s recordings collected on LP alongside a very cool book, and we get a new record from the Texas-based sound artist CLAIRE ROUSAY. 
Last up, techno time! The 2017 debut EP from Canadian producer EX-TERRESTRIAL is still one of my favorite dance records of the last decade, and gets a much needed repress this week. The Running Back label has compiled an amazing 2LP benefit collection featuring some of the best names in contemporary house/disco called 'Music for the NAACP'. Mysterious producer TRIBE OF COLIN has a new EP of drum seance, plus we get banging new EPs from RUSSELL E.L. BUTLER (which includes an awesome Boot Boyz poster) and CRITICAL AMNESIA (a group project featuring Huerco S and Vtgnike), plus a 2LP collection from the anonymous German dub techno duo PRETTY SNEAKY. 
USED VINYL ALERT:
No rest for the wicked! Downstairs we go for the latest used vinyl alert. First up, a note: we put out some truly INCREDIBLE used vinyl on Saturday for RSD Drop #2, and a whole lot of it is still left! We've left those sections separate so you can still browse the fresh goodies, and we still have more new arrivals (6 New Arrival Bins Total), which include...
... jazz essentials from Duke Ellington, Bud Powell, Hampton Hawes, John Coltrane, George Duke, Terje Rypdal, Mal Waldron, Wes Montgomery, Stanley Jordan, Albert Ayler, Shirley Scott, and more.
... classic hitters from the Grateful Dead, Frank Zappa, Led Zeppelin, the Beatles, the Rolling Stones, Black Sabbath, Phish, Yo La Tengo, Harry Nilsson, the Kinks, Cream, and John Prine, plus heavies from Kiss, the Who, Warren Zevon, Steely Dan, Yes, the Eagles, AC/DC, ZZ Top, and Dire Straits.
... just about all of our favorite female vocalists turn up this week, with LPs from Nina Simone, Yma Sumac, Sarah Vaughan, Blossom Dearie, Julie London, Ella Fitzgerald, Edith Piaf, Billie Holiday, Marilyn Monroe, and Etta James.
... some stunning blues and folk LPs are in from Skip James, Charley Patton, Son House, Muddy Waters, Albert King, Bukka White, Mance Lipscomb, Pete Seeger, Norman Blake, and Eric Von Schmidt. 
... early and late-period soul gems are in from Barbara Acklin, Jerry Butler, Letta Mbulu, Edna Wright, Mary Wells, Marvin Gaye, the Commodores, the O'Jays, Whitney Houston, and Sade!
BILLBOARD MAGAZINE'S BIWEEKLY FEATURE ON STRICTLY DISCS: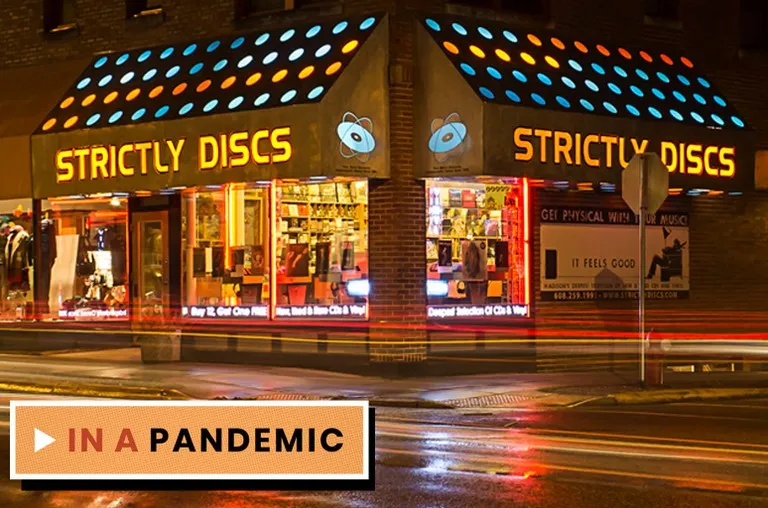 As part of Billboard's efforts to best cover the coronavirus pandemic and its impacts on the music industry, Chris Eggertsen has been speaking with Angie every other week to chronicle the experience of an independent record store throughout the crisis.  Here is a link to the stories in the series so far:
STRICTLY DISCS IS HIRING:
VINYL PRICING SPECIALIST:
Required skills:
Excellent customer service skills; ability to anticipate customer needs
Computer proficient

A passion for music, and a broad, deep base of recorded music history
Knowledge of Goldmine standards & experience grading and pricing records

Knowledge of stereo equipment/functionality
Availability to work nights and weekends
Ability to lift and carry 50 pounds repeatedly
RETAIL/FRONT COUNTER STAFF:
Required skills:
Excellent customer service skills; ability to anticipate customer needs
Computer proficient

A passion for music, and a broad, deep base of recorded music history
Availability to work nights and weekends

To apply, submit letter of interest & resume to angie@strictlydiscs.com
STRICTLY DISCS IS ON SPOTIFY!
Dogs and cats living together! Strictly Discs now has a Spotify channel. Every time one of us at the shop puts on a record, it's because we think someone else within earshot is going to like it, too. One of the things we've missed the most about having our doors temporarily closed is not being able to select the in-store play tunes for our customers to hear. It's the fun part of this job, and we want it back! Spotify users, point yourselves to our profile

 

HERE and click around. We've compiled a number of playlists, with more to come. Be sure to subscribe and check in on the "STRICTLY SELECTOS" playlist, as it will change each week with a fresh rundown of the titles we are featuring in this very email! New songs will appear there every Thursday, and are available to order online or over phone/email.
SELL US YOUR CDS & LPS:
Yes, we are still buying! Call Ron to schedule (608.213.3610).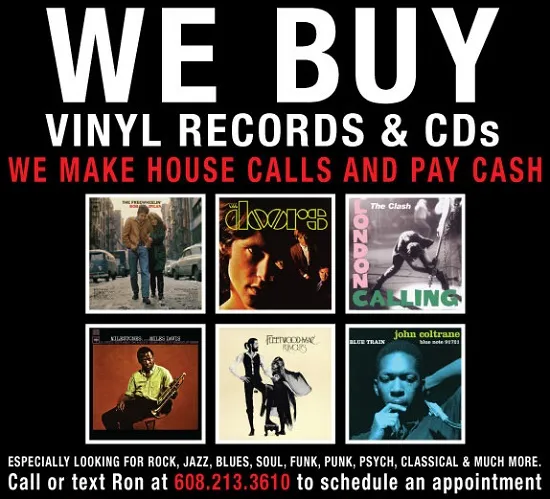 Ron, Ryan, Angie, Marty, Evan, Matt, Will, Ed, Mark, Jack, Eric & Dave