September 24, 2020
RECORD STORE DAY DROP #2 IS SEPTEMBER 26TH:
RECORD STORE DAY DROP #2 IS SEPTEMBER 26TH:
The second Record Store Day drop event is Saturday,†September†26. Here is Strictly Discs' plan for the day. We will be blunt: this won't be like RSD events of years' past. We cherish this day of music and community every year but as we battle a pandemic, it is not possible to throw a party in the store responsibly.†
1. We OPEN at 8AM for RSD shopping
2. Line to form westbound on Monroe Street
3. Masks (covering nose & mouth) & distancing REQUIRED AT ALL TIMES
4. While in line, you will be handed a menu of all RSD titles††(also printable†HERE)
5. We will pull your requests & you will check out outside on Harrison Street
6. Our website will be updated as titles sell out†HERE
7. The shop will open for normal†browsing at approximately 10AM.
Our goal for this day is to get you the records you are looking for while limiting potential exposure.†Stay strong & have #hope.
WISHLISTS:
Wishlists for October can be made†HERE.†


RECORD STORE DAY IS NOW RSD DROPS SPREAD OVER 3 DATES:
It's an unusual year, which means unusual news about Record Store Day.
Earlier this spring, Record Store Day announced a rescheduled June 20 date for the annual holiday, but with ongoing health and safety concerns, we now have a new plan.
Instead of a single-day global celebration, the 2020 releases will now be available over a series of monthly†RSD Drops†events, from August to October, followed by a regularly-scheduled Black Friday in November. This means we'll have four months of release events Ė the RSD 2020 exclusives spread out over three months, followed by a new round of exclusives for Black Friday Ė to end this strange year on a high note.
NEW THIS WEEK AT THE SHOP:
Greetings friends and music lovers. As we anticipate our second RSD drop on Saturday, we've seen records come from far and wide to fill the shelves. Certainty might be scarce in the outside world, but we've loaded up with sure shots on this front, starting with the straightest shooter of them all, BILL CALLAHAN, who brings us 'Gold Record' on vinyl this week. This is a relatively swift follow-up to last year's double album opus, and Bill does seem to arrive on the scene feeling less burdened. Paired with a band pulled deeply from the country-rock confines of Austin, Callahan summons his familiar comforting void from a host of shifting lyrical personalities, "Just a boy, messin with a man's toys". No longer boys are the DEFTONES, the California art-metal band that formed the same year that Strictly Discs opened (!!) way back in 1988 (!!!). That's given them enough time to put trends like 'nu metal' and corporate rock backlash deep in the rearview, tiny blips in comparison to the ballistically powerful music they are still making now on 'Ohms', in the shop on limited gold vinyl. It's staggering to behold a group of musicians impervious not just to time or genre, but also to the fragmentation of vision that tends to weaken bands over the years. When I hear the band name SYLVAN ESSO, I think about an abandoned Canadian gas station overtaken by verdant flora. Not sure if that's what they were going for, but it feels like I'm there on 'Free Love', the duo's third album of synth-pop that continues to explore tensile and tender themes, led by the lovely voice of Amelia Meath, who possesses a timbre similar to that of Astrud Gilberto. This one's in the shop on beautiful blue vinyl, and we have very nice posters signed by the band to give out with purchase!
Due to shipping delays,†the†Deftones release will be arriving Monday. Please reserve your copy.
Over the two full years it took funk megalomaniac PRINCE to complete his critically acclaimed 1987 album 'Sign O The Times', the maestro stuffed his vault with a crowd of alternate takes, live mixes, dubs, duets, and alter egos thick enough to constitute a small village. Upon completing a similarly-comprehensive project for his album '1999', Prince's estate approached a super deluxe edition of 'Sign' in true time capsule fashion, capturing every facet of this sprawling record. We have this in stock in every retail configuration, from a pink vinyl Clean Version for the kiddos, to a 13 LP set containing dozens of unheard versions, a pair of live sets, DVDs and ephemera. We also welcome the first-ever vinyl edition of JOHN PRINE's turn of the century reminiscence 'Souvenirs', featuring tender renditions of 15 of his early classics, and a lovely etched D-side. We're also elated to bring in a true first of its kind thing in the till-now unheard live THELONIOUS MONK recording 'Palo Alto'. In a darkening American autumn following the murder of Martin Luther King, Jr, a high school jazz enthusiast booked the almighty pianist in his gymnasium, hoping to bring a grieving community together through music. Monk and his quartet, in a formation that scarcely appears on any other known recordings, played an extremely dialed-in set to a rapturous audience, and it was only the school's janitor that had the presence of mind to record it. Straight to a cassette deck, with mic placement divined, perhaps, from the intimate knowledge of a space that only a custodian could have, 'Palo Alto' has a direct fidelity to rival the greatest of live recordings done on far superior equipment, and immediately strikes one as the jazz equivalent to 'At Folsom Prison'. This immense package also includes liner notes from Robin D.G. Kelley, and replicas of the original posters and handbills for the gig. Time, like a record, is a flat ol' circle.†
A gleaming pop nugget tucked away at the tail end of the 80s careers of BRIAN ENO and JOHN CALE, 'Wrong Way Up' has long been a hard one to track down on vinyl. At last, we've laid hands on this somehow-underrated delight. Also hard to find forever was the debut album from M.WARD, 'Duet For Guitars #2', which modestly whispered an introduction to a timeless folk musician, and is now back in print on LP. A freshly minted 4LP Dicks Picks set from THE GRATEFUL DEAD is here for a heartbeat, documenting 2 shows from the band's 1969 heyday in Chicago and Minneapolis. These are cut suuuper quiet, limited to 1500, and close with one of the deepest "Morning Dew"s you'll hear.†
The International Anthem continues to deliver balms in a troubled time with an absolutely gorgeous live record from two arrangers it would take much longer to dap up than this newsletter allows: CARLOS NINO and MIGUEL ATWOOD-FERGUSON. 'Chicago Waves' captures a seance-like live set of electronics, samples, and luminous violin. Vocalist DWIGHT TRIBLE leads a new LA spiritual jazz group COSMIC VIBRATIONS on 'Pathways & Passages', and we have a fresh printing of the knockout soul-jazz classic from KELLEE PATTERSON, 1973's 'Maiden Voyage'.
A fresh pair of Blue Note Tone Poet editions usher in a continued wave of incredible new jazz LPs. This week we have JIMMY SMITH's bop summit 'Prayer Meetin' and HORACE SILVER's 'Further Explorations' in on audiophile pressings, plus new editions of OLIVER NELSON's 'Skull Session' and HERBIE HANCOCK's 'Flood'.†
Disquieting ambience reigns on a stunning new record from electronic composer SOPHIA LOIZOU called 'Untold'. Russian DIY techno-popster KATE NV channels Wally Badarou and Neneh Cherry in equal amounts on the delightful 'Room For the Moon'. Stately, unadorned folky brilliance is in store on LOMELDA's fantastic†new record 'Hannah', a nice one for fans of Julie Doiron or Adrienne Lenker.
The unbeatable combo of JAY WORTHY and HARRY FRAUD roll a big doink on 'Eat When You're Hungry, Sleep When You're Tired', with lots of west-coast bounce and wordplay. Beatmaker BOTANY hits the mystery zone between Fourtet and Dilla on 'End the Summertime Forever'. One listen to CAMBATTA's latest would lead you to believe he wrote all these rhymes while on acid, but then he went and called the record 'LSD: Lunar Solar Duality', so.†
Idyllic Young Neil type pop is here from SURFER BLOOD on 'Carefree Theatre'. World-beating UK Fugazi-gazers IDLES return with a walloping new record called 'Ultra Mono', in the house on CD, LP, and a deluxe vinyl edition, plus we've got the latest from proggy creepers ULVER.†
In the emergent IDM/breakcore scene that emerged post-Aphex, few artists stood out like BOGDAN RACZYNSKI, who's playful, rubber-minded beats mingle with oddball sounds and vocalisms on 1999's 'Samurai Math Beats', back in print via the super dope emerging label Disciples. Producer Suzanne Kraft and singer Adda Kaleh did up some delightfully smooth R&B tracks in Bucharest in the early teens and let them marinate awhile as unreleased DJ weaponry, until releasing them now as the AKSK album 'Things We Do'. Clubbed-up Sade abounds on these perfect tracks, which include some deeper dubs from Tornado Wallace. "Join me. Perhaps you may be able to help solve a mystery," or just vibe eternally on the creepy, proto-Berghain sounds of GARY MALKIN's score for 'Unsolved Mysteries', available now on vinyl just in time for a Halloween that, well, honestly doesn't need much help being any scarier.†
A pair of reissues land from the transcendent Japanese trumpeter TERUMASA HINO land with forceful grace; we've got 'Journey to Air' and 'Peace & Love'. A fantastic LP compilation from the Wamono crew documents deeply-dug 'Japanese Jazz-Funk and Rare Groove from 1968-1980'. Gotta love a fully descriptive title. On the "Sound Book" edition of 'My Neighbor Totoro', composer JOE HISAISHI re-imagines his soundtrack for the legendary anime with a chamber ensemble. Few records are worth a $50 price tag, but this one makes the grade with ease.
Brutal tech-noise is here on Philly boy PROFLIGATE's new record 'Too Numb to Know'. Carolinian guitar constrictor TASHI DORJI takes his skills to the Drag City label with 'Stateless', an uncompromising approach to the git that carries on the methods of Richard Bishop, Bill Orcutt, and late-period Fahey. KTL, the doomy duo of Peter Rehberg and Sunn's Stephen O'Malley, convene their first Covid drone session on 'VII'.†
The two compositions on ALVIN LUCIER's late 60s work 'Vespers' possess enough moments of pure invention to still be retraining ears fifty years later. Seemingly every minimalist after Robert Ashley took notes from him, but Ashley had to take notes somewhere too, and it was at the side of Lucier. That timeline leads to modern day composers like the Swedish artist BLOD, whose latest record 'Livets Ord' is virtually all solo organ, and breathtaking. Just in case you had any breath left, BRIAN ENO and his piano playin brother ROGER ENO are here with a new LP of predawn stillness called 'Luminous'.
Some seldom seen Brazilian classics return to us on audiophile wax from the Rio label Polysom. We've got RITA LEE's enchanting psych-pop 'Hoje … O Primeiro Dia Do Resto Da Sua Vida', MARCOS VALLE's early turn to funk 'Vento Sul', and the singular trad-fusion of the ORQUESTRA AFRO-BRASILEIRA album.†
A pair of incredible reissues (with three more to come) from the Now-Again label celebrate the deep catalog of Ethiopian soul singer AYALEW MESFIN. Just as entrancing as his cohorts Alemayu Eshete and Mahmoud Ahmed, these beautiful editions of 'Blindsided By Love' and 'March Forward' should put him more firmly on the map. Heading slightly west, we land in the Sudan with SHARHABIL AHMED, who was literally crowned 'The King of Sudanese Jazz'. Deeply-rendered melodies abound on this fantastic collection, which sidle alongside the classic works of Mulatu Astatke.
Continuing to hit the border we go, with a deep salsa burner from ALFREDO LINARES, a reissue of the landmark Argentinean jazz classic 'El Grito' from JORGE LOPEZ-RUIZ (say, that logo looks familiar!), and a heavy compilation of hard-to-find Greek rembetika from the 30s, 'I'm Burning, I'm Burning'. Same same.†
USED VINYL ALERT:
But wait, there's more. Downstairs we go for a fresh look at the used vinyl arrivals, which are looking pretty nice! We've got great soul slabs in this week's round from Al Green, the Gap Band, Earth Wind and Fire, Stevie Wonder, Otis Redding, Laura Lee, the Shirelles, the Controllers, Slave, Buddy Miles, the SOS Band and so much more, as well some fantastic dixieland jazz and early R&B. Some early rap classics in the house include Boogie Down Productions, De La Soul, Spider D, Young MC, and many more.
A deep stash of rock includes a lot of obscure 70s heat, plus winners from Led Zeppelin, the Kinks, Fleetwood Mac, CCR, and the Beatles, plus heavier stuff from the Stooges, AC/DC, King Gizzard, Cinderella, Budgie, Poison, and Alice Cooper. New wave delights come through from Echo and the Bunnymen, Psychedelic Furs, the Eurythmics, the Undertones, Tom Tom Club, and Depeche Mode.
Jazz is here from Tony Williams, Hank Crawford, Donald Byrd, Art Blakey, Clifford Brown, Keith Jarrett, Jimmy Giuffre, Cal Tjader, Hugh Masekela, and Django Reinhardt. A refreshing variety of international LPs include several classic salsa and rumba LPs, reggae from Augustus Pablo, King Tubby, Black Uhuru, Michigan & Smiley, Bob Marley, and Dennis Brown, a smattering of other Caribbean and latin, and Brazilian fire from Gilberto Gil and Jorge Ben.
Blues from Stevie Ray Vaughan, Freddie King, and several other more obscure names is joined by folk and country from Ramblin Jack Elliott, Pete Yarrow, Woody Guthrie, Pete Seeger, Waylon Jennings, Johnny Cash, and Dwight Yoakam.†
USED CD ALERT:
We'll be running back the middle leg of the tripartite Record Store Day on Saturday [that's the second of three, crumbsnatcher], but there will be some Friday goodness on the used cd front. Let's start off with jazz as we often do. There's cornerstone titles from Miles and Trane - "Kind of Blue," "A Love Supreme," "In a Silent Way," "Live at Birdland '63" - but the heat is from titles we see less often. Here we go: Mingus "Oh Yeah;" Nina Simone "Sings the Blues;" Les McCann & Eddie Harris "Swiss Movement;" and "Soundtrack to Black Orpheus;" and Pat Metheny and Ornette Coleman "Song X." R&B notables include Erykah's debut [which we rarely see considering the number of copies we sold], Prince "1999;" Grace Jones "Living My Life;" and the killer best of from breakbeat heroes Cymande. The name might not register, but the songs most certainly will. Throw in a tasty 2-cd comp from Bill Withers and a heady effort from DJ Krush for good measure. Incoming rock has a definite art school vibe. Think work from Roxy Music, Talking Heads, David Bowie, Kraftwerk, you know the vibes. There's also new copies of "On the Beach" and "Sticky Fingers," and you could make an argument those are the best sides cut by Neil and the Stones. We're always happy to get in ace music from Brazil and titles from Gal Costa, Baden Powell and Caetano Veloso qualify. Finally, there's some odds and sods from ...And You Will Us, Panic at the Disco, Rhiannon Giddens and Phillip Glass. Come early, wear a damn mask and bring your wallet or purse or what have you.



BILLBOARD MAGAZINE'S BIWEEKLY FEATURE ON STRICTLY DISCS: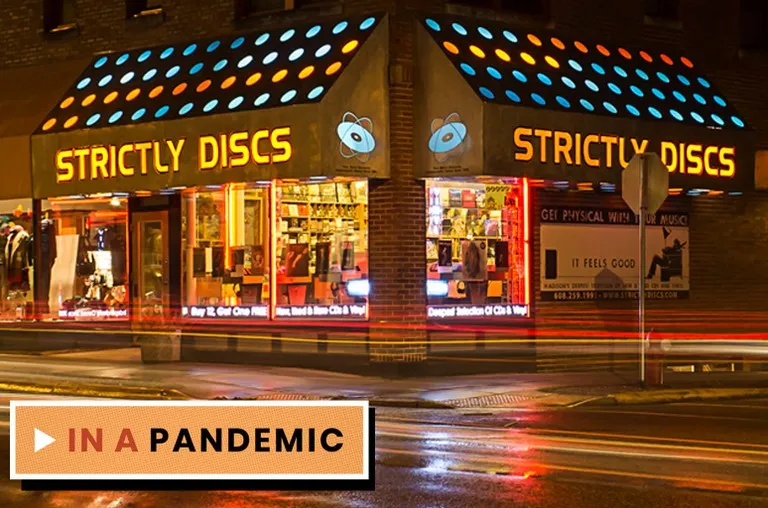 As part of†Billboardís efforts to best cover the coronavirus pandemic and its impacts on the music industry, Chris Eggertsen has been speaking with†Angie†every other†week to chronicle†the experience of an independent record store†throughout the crisis.† Here is a link to the stories in the series so far:
Billboard Article #5 June 12th
Billboard Article #6 June 19th
Billboard Article #7 June 26th

Billboard Article #8 July 10th
Billboard Article #9 July 30th
Billboard Article #10 August 13th
Billboard Article #11 August 28th†
Billboard Article #12 September 11t
h
STRICTLY DISCS IS HIRING:
VINYL PRICING SPECIALIST:
Required skills:
Excellent customer service skills; ability to anticipate customer needs
Computer proficient

A passion for music, and†a broad, deep base of recorded music history
Knowledge of Goldmine standards & experience grading and pricing records

Knowledge of stereo equipment/functionality
Availability to work nights and weekends
Ability to lift and carry 50 pounds repeatedly
RETAIL/FRONT COUNTER STAFF:
Required skills:
Excellent customer service skills; ability to anticipate customer needs
Computer proficient

A passion for music, and†a broad, deep base of recorded music history
Availability to work nights and weekends

To apply, submit letter of interest & resume to angie@strictlydiscs.com
STRICTLY DISCS IS ON SPOTIFY!
Dogs and cats living together! Strictly Discs now has a Spotify channel. Every time one of us at the shop puts on a record, it's because we think someone else within earshot is going to like it, too.†One of the things we've missed the most about having our doors temporarily closed is not being able to select the in-store play tunes for our customers to hear. It's the fun part of this job, and we want it back! Spotify users, point yourselves to our profile

†

HERE†and click around. We've compiled a number of playlists, with more to come. Be sure to subscribe and check in on the "STRICTLY SELECTOS" playlist, as it will change each week with a fresh rundown of the titles we are featuring in this very email! New songs will appear there every Thursday, and are available to order online or over phone/email.
SELL US YOUR CDS & LPS:
Yes, we are still buying! Call Ron to schedule (608.213.3610).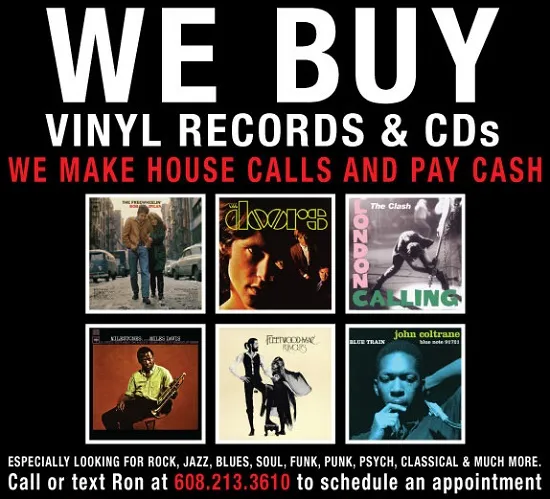 Ron, Ryan, Angie, Marty, Evan, Matt, Will, Ed, Mark, Jack, Eric & Dave