September 10, 2020
RECORD STORE DAY DROP #2 IS SEPTEMBER 26TH:
RECORD STORE DAY DROP #1 IS SEPTEMBER 26TH:
The second Record Store Day drop event is Saturday, September 26. More details to follow.
Our goal for this day is to get you the records you are looking for while limiting potential exposure. Stay strong & have #hope.
WISHLISTS:
Wishlists for September & October can be made HERE. The deadline to make or modify September wishlists is Friday, September 11th at 5PM.
RECORD STORE DAY IS NOW RSD DROPS SPREAD OVER 3 DATES:
It's an unusual year, which means unusual news about Record Store Day.
Earlier this spring, Record Store Day announced a rescheduled June 20 date for the annual holiday, but with ongoing health and safety concerns, we now have a new plan.
Instead of a single-day global celebration, the 2020 releases will now be available over a series of monthly RSD Drops events, from August to October, followed by a regularly-scheduled Black Friday in November. This means we'll have four months of release events – the RSD 2020 exclusives spread out over three months, followed by a new round of exclusives for Black Friday – to end this strange year on a high note.
NEW THIS WEEK AT THE SHOP:
Stuck inside your home with the lockdown blues again? We have backup for you in the form of some sweet new release vinyl this week. As always, a reminder: the shop is open 24 hours online, plus taking orders over the phone and via email any time we are open, and offering curbside delivery for orders of any size, and shipping six days a week via the gool ol USPS! Perhaps you would like the latest from THE FLAMING LIPS, entitled 'American Head'. Hey, I've got one of those I think. The Tulsa maestros of haunted purple konzerthalle pop reset themselves again with a record of straight songs (for them) that echo the classic Soft Bulletin-era. CD and LP on this, with color vinyl copies due to arrive later in the month. Veteran west coast chill-rockers DELTA SPIRIT return with a lively new one called 'What Is There', in the house on color vinyl, and we have some great new modern country from ZEPHANIAH OHORA that sits nice alongside the latest releases from Dougie Poole and Charley Crockett in what has been a real breakout year for this return to traditionalism. Southern rockers ALL THEM WITCHES continue to patch together their energizing Skynyrd/Soundgarden melange on a great new album called 'Nothing As The Ideal'. 
The world may have somehow found a way to get scarier than MARILYN MANSON, but luckily that hasn't stopped his fascinating third-act turn to southern gothic Cohenisms, which he continues to hone on 'We Are Chaos'. Hearty riff-merchants KHEMMIS deliver the goods on the aptly titled 'Doomed Heavy Metal', in the building on pretty splatter wax. Swedish motorheads BALL unleash some very vile Venom-worship with 'Like You Are - I Once Was', and we get a swift kick of a record from UNIFORM, who continue to establish themselves as the last band standing in the service-industrial wasteland of New York City with 'Shame'. 
Early 90s gems assemble like Captain Planet this week, with a pair of reissues from PJ HARVEY. Her 1995 album 'To Bring You My Love' jumped her to radio fame with the swamped-Shirelles "Down By The Water" and gets a vinyl repress for the first time since its release, alongside an album of unheard demos! The best $600 ever spent is still Kurt and Co. slapping down the studio fees for NIRVANA's debut album 'Bleach', which gets a very limited reissue from Sub Pop in a couple different color variants. YO LA TENGO's early classic album 'Electr-O-Pura' is next up in Matador's ongoing run of vinyl remasters. The sprawling 1995 release is now pressed fat across 2 LPs for a heightened listening experience on the gleaming perfection of tunes like "Tom Courtenay". 
Alongside his longterm commitment to the Chicago pop band The Sea And Cake, SAM PREKOP has regularly released some truly lovely solo albums that explore territory the band usually steers clear of. On 'Comma', he channels 'Love On A Real Train'-era Tangerine Dream and glistening IDM. Big bearded great man of indie history Thor Harris reconvenes his delightfully ongoing THOR & FRIENDS project for a pair of transcendent new records that channel his spectral folk through the teachings of Julius Eastman and Aphex Twin. The 'Friends' on these particular occasions include Bill Callahan, Jenn Wasner, Alan and Mimi from Low, Jeremy from Hawk and A Hacksaw, and Jolie Holland, all mainly contributing vocals. You know, just some random guys.
Few studio producers landed as many direct hits as Richard A. Hewson did in the early 80s with THE RAH BAND, his disco-funk studio group convened after he had already amassed arrangement credits on tunes like "The Long And Winding Road". Strangely enough, now most Rah Band LPs are impossible to find, and when you do, most don't sound too great. That's been remedied by an incredible new 2LP set of fully remastered classics called 'Producer's Choice'. Carolinan folkie SALLY ANNE MORGAN has a stunning new album of hypnotic Americana called 'Thread' coming in from Thrill Jockey. Yesterday I fired up my instagram and saw a picture of her feeding some watermelon to a goat. Bassist and synthesist LUCRECIA DALT atomizes the ionosphere with each new record, and 'No Era Solida' might be her most enveloping dustcloud yet. 
A reissue of his 2002 classic 'Apricot Morning' reminds us that QUANTIC has been on top of the beatmining game for a very long time. A new collab record from JOELL ORTIZ and KXNG CROOKED is here, plus at last a vinyl pressing of BENNY THE BUTCHER's 'The Plugs I Met', providing some much needed boosts of Real Rap vitamins.
A new Tone Poet edition restores the majesty of STANLEY TURRENTINE's 1962 bop masterpiece 'That's Where It's At'. UK horn man TENDERLONIOUS has a snappy new record in tribute to UK legend Tubby Hayes, on which he plays Tubby's actual piccolo. Another in a very welcome wave of Black Jazz label reissues brings us the emotional/spiritual upwelling that is DOUG AND JEAN CARN's 'Spirit Of the New Land'. 
USED VINYL ALERT:
This week's edition of the Used Vinyl Alert brings hard and heavy heat from the worlds of jazz, soul, metal, and psych, with lots of stops along the way.
Rare jazz is here from Bola Sete, Calvin Keys, Max Roach, Miles Davis, Don Cherry, Medeski Martin and Wood, Gabor Szabo, Freddie Hubbard, Wayne Shorter, Idris Muhammad, Charles Mingus, Benny Carter, Ella and Louis, Milton Nascimento, Sonny Rollins, and many more.
Strong soul LPs are in from Ray Charles, William Bell, Minnie Riperton, Roy Ayers, the Vandellas, Black Heat, Archie Bell, Wilson Picktt, James Brown, Rick James, Johnny Otis, and Sam Cooke.
Mega classics in the bins this week from CSNY, a long run of Bob Dylan, Van Morrison, Led Zeppelin, Pink Floyd, Yes, Frank Zappa, the Grateful Dead, Queen, the Beatles, the Kinks, and Kiss, plus some nice ones from Dr. John, the Fugs, Robert Fripp, and Peter Gabriel.
Punk and new wave is here from The Clams, Belinda Carlisle, Culture Cub, Dexy's Midnight Runners, Blondie, U2, The Jam, Nick Lowe, and the Dream Syndicate, with heavier stuff in from ZZ Top, Styx, Aerosmith, Saxon, Metallica, Black Sabbath, Ratt, and Van Halen.
Deep stashes of classic country, private press folk, a couple of select African and reggae LPs, some classic soundtracks, and a deep run of 90s electro, house and techno close us out.
BILLBOARD MAGAZINE'S BIWEEKLY FEATURE ON STRICTLY DISCS: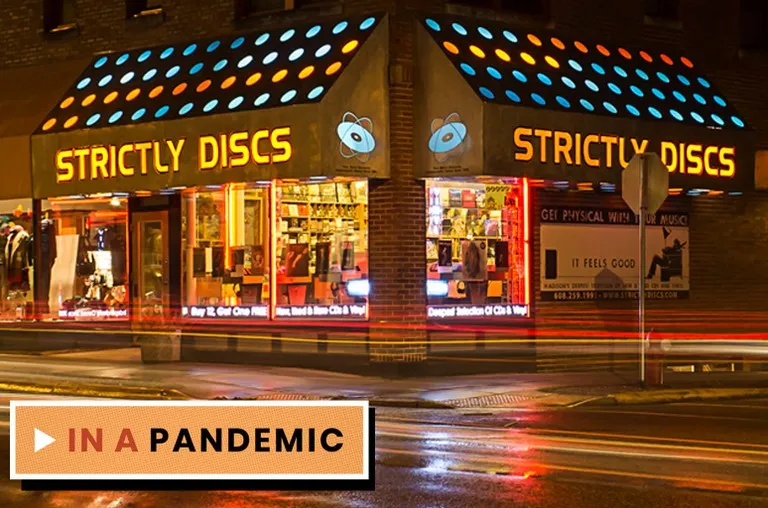 As part of Billboard's efforts to best cover the coronavirus pandemic and its impacts on the music industry, Chris Eggertsen has been speaking with Angie every other week to chronicle the experience of an independent record store throughout the crisis.  Here is a link to the stories in the series so far:
Billboard Article #5 June 12th
Billboard Article #6 June 19th
Billboard Article #7 June 26th

Billboard Article #8 July 10th
Billboard Article #9 July 30th
Billboard Article #10 August 13th
Billboard Article #11 August 28th 
STRICTLY DISCS IS HIRING:
VINYL PRICING SPECIALIST:
Required skills:
Excellent customer service skills; ability to anticipate customer needs
Computer proficient

A passion for music, and a broad, deep base of recorded music history
Knowledge of Goldmine standards & experience grading and pricing records

Knowledge of stereo equipment/functionality
Availability to work nights and weekends
Ability to lift and carry 50 pounds repeatedly
RETAIL/FRONT COUNTER STAFF:
Required skills:
Excellent customer service skills; ability to anticipate customer needs
Computer proficient

A passion for music, and a broad, deep base of recorded music history
Availability to work nights and weekends

To apply, submit letter of interest & resume to angie@strictlydiscs.com
STRICTLY DISCS IS ON SPOTIFY!
Dogs and cats living together! Strictly Discs now has a Spotify channel. Every time one of us at the shop puts on a record, it's because we think someone else within earshot is going to like it, too. One of the things we've missed the most about having our doors temporarily closed is not being able to select the in-store play tunes for our customers to hear. It's the fun part of this job, and we want it back! Spotify users, point yourselves to our profile

 

HERE and click around. We've compiled a number of playlists, with more to come. Be sure to subscribe and check in on the "STRICTLY SELECTOS" playlist, as it will change each week with a fresh rundown of the titles we are featuring in this very email! New songs will appear there every Thursday, and are available to order online or over phone/email.
SELL US YOUR CDS & LPS:
Yes, we are still buying! Call Ron to schedule (608.213.3610).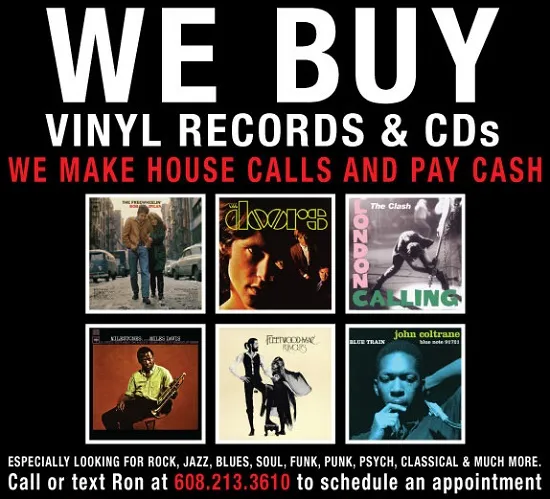 Ron, Ryan, Angie, Marty, Evan, Ben, Matt, Will, Ed, Mark, Jack, Eric & Dave