September 3, 2020
NEW THIS WEEK AT THE SHOP:
It's September, y'all. Remember to check in with your loved ones. We get some fairly personal updates this week from several of our most trusted voices, beginning with the unexpected new album from THE MICROPHONES, the project Phil Elverum set aside when he began recording as Mount Eerie. 'Microphones in 2020' does what its title says and so much more, consisting of one 45 minute track broken up into endless movements, with Phil's lyrics turning up in torrents to tell important stories about how he got to where he is now. Musically, the album flows as gloriously as any classic, elegantly fuzzy Elverum affair, and if you listen deeply, you get some illuminating anecdotes, like when he got the idea for how 'The Glow, Pt. 2' should sound from the feeling he had during the end credits of Crouching Tiger, Hidden Dragon. I won't give away any other spoilers. Exceedingly amazing sleeve art on this one, as always. When ANGEL OLSEN played the Sylvee last year (this year? who even knows), I remember her telling the crowd that she was sick, and hadn't left the building at all the entire day. That struck me as sad; a rare songbird all caged up. That's the kind of feeling you get listening to her latest album, 'Whole New Mess', released as a companion to last year's 'All Mirrors'. This LP contains some skeletal, demo-style versions of songs from that record plus other solo recordings, quite a world away from the heavy rock orchestration of "Shut Up Kiss Me", and it's here where you truly experience the blistering power of her voice, which still rang out like a bell as she battled a headcold†that night. When JOSIAH JOHNSON left the band he'd helped found, The Head and the Heart, to face down some personal struggles, we weren't sure we'd hear much music from him again. He comes clean with a debut solo album this week called 'Every Feeling On A Loop', a lush album of confessional pop that feels hard-earned.
The danged quarantine put off the release of KELLY LEE OWENS' long-awaited sophomore album, 'Inner Song', for quite awhile, but no longer! The Welsh singer's debut drew an incredible amount of praise, and she meets it with grace on this deeply-rendered record of ethereal electronic pop. Drawing on the Nordic glow of her production mentor Jenny Hval, Owens' voice soars like a wind spirit while remaining somehow conversational. If you ever wished Bjork and Radiohead would make a record together, this is basically what it would sound like. The latest opus from Greek producer JAY GLASS DUBS pairs well alongside it, sounding like the metal-wrenching machined innards of a sleek pop album. His trademark pulsing dub is here in spades, blessed with celestial guest vocals that remind me a lot of Andy Stott's 'Too Many Voices'. Italian violinist and vocalist SILVIA TAROZZI delivers one of the most accessible art-classical albums in a long while with 'Mi Specchio E Rifletto', a stirring record of poetic reflections that call to mind the mellow end of Robert Wyatt's work, or the late 70s folk-jazz of Brigitte Fontaine. We'll be digesting this one for quite a while.†
BONNIE PRINCE BILLY and a trio called THREE QUEENS IN MOURNING come together for a lovely session called 'Hello Sorrow - Hello Joy', where they cover eachothers†songs on each side. Important to note here that the three queens in question are ALEX NEILSON, ALASDAIR ROBERTS, and JILL O'SULLIVAN, three Scottish folk singers with deep roots in the same weird oeuvre as Stable Will. An underrated gem in the ROLLING STONES catalog would seem like an oxymoron, but that's the kind of thing this newsletter is about. 'Goat's Head Soup' gets the deluxe anniversary treatment this week with expanded CD and LP releases, plus a super deluxe version. This is the Stones' album with "Angie" on it, so you know its†a big fave around here! We've also got more of yer Wes Anderson fix in with a new vinyl repress of THE CREATION's 'We Are Paintermen'. Biff Bang Pow, Making Time, they're all here!
Blue Note attends to a couple of their deep catalog classics in need of an audiophile upgrade with Tone Poet editions of JOE HENDERSON's 'State of the Tenor Vol 1' and BOBBY HUTCHERSON's 'The Kicker'. The realest record in this whole rundown is likely the classic and rare debut album South African saxophonist DUDU PUKWANA and the SPEARS, which bubbles over with the unparalleled energy of the SA township jazz scene's first wave.
We have a greatly expanded edition of the decade-old debut album from MOON DUO, which is all rippers. REX ORANGE COUNTY still is not really selling me with that name, but we've got a new reissue of his 2015 debut 'Bcos U Will Never Be Free'. Says you, Rex! Also line-stepping in the bandname department is GOOD FUCK, the latest project from Chicago post-rock hero Tim Kinsella of CapnJazz/Joan of Arc in-fame. We have the dream-dazed guitar duo's recent album 'Cherry Tree' in stock.†
If you love vaporwave, or simply can't stand the linear passage of time, then you might like to know that we have the latest picture disc vinyl release from MACINTOSH PLUS, 'Sick & Panic'. Few producers swing as broadly eclectic with their samples as Italian artist CLAP! CLAP!, who whips drum machines and Afro-diasporic chants into moving suites of house groove on 'Liquid Portraits'. Japanese producer WAON-P steps out from his CavEmpt crew for a lush EP of squiggly dub tech on the Trilogy Tapes label.†
'Bird, Lake, Objects', the first collaborative effort of German minimalist vibe-master JAN JELINEK and Japanese vibraphone master MASAYOSHI FUJITA, gets a nice repress this week. Few collabs find such disparate artists meeting in a magical middle the way this one does. 'MZUI', the 1982 document of site-specific soundwork from Wire's Gilbert and Lewis, finds a strange space between Wire, their avant side project Dome, and Pierre Henry. LOGIC SYSTEM was an alias used by Hideki Matsutake when he wasn't working as an unofficial fourth member of the Yellow Magic Orchestra. 1981's 'Venus' is full of genius-level synthetic pop and fizz that wouldn't have sounded too out of place on a record like 'Technodelic', and gets a much-needed reissue this week.†
Last up, some lovely deep listening. JOSIAH STEINBRICK released a solo album, 'Meeting of Waters', while on break from touring with Devendra Banhart and producing Cate Le Bon. This LP, which lands here for the first time this week, sounds nothing like either of those artists, wonderful as they are, instead routing towards truly meditative studies on minimalist percussion. I treasure this record at home, where it continues to reveal new details with each listen. 'Finomehanika', the latest from sound artist ROBERT MERLAK, takes a similar approach to more abrasive sound materials, and we've got the singular record 'Breslin' from Ohio musician FLANGER MAGAZINE, which brings a truly homespun approach to pastoral library music that sounds very, very Italian. How can a dude from Ohio sound Italian without using his voice? Guess you'll just have to check this one out.†
USED VINYL ALERT:
We could go the cheesy route and say it's the back-to-school edition of the Used Vinyl Alert, but the collection we're rolling out downstairs Friday truly is an education! The record gods have blessed us mightily this time around with some truly groundbreaking soul, jazz and blues.
Jazzwise, we've got hot ones from Lonnie Liston Smith, Dave Brubeck, John McLaughlin, Pharoah Sanders, Miles Davis, Wayne Shorter, Stanley Cowell, Larry Coryell, Bobbi Humphrey, Horace Silver, Herbie Mann, Stanley Turrentine, Yusef Lateef, Eberhard Weber, Dollar Brand, Randy Weston, Pat Metheny, John Abercrombie, Herbie Hancock, and scores more.
One of the richest veins of blues LPs to come through the shop in many many moons includes rare ones from Memphis Slim, Bobby Bland, Albert King, Willie McTell, Taj Mahal, Johnny Winter, Stevie Ray Vaughan, Big Bill Broonzy, Rev Gary Davis, Lightnin Hopkins, Fred McDowell, Muddy Waters, Curtis Jones, Abner Jay, and several others.
Soul fire comes through from Marvin Gaye, The Time, Prince, War, Booker T, Curtis Mayfield, George Clinton, Bill Withers, Sly Stone, and Roy Ayers, plus we've got some hip-hop from Mary J Blige, Tone Loc, Boot Camp Clik, Nas, Eminem, and Common.
Plenty of gems from classic rock and pop worlds include Tom Petty, Van Morrison, the Byrds, the Dead, the Stones, Fleetwood Mac, the Beatles plus John and Paul solo, Santana, Cream, Hendrix, and Yes, plus a nice run of lesser known southern rock and country. Punk and wave is in from The Jam, U2, Talking Heads, the MC5, the Pretenders, and Big Black.
Folk must-haves are here from Joan Baez, Buffy Sainte Marie, John Fahey, and several cool Folkways LPs. International biz is in from Jimmy Cliff, Burning Spear, Fela Kuti, Ravi Shankar, Ali Akbar Khan, several cool Japanese traditional LPs, plus a nice run of Brazilian greats from Airto, Flora Purim, Luis Gasca, Baden Powell, Gilberto Gil, and Milton Nascimento.
We wrap with a load of great soundtracks, some deep disco and electro 12"s, and some modern electronic building blocks from Kraftwerk, Tomita, Vangelis, Keith Emerson, Tangerine Dream, plus several LPs from the Environments series!
LABOR DAY HOLIDAY HOURS:
OPEN 11AM-4PM Labor Day, Monday September 7th
BILLBOARD MAGAZINE'S WEEKLY FEATURE ON STRICTLY DISCS: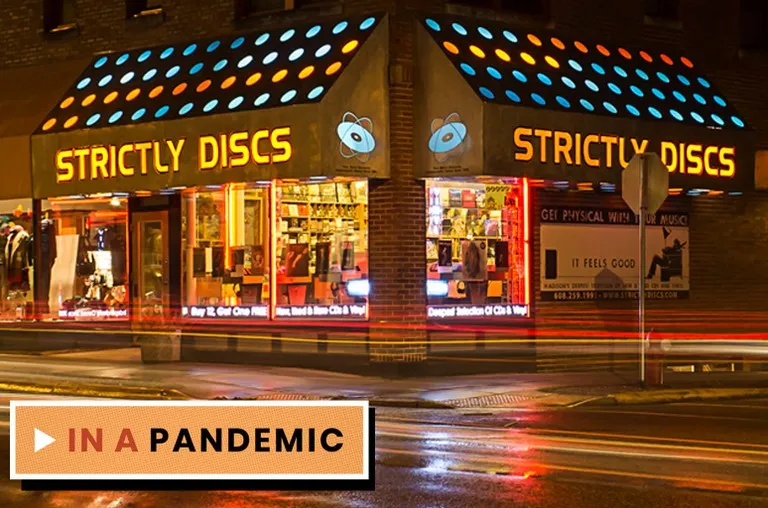 As part of†Billboardís efforts to best cover the coronavirus pandemic and its impacts on the music industry, Chris Eggertsen has been speaking with†Angie†every other†week to chronicle†the experience of an independent record store†throughout the crisis.† Here is a link to the stories in the series so far:
Billboard Article #5 June 12th
Billboard Article #6 June 19th
Billboard Article #7 June 26th

Billboard Article #8 July 10th
Billboard Article #9 July 30th
Billboard Article #10 August 13th
Billboard Article #11 August 28th†
STRICTLY DISCS IS HIRING:
VINYL PRICING SPECIALIST:
Required skills:
Excellent customer service skills; ability to anticipate customer needs
Computer proficient

A passion for music, and†a broad, deep base of recorded music history
Knowledge of Goldmine standards & experience grading and pricing records

Knowledge of stereo equipment/functionality
Availability to work nights and weekends
Ability to lift and carry 50 pounds repeatedly
RETAIL/FRONT COUNTER STAFF:
Required skills:
Excellent customer service skills; ability to anticipate customer needs
Computer proficient

A passion for music, and†a broad, deep base of recorded music history
Availability to work nights and weekends

To apply, submit letter of interest & resume to angie@strictlydiscs.com
STRICTLY DISCS IS ON SPOTIFY!
Dogs and cats living together! Strictly Discs now has a Spotify channel. Every time one of us at the shop puts on a record, it's because we think someone else within earshot is going to like it, too.†One of the things we've missed the most about having our doors temporarily closed is not being able to select the in-store play tunes for our customers to hear. It's the fun part of this job, and we want it back! Spotify users, point yourselves to our profile

†

HERE†and click around. We've compiled a number of playlists, with more to come. Be sure to subscribe and check in on the "STRICTLY SELECTOS" playlist, as it will change each week with a fresh rundown of the titles we are featuring in this very email! New songs will appear there every Thursday, and are available to order online or over phone/email.
SELL US YOUR CDS & LPS:
Yes, we are still buying! Call Ron to schedule (608.213.3610).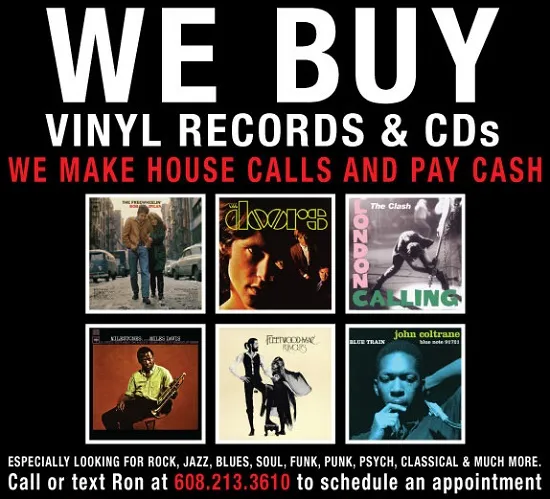 Ron, Ryan, Angie, Marty, Evan, Ben, Matt, Will, Ed, Mark, Jack, Eric & Dave