August 6, 2020
BILLBOARD MAGAZINE'S WEEKLY FEATURE ON STRICTLY DISCS: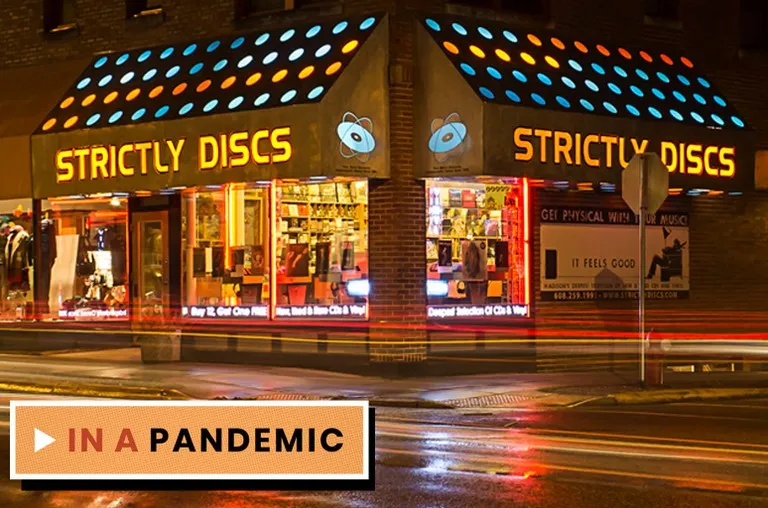 As part of Billboard's efforts to best cover the coronavirus pandemic and its impacts on the music industry, Chris Eggertsen has been speaking with Angie every other week to chronicle the experience of an independent record store throughout the crisis.  Here is a link to the stories in the series so far:
Billboard Article #5 June 12th
Billboard Article #6 June 19th
Billboard Article #7 June 26th

Billboard Article #8 July 10th
Billboard Article #9 July 30th
NEW THIS WEEK AT THE SHOP:
Cautious as we are, we begin this week with newly arrived albums from two of the shop's favorite songwriters for whom the studio is a conduit, rather than a confinement. Reassuringly real, even when they misstep, we will take it all from them. LAURA MARLING may call 'Song For Our Daughter' her seventh album, but her hard-won effortlessness at crafting a folk song makes her sound like a perpetual upstart. Themes of family, childhood, and wonder prevail on this very timely album, as we all navigate our own newfound drudgery. Marble vinyl while it lasts. "Everybody shut up, this is my record." It's the voice of JASON MOLINA, clever, clear and bitterly curt, before an early track on 'Eight Gates', a new album of unreleased material recorded roughly a dozen years ago, in what would ultimately be Molina's final studio sessions. I'm not gonna lie, I would have gladly accepted a new album made up of just these interludes; the songwriter was infamously caustic (one time I saw him play at some shitty overbooked bar in DC, and he could barely contain his disdain for everyone in the room; another time, at an outdoor show, he was breezy, light, and unburdened), and it is refreshing to hear him let it fly again. 'Eight Gates' is all songs, though, nine of them to be exact, that capture Molina at his most phantasmagorically direct. Isolated in London, travelling solo, and feeding parrots in his backyard which may or may not have been real, the songwriter known better as Songs:Ohia or Magnolia Electric Company spins loose yarns that sound like modern day fables, with unassuming arrangements that belie an infinite lyrical complexity. 
In 1970, not long after they started twisting the strands that would become punk's DNA, THE STOOGES played a show that would be the beginning of their unraveling. Before 200,000 fans at the Goose Lake Festival, the band's original lineup appeared for the last time, playing their soon-to-be-released 'Fun House' album in its entirety. Claiming that he had clammed up and refused to play his parts, Iggy Pop promptly fired bassist Dave Alexander. Recently discovered soundboard tape of this legendary show seems to prove Iggy wrong (no disrespect, king), since last I checked "Dirt" is not a spoken-word piece. Real world-historic musical documentation happening on this one, available in a limited run. 'Aoxomoxoa', a seemingly vivid but ultimately meaningless word, might sum up the GRATEFUL DEAD's whole ethos completely in just four syllables. Just making sure you're paying attention. This phenomenal record, released in 1969, signaled to the world that this circus of folk-freaks really meant business when it came to studio experimentation and stylistic expansion, and is still backed hard by Deadheads and Dead-averse folks alike. Like everything else from the blighted year of 69, its just turned 50, so we have a new pressing of it in stock now!
Purple pop of the highest pedigree comes through this week. WASHED OUT turns any track he touches into mellow gold, and there's lots to go around on 'Purple Noon' which we have on Loser Edition colored vinyl via our tireless companions at Sub Pop. Cult poppers GLASS ANIMALS are back with a bubbly record of modern Brit-pop called 'Dreamland', also in on colored vinyl (and what the heck, the first purchases of this one will receive a free roll of Glass Animals packing tape, just in time for moving season). One third of fuzz-poppers Duster, Jason Albertini, continues on with his other band HELVETIA for a lovely album of off-kilter pop called 'This Devastating Map'. 
Long-running Norwegian jazz-prog-electro ensemble JAGA JAZZIST return with a potent pummeler called 'Pyramid'. An enormous double LP set collects 2 decades of lost material from the still-anonymous UK producer ROY OF THE RAVERS, a lot of the tender, reflective, spectral ambience on this LP really contrasts with his better known acid belters. South Korean up-and-comer PARK HYE JIN drops a doozy of a psychedelic tech-house EP with 'How Can I?'
WOO baby! As the years have gone by, and the mercurial duo of Mark and Clive Ives has made inroads to avant-pop sanctity, we've heard much more beyond their classic album, the inimitable 'Its Cosy Inside'. To credit their consistency, a lot of it has sounded more or less the same. Not so their latest, 'Arcturian Corridor', which employs more vigorous drum machines, perceptibly meatier melodies, even attaining "chuggy" status in parts, while still maintaining their customary drifty phasing and phrasing. Nashville-based pedal steel and dobro player LUKE SCHNEIDER has an absolutely entrancing new album of proper new age called 'Altar of Harmony', recorded entirely on a vintage, rare steel guitar from the 1960s. 
The Third Man label expands its purview once again with some very compelling reissues. FRANCE GALL's delightful '1968' defines the catchy, beguiling ye-ye sound. THAT DOG.'s seminal 'Retreat From the Sun' finds the Haden sisters taking on Pavement and doing them one better, on a record that still echoes in the work of groups like Swearin and Snail Mail. L-SEVEN are not to be confused with the Lollapalooza-rocking L7 of a later decade. They were a short-lived postpunk band fronted by Larissa who would later go on to found the Laughing Hyenas. Clever, catchy, crucial wave-pop on this discography reveals an upper midwest take on Tom Tom Club and Devo.
Back in stock this week, the last available copies of the incredible 'Music For Saxofone and Bass Guitar' by the duo of LA jazz reprovisers SAM GENDEL and SAM WILKES. Knocking grooves abound here on a record that lands nicely between Pharaoh and Hassell. We don't get nearly enough solo material from Tortoise drummer John Herndon, aka Johnny Machine, aka A GRAPE DOPE, but finally he blesses us with 'Backyard Bangers', a gumbo of live and manipulated beat tracks for everyone's (current) favorite location. 
Deep gems from the world around us include a new slab of Nigerien percussion and lute music from LINGO SEINI via the Sahel Sounds label, a stunning piece of forward-thinking gamelan from DEWA ALIT called 'Genetic', the first ever commercially available recordings from influential Tejano group MARTIN SOLIS and LOS PRIMOS, and a reissue of the sadly-too-rare 1982 album from Colombian flutist JUSTO ALMARIO, who did time in Roy Ayers' Ubiquity band and cut one very funky record for Ayers' label Uno Melodic.
Drakean cohort PARTYNEXTDOOR may have no space bar, but he has a 'Partymobile' and now its here on vinyl. Crucial modern funk label Star Creature pays tribute to the early heroes of Chicago party music with a brief yet potent compilation called 'Attack of the Chicago Boogie'. 
A pair of selector compilations showcase the range of two of Europe's most exciting female DJs. I'd rather just say "DJs" but, nevertheless, not long ago the thought of labels giving these kinds of spaces up to women would have been sadly a stretch. SHANTI CELESTE delivers strong, strange tracks from her Adriatic boat parties, and HELENA HAUFF offers deep variants of her brand of heavily shaded techno.
USED VINYL ALERT:
Downstairs we go for a Used Vinyl Alert that's really adding a little zip to the August doldrums. We finally roll out some long-awaited hip-hop gems, and some more coveted classics across genres.
Hip hop wise, check out LP and 12s from 2Pac, Wu Tang, Too Short, Outkast, Originoo Gun Clappaz, Kanye West, Nas, KRS One, KMD, Aaliyah, the Roots, the Cocoa Brovas, and many more. Soul fire is in from Otis Redding, Stevie Wonder, Marvin Gaye, Bobby Womack, and more.
Solid catalog runs on Bob Dylan and Fleetwood Mac, plus nice ones from the Beatles, Beach Boys, Grateful Dead, John Prine, Flying Burrito Brothers, Fairport Convention, Neil Young, Frank Zappa, JJ Cale, Emitt Rhodes, The Band, The Doors, and Love.
Heavy hitters are in from Blue Oyster Cult, Iron Butterfly, Queen, ZZ Top, Skynyrd, Grinderswitch, Free, Iron Maiden, Black Sabbath, Judas Priest, Scorpions, and King Crimson.
New wave and early alt is here from U2, Patti Smith, XTC, Modern English, REM, Peter Gabriel, the B52s, Flamin Groovies, the Cars, Elvis Costello, Husker Du, and a long run of original Replacements LPs.
Killer jazz is here from Jaco Pastorius, Coltrane and Miles, Horace Silver, Thad Jones and Mel Lewis, plus many cool compilations. We wrap it up with a nice selection of Afro and latin LPs, some reggae, blues, and classical, a rarely seen Neutral Milk Hotel box set, and a seriously deep run of cult fave soundtracks.
RECORD STORE DAY IS NOW RSD DROPS SPREAD OVER 3 DATES:
It's an unusual year, which means unusual news about Record Store Day.
Earlier this spring, Record Store Day announced a rescheduled June 20 date for the annual holiday, but with ongoing health and safety concerns, we now have a new plan.
Instead of a single-day global celebration, the 2020 releases will now be available over a series of monthly RSD Drops events, from August to October, followed by a regularly-scheduled Black Friday in November. This means we'll have four months of release events – the RSD 2020 exclusives spread out over three months, followed by a new round of exclusives for Black Friday – to end this strange year on a high note.
WISHLISTS:
Since so much has changed with Record Store Day, you will need to start a new list for any or all of the three dates. Lists made prior to April are no longer active/valid.
We will try to have ample stock (one of the deepest in the midwest) of all items, but please know that some of these products are extremely limited and will sell out quickly.
THE DEADLINE FOR WISHLISTS FOR THE AUGUST 29TH DATE IS WEDNESDAY JULY 8TH.
WE STRONGLY ENCOURAGE YOU TO MAKE A WISHLIST AS THEY WILL HELP US TO EASE CONGESTION/TRAFFIC INSIDE THE STORE ON AUGUST 29TH. 
We appreciate your patience and understanding as we evolve on the fly with this one. Our goal is to keep the RSD spirit intact, connecting musicians, fans and record stores in a time where we need eachother the most!
Here's the official announcement from Record Store Day headquarters:
Since 2008, Record Store Day has grown into the world's largest single-day music event, shining a light on the culture of the indie record store across the globe. In 2020, that world is different, so Record Store Day will be, too. RSD is now scheduled to be celebrated with special, properly-distanced release dates on Saturdays in August, September and October.
Record Store Day will look very different this year, but supporting indie record stores may be more important than ever. We don't know what sort of rules will be in place, or what sort of gatherings people will be in the mood for this year, so we're focusing on the music and getting the really great titles on the RSD official list this year into the stores and into your hands, in the most financially and socially responsible way.
Stay tuned for many more details in the coming weeks.
STRICTLY DISCS IS HIRING:
VINYL PRICING SPECIALIST:
Required skills:
Excellent customer service skills; ability to anticipate customer needs
Computer proficient

A passion for music, and a broad, deep base of recorded music history
Knowledge of Goldmine standards & experience grading and pricing records

Knowledge of stereo equipment/functionality
Availability to work nights and weekends
Ability to lift and carry 50 pounds repeatedly
RETAIL/FRONT COUNTER STAFF:
Required skills:
Excellent customer service skills; ability to anticipate customer needs
Computer proficient

A passion for music, and a broad, deep base of recorded music history
Availability to work nights and weekends

To apply, submit letter of interest & resume to angie@strictlydiscs.com
STRICTLY DISCS IS ON SPOTIFY!
Dogs and cats living together! Strictly Discs now has a Spotify channel. Every time one of us at the shop puts on a record, it's because we think someone else within earshot is going to like it, too. One of the things we've missed the most about having our doors temporarily closed is not being able to select the in-store play tunes for our customers to hear. It's the fun part of this job, and we want it back! Spotify users, point yourselves to our profile

 

HERE and click around. We've compiled a number of playlists, with more to come. Be sure to subscribe and check in on the "STRICTLY SELECTOS" playlist, as it will change each week with a fresh rundown of the titles we are featuring in this very email! New songs will appear there every Thursday, and are available to order online or over phone/email.
SELL US YOUR CDS & LPS:
Yes, we are still buying! Call Ron to schedule (608.213.3610).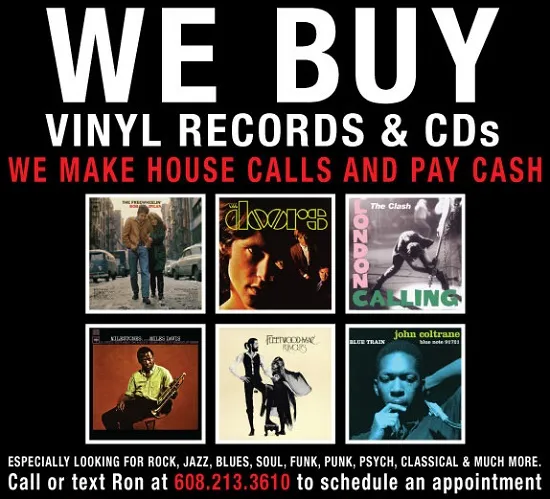 Ron, Ryan, Angie, Marty, Evan, Ben, Matt, Will, Ed, Mark, Jack, Eric & Dave