July 30, 2020
BILLBOARD MAGAZINE'S WEEKLY FEATURE ON STRICTLY DISCS: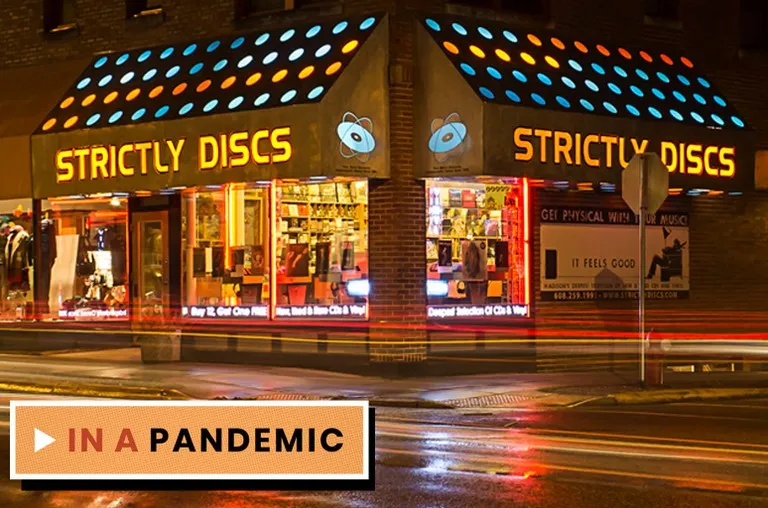 As part of Billboard's efforts to best cover the coronavirus pandemic and its impacts on the music industry, Chris Eggertsen has been speaking with Angie every other week to chronicle the experience of an independent record store throughout the crisis.  Here is a link to the stories in the series so far:
Billboard Article #5 June 12th
Billboard Article #6 June 19th
Billboard Article #7 June 26th

Billboard Article #8 July 10th
Billboard Article #9 July 30th
NEW THIS WEEK AT THE SHOP:
USED VINYL ALERT:
Downstairs we go for this week's edition of the Used Vinyl Alert, which we could also call the Soul Alert this time around. So much soul! Many classics, many sealed, many in unusually flawless shape, from names like Booker T, Marvin Gaye, Eddie Floyd, Bobby Womack, Tower of Power, Pleasure, Letta Mbulu, Kool and the Gang, Mandrill, Rufus, Slave, Al Green, Stevie Wonder, James Brown, MFSB, Soul Stirrers, the Stylistics, and many many more.
Strong jazz is in from Miles Davis, Red Garland, Bill Evans, Donald Byrd, Hugh Masekela, Eberhard Weber, Charles Earland, Thelonious Monk, Sonny Stitt, Jack DeJohnette, and scores more. We also welcome some fantastic international albums; some Latin, some reggae, some traditional island stuff, and several must-hears from Senegal and Nigeria. 
Choice picks from rock and pop include the Beatles, David Bowie, Tom Petty, The Rolling Stones, Pink Floyd, the Band, Led Zeppelin, Bob Dylan, Kansas, Santana, Rush, Badfinger, Janis Joplin, Traffic, the Allmans, and Wings, plus sweet ones from AC/DC, Quiet Riot, the B-52s, Motley Crue, and the Smiths.
Recent releases in used include Tortoise, Lana Del Rey, Floating Points, St. Vincent, J. Dilla, and Anderson Paak. We have a complete run of Blur LPs including their hardest to find ones, and we have some rare White Stripes and Third Man related box sets.
A deep trove of female vocalists, easy listening jammers, disco and HI-NRG bangers, soundtracks, and Kraftwerk finish us off for the week. Whew!
RECORD STORE DAY IS NOW RSD DROPS SPREAD OVER 3 DATES:
It's an unusual year, which means unusual news about Record Store Day.
Earlier this spring, Record Store Day announced a rescheduled June 20 date for the annual holiday, but with ongoing health and safety concerns, we now have a new plan.
Instead of a single-day global celebration, the 2020 releases will now be available over a series of monthly RSD Drops events, from August to October, followed by a regularly-scheduled Black Friday in November. This means we'll have four months of release events – the RSD 2020 exclusives spread out over three months, followed by a new round of exclusives for Black Friday – to end this strange year on a high note.
WISHLISTS:
Since so much has changed with Record Store Day, you will need to start a new list for any or all of the three dates. Lists made prior to April are no longer active/valid.
We will try to have ample stock (one of the deepest in the midwest) of all items, but please know that some of these products are extremely limited and will sell out quickly.
THE DEADLINE FOR WISHLISTS FOR THE AUGUST 29TH DATE IS WEDNESDAY JULY 8TH.
WE STRONGLY ENCOURAGE YOU TO MAKE A WISHLIST AS THEY WILL HELP US TO EASE CONGESTION/TRAFFIC INSIDE THE STORE ON AUGUST 29TH. 
We appreciate your patience and understanding as we evolve on the fly with this one. Our goal is to keep the RSD spirit intact, connecting musicians, fans and record stores in a time where we need eachother the most!
Here's the official announcement from Record Store Day headquarters:
Since 2008, Record Store Day has grown into the world's largest single-day music event, shining a light on the culture of the indie record store across the globe. In 2020, that world is different, so Record Store Day will be, too. RSD is now scheduled to be celebrated with special, properly-distanced release dates on Saturdays in August, September and October.
Record Store Day will look very different this year, but supporting indie record stores may be more important than ever. We don't know what sort of rules will be in place, or what sort of gatherings people will be in the mood for this year, so we're focusing on the music and getting the really great titles on the RSD official list this year into the stores and into your hands, in the most financially and socially responsible way.
Stay tuned for many more details in the coming weeks.
STRICTLY DISCS IS HIRING:
VINYL PRICING SPECIALIST:
Required skills:
Excellent customer service skills; ability to anticipate customer needs
Computer proficient

A passion for music, and a broad, deep base of recorded music history
Knowledge of Goldmine standards & experience grading and pricing records

Knowledge of stereo equipment/functionality
Availability to work nights and weekends
Ability to lift and carry 50 pounds repeatedly
RETAIL/FRONT COUNTER STAFF:
Required skills:
Excellent customer service skills; ability to anticipate customer needs
Computer proficient

A passion for music, and a broad, deep base of recorded music history
Availability to work nights and weekends

To apply, submit letter of interest & resume to angie@strictlydiscs.com
STRICTLY DISCS IS ON SPOTIFY!
Dogs and cats living together! Strictly Discs now has a Spotify channel. Every time one of us at the shop puts on a record, it's because we think someone else within earshot is going to like it, too. One of the things we've missed the most about having our doors temporarily closed is not being able to select the in-store play tunes for our customers to hear. It's the fun part of this job, and we want it back! Spotify users, point yourselves to our profile

 

HERE and click around. We've compiled a number of playlists, with more to come. Be sure to subscribe and check in on the "STRICTLY SELECTOS" playlist, as it will change each week with a fresh rundown of the titles we are featuring in this very email! New songs will appear there every Thursday, and are available to order online or over phone/email.
SELL US YOUR CDS & LPS:
Yes, we are still buying! Call Ron to schedule (608.213.3610).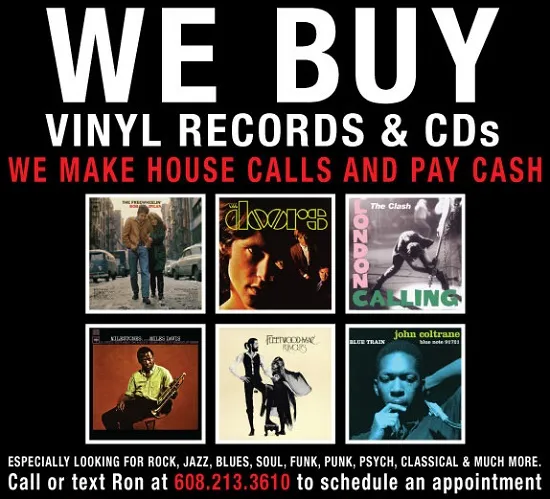 Ron, Ryan, Angie, Marty, Evan, Ben, Matt, Will, Ed, Mark, Jack, Eric & Dave