July 23, 2020
BILLBOARD MAGAZINE'S WEEKLY FEATURE ON STRICTLY DISCS: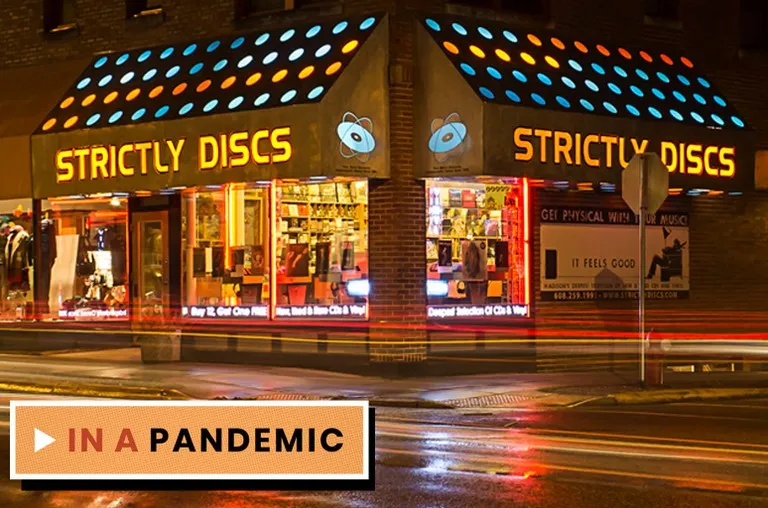 As part of Billboard's efforts to best cover the coronavirus pandemic and its impacts on the music industry, Chris Eggertsen has been speaking with Angie every other week to chronicle the experience of an independent record store throughout the crisis.  Here is a link to the stories in the series so far:
Billboard Article #5 June 12th
Billboard Article #6 June 19th
Billboard Article #7 June 26th

Billboard Article #8 July 10th
NEW THIS WEEK AT THE SHOP:
Stay at home and travel the world with this week's selection of new releases from Strictly Discs, which come in some wild, wild varieties this time around. Start with BAB L'BLUZ, who introduce us to their female-fronted Moroccan pop on 'Nayda!', influenced by desert blues and modern rai. Nocturnal, underground rumblings have issued forth portending the arrival of ORANSSI PAZUZU, the Finnish black metal collective with a firm grip on the ancient ineffable. 'Mestarin Kynsi' is in stock now on some limited color variants. Montreal's DEADBEAT and Dominica-born PAUL ST. HILAIRE (aka TIKIMAN) collaborate on a spirited session of effervescent dub techno that prominently features Tiki's timeless, yearning vocals. Australian producer ROZA TERENZI has already crushed a half-dozen killer EPs of airy, break-laden techno, and finally delivers a massive full-length called 'Modern Bliss', featuring several rad guests. 
No chronicle of American underground music is complete without mentioning Los Angeles band X, who re-emerge full of vinegar on 'Alphabetland', their first studio album in decades. Legendary roots singer LORI MCKENNA returns with 'The Balladeer', and we have a stark beauty of a record from COURTNEY MARIE ANDREWS called 'Old Flowers'. Emerging country star BRANDY CLARK sees her 2020 album 'Your Life Is A Record' get a lovely vinyl release. 
One dude who must have a very comfortable couch in his studio is Ripley Johnson, of Wooden Shjips, Moon Duo, and now ROSE CITY BAND fame. How many great records can this guy make? On new LP 'Summerlong', Johnson summons the sunbaked horizons of the early Shjips records in a more country-rock direction, complete with lush, slide-driven guitar leads and properly rambling track lengths. Folk-ambient duo GOLDEN RETRIEVER teams up with American primitive guitarist CHUCK JOHNSON for an arresting new session called 'Rain Shadow', while prolific musical loners JIM WHITE (of the Dirty Three) and MARISA ANDERSON form an exploratory mission with an unlimited brief on 'The Quickening'. DEVENDRA BANHART continues his spot-on embellishments of Latin folk-pop on a new EP called 'Vast Ovoid'.
The world hadn't heard anything remotely like the songs on 'Dry' when PJ HARVEY announced herself to the world with it in 1992. Few artists debut with music as resolutely formed as a song like "Sheela-na-gig", channeling ancient Irish lore, Patti Smith, and rock machismo in equal amounts, putting money in your idle hole. 'Dry' is back on LP as well as, for the first time, 'Dry - Demos', which chases Harvey's unique origins ever closer to their source. When Texas slackjacks SPOON dropped their low-budget debut 'Telephono' in 1996, the small crowd that heard it was stunned to encounter a perfect blend of Pixies bombast and Modern Lovers snarl. If this could keep it together, they'd probably make it pretty big! 'Telephono' and the EP 'Soft Effects' which followed it are both back in print on LP now, along with the searing 1988 debut album from New Zealand's STRAITJACKET FITS, who are sortof the other side of the world's version of the Screaming Trees, and the WOODEN SHJIPS's phenomenal 2016 album 'Back To Land'. 
Few artists have as many tools in their skillset as Nicolas Jaar, a producer raised by fine artists on multiple continents who has seemingly never had a bad musical idea in his life. The latest cache of his dancefloor productions as AGAINST ALL LOGIC is finally here, again given a simple title, '2017-19', as if he's just dropping a folder full of files smack in your brainstem. Like the prior installment, this 2LP set is stuffed with brilliant, strange tunes that utilize grimy techno tropes, filleted soul vocals, (and Lydia Lunch?) in equal measure. One week after the arrival of the LP of their first record, I'm no closer to grokking the vibe of 100 GECS but no matter, as we now have copies of their second, remix-based album '1000 Gecs and the Tree Of Clues' here while it lasts, or turns into a laughing ghost and flies away, whichever happens first. Drew Daniel of Matmos fame revives his conceptual solo project THE SOFT PINK TRUTH for what instantly feels like one of the best albums of 2020. If you're familiar with Matmos, you know Daniel's easy facility with sounds of all kinds, from technoid bleeps to birdcage scrapes, but even that won't prepare you for where this one takes you, a seance-like session drawing on Meredith Monk, Julius Eastman and Terre Thaemlitz. A great, compelling new album of acid techno journeys is here from TRICKFINGER, who you may have heard of by his government name, John Frusciante. 
Rapture frontman LUKE JENNER celebrates getting sober and facing some difficult childhood trauma on a triumphant new solo record, and we finally get a new record from the gratefully de-voweled STRFKR, who have their technicolor fuzz-pop as dialed in as ever on 'Future Past Life', in the house on limited color vinyl. Dreamy gazey jams are here from two bands with a lot more depth than their name might imply, WINTER and SPICE. Everything nice.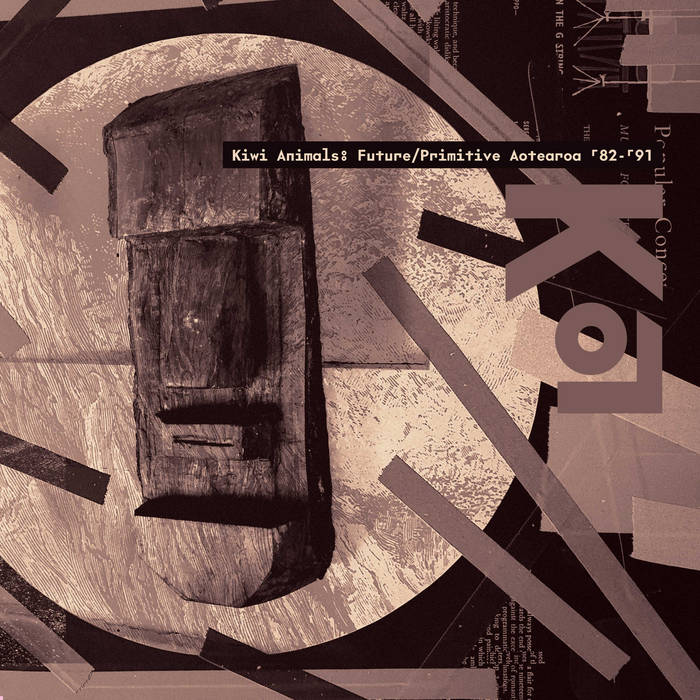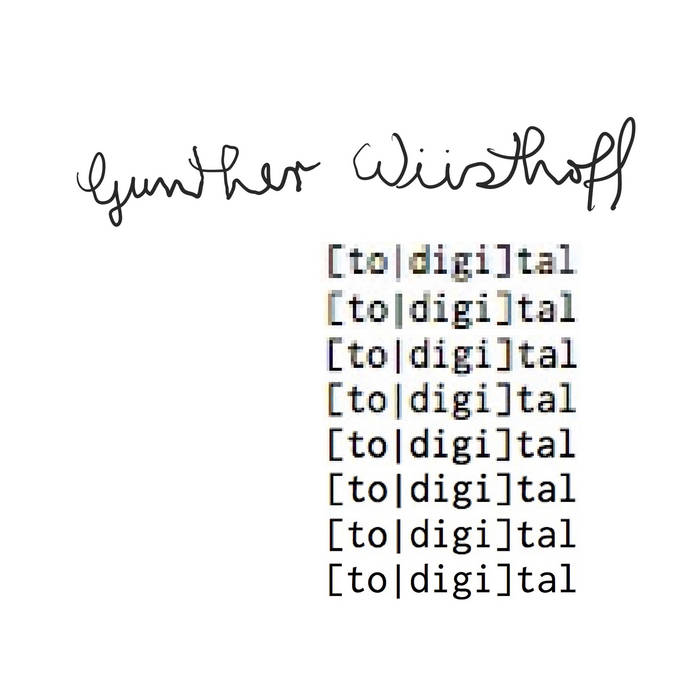 How many JON HASSELL albums do you have? Doesn't matter, it's not enough. The trumpeter/composer has done more to advance the global ambient initiative since his earliest 70s efforts, and he's still blessing us. 'Seeing Through Sound' continues his 'Pentimento' series with a strange grace that has influenced countless musical explorers. One such guy would be JAMES KRIVCHENIA, the drummer and engineer of Big Thief, who steps out with a lush solo album of chuggy pastoral drift called 'A New Found Relaxation'. A new compilation from the Strangelove label, KIWI ANIMALS, champions the strangely layered undergrounds of New Zealand electronic folk and pop in the 1980s, and we get a never-heard before album of early 80s synth jams from frequent Faust collaborator GUNTHER WUSTHOFF.
Big drops from the rap world include the latest vinyl release for LIL WAYNE, and we finally get an LP edition of the radio-scorching 2019 debut from RODDY RICCH. New CD releases are in (hopefully with vinyl to follow) from APOLLO BROWN and BENNY THE BUTCHER. Griselda alert.
Soul heroine BARBARA LYNN sees her fiery, classic 45s for Atlantic Records collected in a immaculate vinyl edition by the Runout Groove label. Sometimes the Be With label rescues universally loved and demanded albums, and sometimes they alert us to utterly overlooked gems. With MASTON's 'Tulips', released in a tiny 2017 edition, its the latter, an absolute corker of space-age instrumental pop straight out of the KPM playbook. Ghanaian guitarist ALHAJI FRIMPONG certified the high life sound alongside King Sunny Ade throughout the 1970s and 80s, and now we have a freshly dolled up edition his second album, 'K Frimpong Backed by Vis-A-Vis'. Back in stock as well is the absolutel pinnacle of Island Records-produced soulful reggae, GREGORY ISAACS' inimitable 'Night Nurse'. 
Norwegian composer ANDRE BRATTEN looks to de-sketchify the black metal of his countrymen on 'Silvester', and we get a marvelous deep archive dive into the work of Japanese composer TAKASHI KOKUBO with 'Digital Soundology #1 Volk Von Bauhaus', an album of glittering sonic miniatures that could have only emerged from the fertile 80s scene. Granular ambient artist ALVA NOTO continues his must-hear 'Xerrox' series with a fourth installment; ominous though these records may appear, they contain an overwhelming amount of warmth and detail, as is also the case with 'Schaum', the collab album from vibraphonist MASAYOSHI FUJITA and producer JAN JELINEK, back in print on LP.
USED VINYL ALERT:
This week's edition of the Used Vinyl Alert is so full of jams, its hard to know where to even begin. Some of our fave songwriters are here, like Simon and Garfunkel, Jackson Browne, James Taylor, Randy Newman, Neil Young, Emitt Rhodes, Tom Waits, and Harry Nilsson, and female vocalists like Nina Simone, Billie Holiday, Ella Fitzgerald, and Blossom Dearie.
Collectable, classic and must-own records are in from the Beatles, Pink Floyd, Bob Dylan, the Stones, the Kinks, Fleetwood Mac, Bruce Springsteen, Queen, and Prince. 
A fresh round of deep jazz awaits, with albums in from Bill Evans, Chet Baker, Tony Williams, John Coltrane, Charles Mingus, McCoy Tyner, Stanley Turrentine, Jimmy McGriff, Miles Davis, Red Garland, Oscar Peterson, Jon Bartel, Bud Powell, Lou Donaldson, Roland Kirk and so many more.
A serious time warp of classic late 80s/early 90s hip hop is here, both on LP and 12", including a lot of timeless, seldom seen picture sleeves from names like Bell Biv Devoe, Public Enemy, Digital Underground, Run DMC, MC Hammer, Heavy D, Soul II Soul, Milli Vanilli, and Digable Planets. We've also got some deep troves of italo, eurodance, HI NRG, techno and jungle; some rare, some cheap!
Folk and country is in from Stefan Grossman, Jack Elliott, John Fahey, Pete Seeger, Kate and Anna McGarrigle, Waylon Jennings, Johnny Cash, and Patsy Cline, plus we're got soul from Roy Ayers, Edwin Starr, King Curtis, Al Green, Marvin Gaye, Stevie Wonder, Janet Jackson, and Jon Lucien. We wrap it up with a slew of cult-fave soundtracks, reggae, new age, and even a rare one from Bobby Beausoleil (!!)
RECORD STORE DAY IS NOW RSD DROPS SPREAD OVER 3 DATES:
It's an unusual year, which means unusual news about Record Store Day.
Earlier this spring, Record Store Day announced a rescheduled June 20 date for the annual holiday, but with ongoing health and safety concerns, we now have a new plan.
Instead of a single-day global celebration, the 2020 releases will now be available over a series of monthly RSD Drops events, from August to October, followed by a regularly-scheduled Black Friday in November. This means we'll have four months of release events – the RSD 2020 exclusives spread out over three months, followed by a new round of exclusives for Black Friday – to end this strange year on a high note.
WISHLISTS:
Since so much has changed with Record Store Day, you will need to start a new list for any or all of the three dates. Lists made prior to April are no longer active/valid.
We will try to have ample stock (one of the deepest in the midwest) of all items, but please know that some of these products are extremely limited and will sell out quickly.
THE DEADLINE FOR WISHLISTS FOR THE AUGUST 29TH DATE IS WEDNESDAY JULY 8TH.
WE STRONGLY ENCOURAGE YOU TO MAKE A WISHLIST AS THEY WILL HELP US TO EASE CONGESTION/TRAFFIC INSIDE THE STORE ON AUGUST 29TH. 
We appreciate your patience and understanding as we evolve on the fly with this one. Our goal is to keep the RSD spirit intact, connecting musicians, fans and record stores in a time where we need eachother the most!
Here's the official announcement from Record Store Day headquarters:
Since 2008, Record Store Day has grown into the world's largest single-day music event, shining a light on the culture of the indie record store across the globe. In 2020, that world is different, so Record Store Day will be, too. RSD is now scheduled to be celebrated with special, properly-distanced release dates on Saturdays in August, September and October.
Record Store Day will look very different this year, but supporting indie record stores may be more important than ever. We don't know what sort of rules will be in place, or what sort of gatherings people will be in the mood for this year, so we're focusing on the music and getting the really great titles on the RSD official list this year into the stores and into your hands, in the most financially and socially responsible way.
Stay tuned for many more details in the coming weeks.
STRICTLY DISCS IS HIRING:
VINYL PRICING SPECIALIST:
Required skills:
Excellent customer service skills; ability to anticipate customer needs
Computer proficient

A passion for music, and a broad, deep base of recorded music history
Knowledge of Goldmine standards & experience grading and pricing records

Knowledge of stereo equipment/functionality
Availability to work nights and weekends
Ability to lift and carry 50 pounds repeatedly
RETAIL/FRONT COUNTER STAFF:
Required skills:
Excellent customer service skills; ability to anticipate customer needs
Computer proficient

A passion for music, and a broad, deep base of recorded music history
Availability to work nights and weekends

To apply, submit letter of interest & resume to angie@strictlydiscs.com
STRICTLY DISCS IS ON SPOTIFY!
Dogs and cats living together! Strictly Discs now has a Spotify channel. Every time one of us at the shop puts on a record, it's because we think someone else within earshot is going to like it, too. One of the things we've missed the most about having our doors temporarily closed is not being able to select the in-store play tunes for our customers to hear. It's the fun part of this job, and we want it back! Spotify users, point yourselves to our profile

 

HERE and click around. We've compiled a number of playlists, with more to come. Be sure to subscribe and check in on the "STRICTLY SELECTOS" playlist, as it will change each week with a fresh rundown of the titles we are featuring in this very email! New songs will appear there every Thursday, and are available to order online or over phone/email.
SELL US YOUR CDS & LPS:
Yes, we are still buying! Call Ron to schedule (608.213.3610).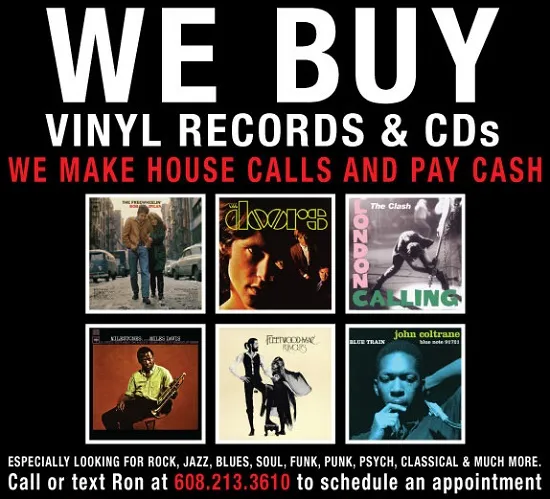 Ron, Ryan, Angie, Marty, Evan, Ben, Matt, Will, Ed, Mark, Jack, Eric & Dave