July 16, 2020
BILLBOARD MAGAZINE'S WEEKLY FEATURE ON STRICTLY DISCS: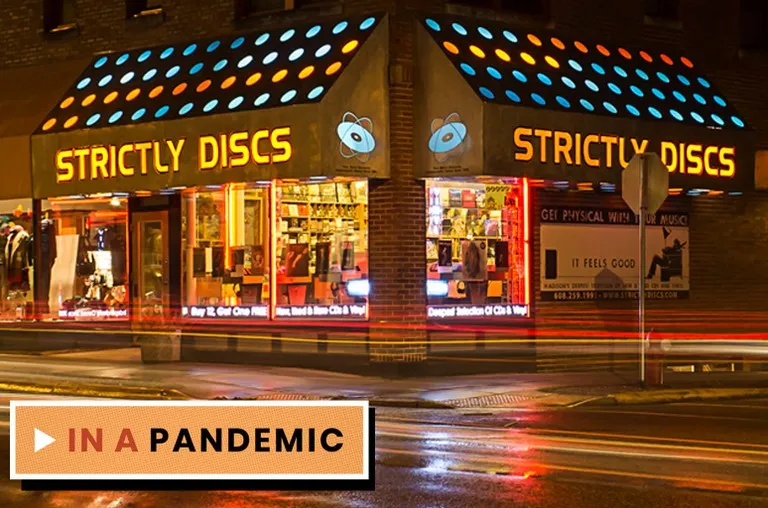 As part of Billboard's efforts to best cover the coronavirus pandemic and its impacts on the music industry, Chris Eggertsen has been speaking with Angie every other week to chronicle the experience of an independent record store throughout the crisis.  Here is a link to the stories in the series so far:
Billboard Article #5 June 12th
Billboard Article #6 June 19th
Billboard Article #7 June 26th

Billboard Article #8 July 10th
NEW THIS WEEK AT THE SHOP:
Due to shipping delays, many of this week's releases will be arriving by noon on Friday.
USED VINYL ALERT:
Get a load of the Used Vinyl Alert this week! We've put in overtime to bring you serious heat, across all our big genres. Classics abound from David Bowie, Queen, Jimi Hendrix, the Beatles, Led Zeppelin, Fleetwood Mac, the Byrds, Roxy Music, Neil Young, Tom Petty, the Doors, and the Rolling Stones.
More choice titles from the world of rock and pop are in from Wings, Carly Simon, Marianne Faithfull, Chicago, the Who, Warren Zevon, the Animals, the Poppy Family, Elyse Weinberg (RIP), the Cyrkle, Chuck Berry, Santana, the Box Tops, and Roy Orbison. Post punk and new wave is here from the Gun Club, Depeche Mode, Blondie, Sonic Youth, U2, the Eurythmics, Executive Slacks, Laid Back, and the Young Gods.
Jazz comes through from Archie Shepp, Pat Metheny, Quincy Jones, Thelonious Monk, Freddie Hubbard, Andrew Hill, Art Blakey, Red Garland, and more, plus a wealth of classic soul and funk from Mandre, Isaac Hayes, Archie Bell, Roberta Flack, Earth Wind and Fire, the Shirelles, the Time, Marvin Gaye, Funkadelic, Millie Jackson, Rinder & Lewis, the Supremes, Sade, Donna Summer, and Otis Redding.
Folk classics are in from the Roches, Ry Cooder, Pentangle, the Muldaurs, Joni Mitchell, David Grisman, and John Hartford, plus country from Johnny Cash, Jerry Jeff Walker, Dolly Parton, Willie Nelson, and Ramblin Jack Elliott.
Hip hop is in from Del, Odd Future, and the Beastie Boys, plus a cool spread of disco, italo, and electro singles, reggae from Bob Marley, Rita Marley, and Tony Tuff, and a grip of modern classical including some Glenn Gould and Stockhausen essentials. We wrap it with a wild spread of contemporary releasesa from Demdike Stare, Battles, Joyce Manor, Arcade Fire, Chvrches, Fever Ray, Regina Spektor, Silversun Pickups, Har Mar Superstar, and Julia Holter.
USED CD ALERT:
Some phenomenal freshies are in the used CD arrival racks this week! Terry Reid, Toots and the Maytals, Michael Hurley, Marianne Faithfull, Fripp and Eno, Steve Earle, Dead Can Dance, Joao Gilberto, the Zombies and many more are here to spruce up your summer road trip. We've also got a load of fresh jazz, including box sets from Max Roach, Woody Guthrie, Max Roach, and Miles Davis.
RECORD STORE DAY IS NOW RSD DROPS SPREAD OVER 3 DATES:
It's an unusual year, which means unusual news about Record Store Day.
Earlier this spring, Record Store Day announced a rescheduled June 20 date for the annual holiday, but with ongoing health and safety concerns, we now have a new plan.
Instead of a single-day global celebration, the 2020 releases will now be available over a series of monthly RSD Drops events, from August to October, followed by a regularly-scheduled Black Friday in November. This means we'll have four months of release events – the RSD 2020 exclusives spread out over three months, followed by a new round of exclusives for Black Friday – to end this strange year on a high note.
WISHLISTS:
Since so much has changed with Record Store Day, you will need to start a new list for any or all of the three dates. Lists made prior to April are no longer active/valid.
We will try to have ample stock (one of the deepest in the midwest) of all items, but please know that some of these products are extremely limited and will sell out quickly.
THE DEADLINE FOR WISHLISTS FOR THE AUGUST 29TH DATE IS WEDNESDAY JULY 8TH.
WE STRONGLY ENCOURAGE YOU TO MAKE A WISHLIST AS THEY WILL HELP US TO EASE CONGESTION/TRAFFIC INSIDE THE STORE ON AUGUST 29TH. 
We appreciate your patience and understanding as we evolve on the fly with this one. Our goal is to keep the RSD spirit intact, connecting musicians, fans and record stores in a time where we need eachother the most!
Here's the official announcement from Record Store Day headquarters:
Since 2008, Record Store Day has grown into the world's largest single-day music event, shining a light on the culture of the indie record store across the globe. In 2020, that world is different, so Record Store Day will be, too. RSD is now scheduled to be celebrated with special, properly-distanced release dates on Saturdays in August, September and October.
Record Store Day will look very different this year, but supporting indie record stores may be more important than ever. We don't know what sort of rules will be in place, or what sort of gatherings people will be in the mood for this year, so we're focusing on the music and getting the really great titles on the RSD official list this year into the stores and into your hands, in the most financially and socially responsible way.
Stay tuned for many more details in the coming weeks.
STRICTLY DISCS IS HIRING:
VINYL PRICING SPECIALIST:
Required skills:
Excellent customer service skills; ability to anticipate customer needs
Computer proficient

A passion for music, and a broad, deep base of recorded music history
Knowledge of Goldmine standards & experience grading and pricing records

Knowledge of stereo equipment/functionality
Availability to work nights and weekends
Ability to lift and carry 50 pounds repeatedly
RETAIL/FRONT COUNTER STAFF:
Required skills:
Excellent customer service skills; ability to anticipate customer needs
Computer proficient

A passion for music, and a broad, deep base of recorded music history
Availability to work nights and weekends

To apply, submit letter of interest & resume to angie@strictlydiscs.com
STRICTLY DISCS IS ON SPOTIFY!
Dogs and cats living together! Strictly Discs now has a Spotify channel. Every time one of us at the shop puts on a record, it's because we think someone else within earshot is going to like it, too. One of the things we've missed the most about having our doors temporarily closed is not being able to select the in-store play tunes for our customers to hear. It's the fun part of this job, and we want it back! Spotify users, point yourselves to our profile

 

HERE and click around. We've compiled a number of playlists, with more to come. Be sure to subscribe and check in on the "STRICTLY SELECTOS" playlist, as it will change each week with a fresh rundown of the titles we are featuring in this very email! New songs will appear there every Thursday, and are available to order online or over phone/email.
SELL US YOUR CDS & LPS:
Yes, we are still buying! Call Ron to schedule (608.213.3610).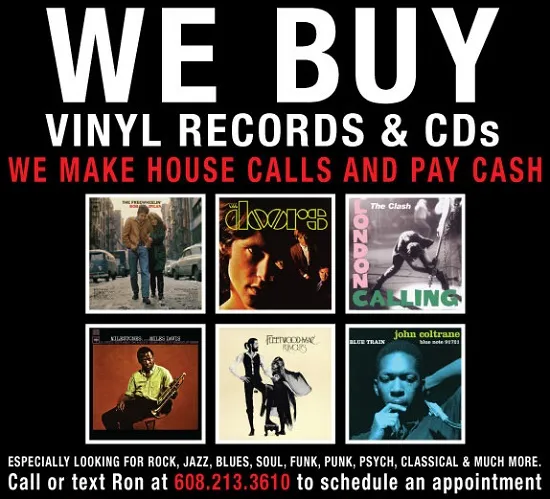 Ron, Ryan, Angie, Marty, Evan, Ben, Matt, Will, Isaac, Ed, Larry, Mark, Jack, Eric & Dave